team
Meet Our CEO: Alistair Rumbelow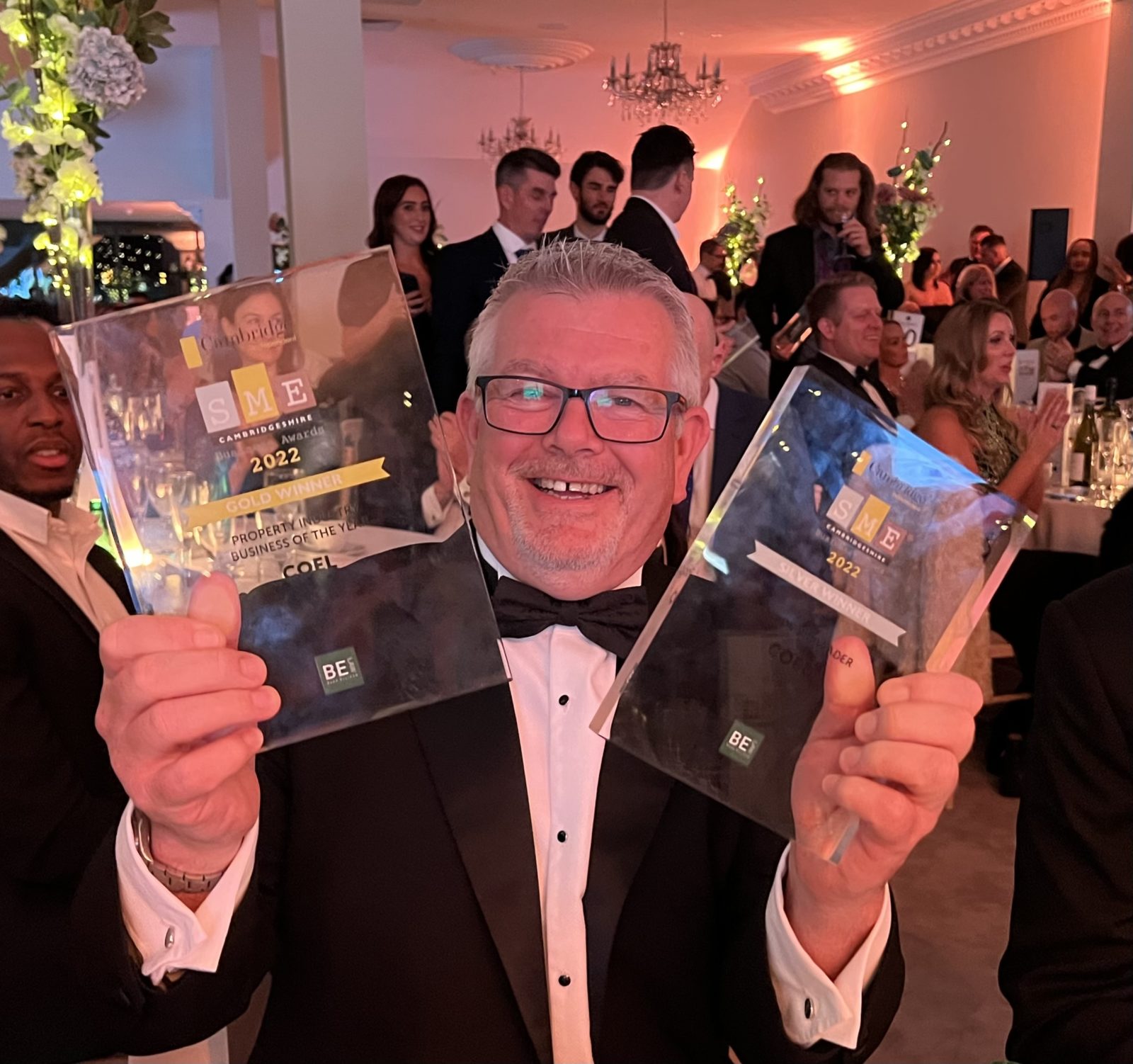 Since joining COEL in 2004, Alistair has been driving growth, spearheading innovation and inspiring the dynamic team. Here, he discusses recent changes to COEL, reveals his vision for the future and tells us a little about his life outside COEL HQ
How does Alistair's story begin?
Born into a farming family in Suffolk, Alistair grew up with a strong work ethic.
"On the farm, I learned the basics of engineering and construction, helping my dad to put up buildings from scratch," he explains. "When I finished school, I went straight into the working world which was quite normal for kids growing up on a farm."
First job
Beginning his career as a glazier at the age of 18, Alistair worked for various companies around Norwich, before switching to civil engineering for around a year. When he met wife Pamela, Alistair moved to Cambridge, where he was appointed Installations Manager for N&C Glass in Ely.
Joining COEL
During his six years at N&C, Alistair began to collaborate on projects with Neil Cook, COEL's founder, who launched the business as a sole trading subcontractor in 1986. A firm friendship was formed.
"I'd worked on a few jobs with Neil, and we always had a good relationship, based very much on banter!" says Alistair, with a smile.
Confiding in Neil that he was ready for a career change – and after some round-table discussions – Alistair was offered a job at COEL in 2004, managing projects and installations.
Recalling some of the early challenges, Alistair explains:
"Project management and health and safety were weak points when I joined the company. We had a lot of flair, a lot of ambition and a lot of drive within the company but procedures and policies weren't a strong point, so that's what I brought to the table, firming up health and safety rules and ensuring we were professional in our project management delivery."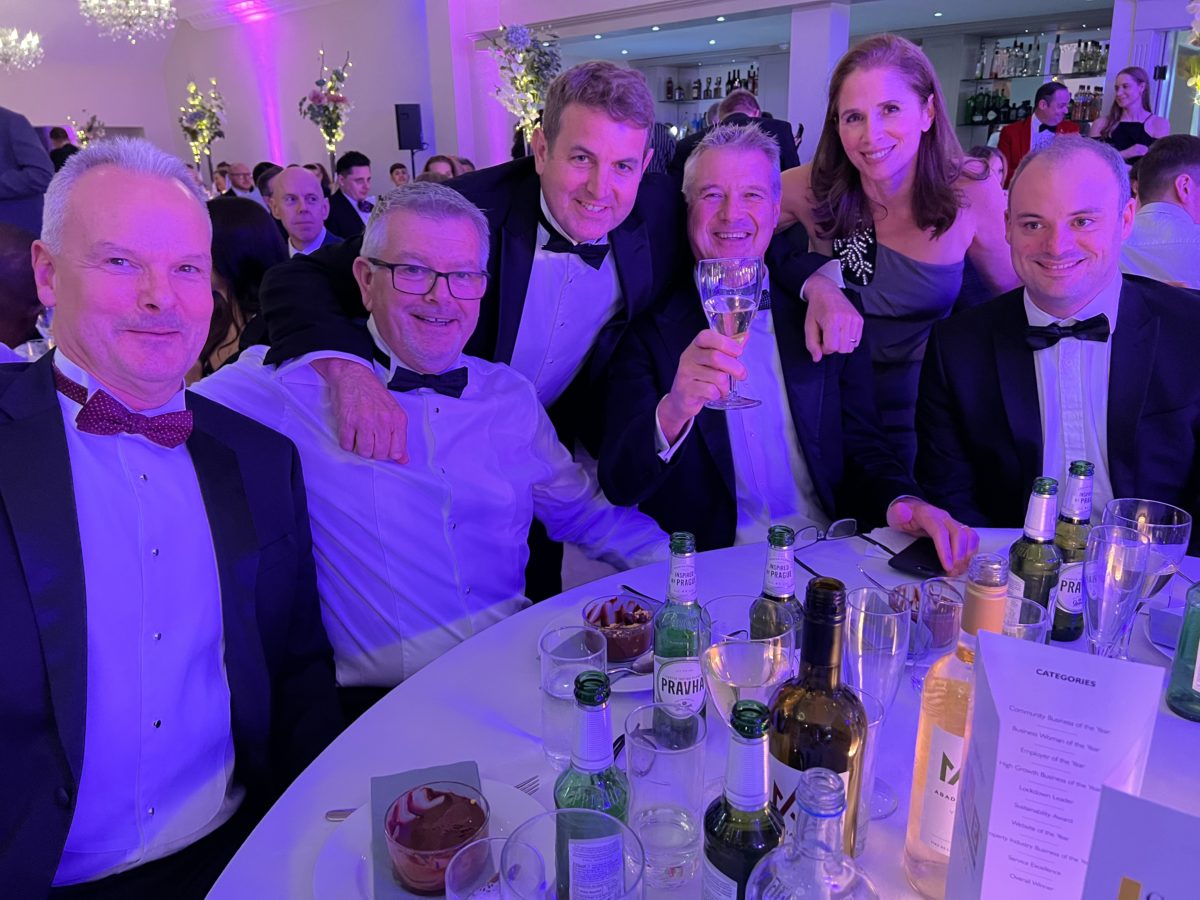 Alongside fine-tuning processes, Alistair was responsible for securing some major new COEL clients, including CSR.
"CSR was one of those clients that Neil had been targeting for some time and I managed to bring them onboard, which led to a fantastic relationship resulting in some big projects," he explains. "They were the first account which saw us complete £1million-worth of work over various projects in the course of 12 months."
Since joining COEL, Alistair has risen steadily through the ranks, being made CEO in 2021.
The Management Buy-Out
In 2021, a management buy-out saw a highly-experienced team of board members take control of COEL from majority shareholders CEO, Neil Cook, and Regional Director, Dan Brown. Alistair was one of those board members, alongside Financial Director, David Williams; Operations Director, Jerry Overhill; Sales and Marketing Director, Barnaby Clark; and MEP Director, Dean Powell.
"We knew there was massive scope for the company and Neil could see that as well," says Alistair. "He had taken the company, from a leadership point of view, as far as he could, and was ready to move on."
The MBO was many months, even years, in the planning, and Alistair recalls a feeling of elation once the deal had been confirmed:
"It was a great feeling; we were all ecstatic to get the MBO across the line. I remember James Allen from Birketts, who was our solicitor, telling us 'You are all signed and exchanged; you now own COEL' and it was a fantastic feeling, but also one of responsibility and a knowledge of the hard work we had ahead!"
Neil stayed on for a year and a half in an advisory role, leaving COEL last December, bowing out on his 60th birthday. Although no longer a day-to-day presence at COEL HQ, he remains a shareholder and networks on behalf of the company, in an ambassadorial role.
What does the company look like post-MBO?
"We've become a lot more process-driven; we understand peoples' strengths and weaknesses and we've put a lot of training in to fill the gap between what people know and don't know," explains Alistair. "We are more considered in the jobs we take on, to ensure we don't overburden the team."
Staff wellbeing is incredibly important to Alistair, with a host of employee benefits being introduced as well as team building opportunities. "We want people to be working at around 85 per cent not at 120 per cent, and then we have happier employees."
Alistair is particularly proud of the company achieving a clutch of International Organisation for Standardisation (ISO) endorsements (for quality management, environmental management and health and safety management) in the autumn of 2022.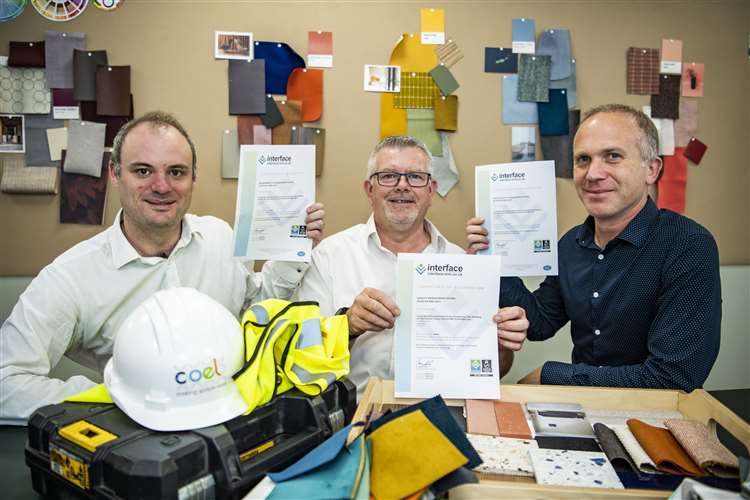 "Getting the three ISO standards was a big achievement and a reflection of how we, as a company, have adapted our processes," he enthuses.
The management team has also been bolstered by the appointment of Hugh Daniels as Commercial Director in December 2022. "Hugh brings a lot of commercial and QS experience to the team, which is something we needed," explains Alistair.
Hugh's appointment, working closely with financial director David, means that COEL will be able to forecast much further ahead than was previously possible. "This gives us a good insight to where we may need to change tack to ensure we keep on the curve," adds Alistair.
Bringing CMS back into COEL
CMS, which specialises in forward-thinking office furniture and relocation, was previously a subsidiary company of COEL, but has recently been brought back into the business.
Alistair explains: "Part of the MBO was to ensure we brought subsidiary companies back in-house, to be one big family, if you will. CMS has worked very well and by bringing them back into COEL, we've made the team stronger and more effective commercially."
Office and laboratory focus
Since the MBO, the company has very much refined its attention to offices and laboratories.
"We've seen a big change in the Cambridge market," explains Alistair. "It started before Covid, but Cambridge attracts a lot of the blue-chip companies and in the past has been renowned as an R&D city, but I think that's changed so office and lab fit-outs have become a lot more important to attract the right people."
Creating crucial lab space
With growing concerns about the limited availability of lab space in Cambridge, COEL is working closely with real estate agents to identify suitable commercial premises for conversion.
And because of its expertise in the life sciences sector, and its in-house mechanical and electrical capabilities, COEL is able to not just design and fit-out a laboratory, but understand the complexities of temperature control, chemical storage, extraction and ventilation, which are so crucial for a safe and efficient laboratory.
"There's something like a million square feet that is needed right now for laboratory space in Cambridge – and possibly up to three million square feet for future lab space in the city," says Alistair. "We've found that we're now turning tradition office space into lab and office space and that comes with its own challenges for us, but luckily enough we do have the expertise in-house to solutionise these issues."
The lab space shortage is not solely a Cambridge problem, as Alistair explains: "We've seen this issue in Oxford too, obviously working on the Cambridge to Oxford arc, incorporating Milton Keynes," he continues.
Post-pandemic offices
The role of the office and laboratory has changed drastically since the Covid-19 pandemic, and COEL has adapted its offering to embrace the new focus on hybrid working, as well as creating neurodiverse, sustainable and wellbeing-led workplaces.
"Giving people more of what they want or deserve has become quite key. So increasingly fit-outs have focused on better working conditions for staff, on wellbeing and creating a feeling of being a team rather than being isolated," muses Alistair. "The office designs we're doing right now have collaborative space, breakout areas, quiet rooms and acoustic pods, so the way of working is certainly changing."
Despite the popular 'working from home' trend, Alistair is confident that offices have an important role to play in a happy, efficient workplace.
"I think whatever happens, there have to be offices, because people like people. Working from home can isolate people and make them feel left out, and you can also lose a bit personality on online meetings."
A full turnkey service
With COEL's offering for offices and laboratories now spanning planning and design, fit-out and refurbishment, furniture and relocation, and mechanical and electrical services, it can provide a comprehensive joined-up service for clients.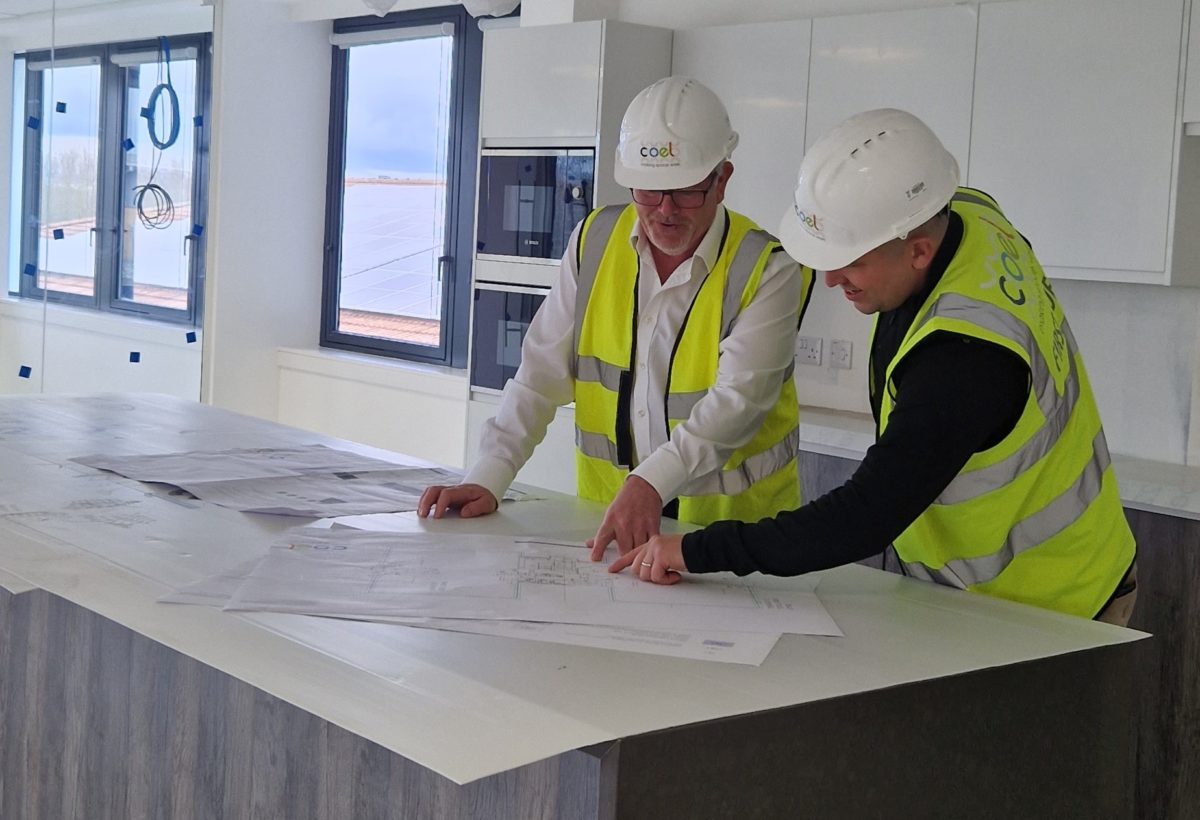 "COEL is growing its in-house expertise to be able to deliver projects quickly, efficiently and cost-effectively by managing the works in-house," Alistair explains. "Having that in-house expertise does allow us flexibility and speed to be able to get on site and deliver, especially when programmes are tight, which is often the case with laboratories."
Vision for the future of COEL
So, building on the foundations initially laid by Neil, how does Alistair see COEL developing over the coming years?
"We will keep growing COEL, invest in our staff and continue to bring brilliant clients onboard. Our big audacious goal is to be turning over £45million in the next three years. Obviously, there are challenges with current world events but we've managed to keep out of recession, and we've also thrived in recession because we have been adaptable as a business."
With growth strategies in place, Alistair and his team are looking firmly at the East Anglian market, from Peterborough across to Norwich and Ipswich, as well as to expand their geographical reach to key areas like Milton Keynes and Oxford.
"It's looking for those opportunities that suit us and suit our clients, because we are a one-stop shop now for design, build and fit-out."
Passion for the job
With so much to grapple as company CEO, including a staff of 78, what does Alistair love most about his all-encompassing role?
"The two things I really love is leading the team, which I've been doing for a number of years now, and seeing both the company and the people within the company grow," he reveals. "We have wonderful staff, and there's still very much a family feel here so my door is always open to anyone wanting to come along and have a chat."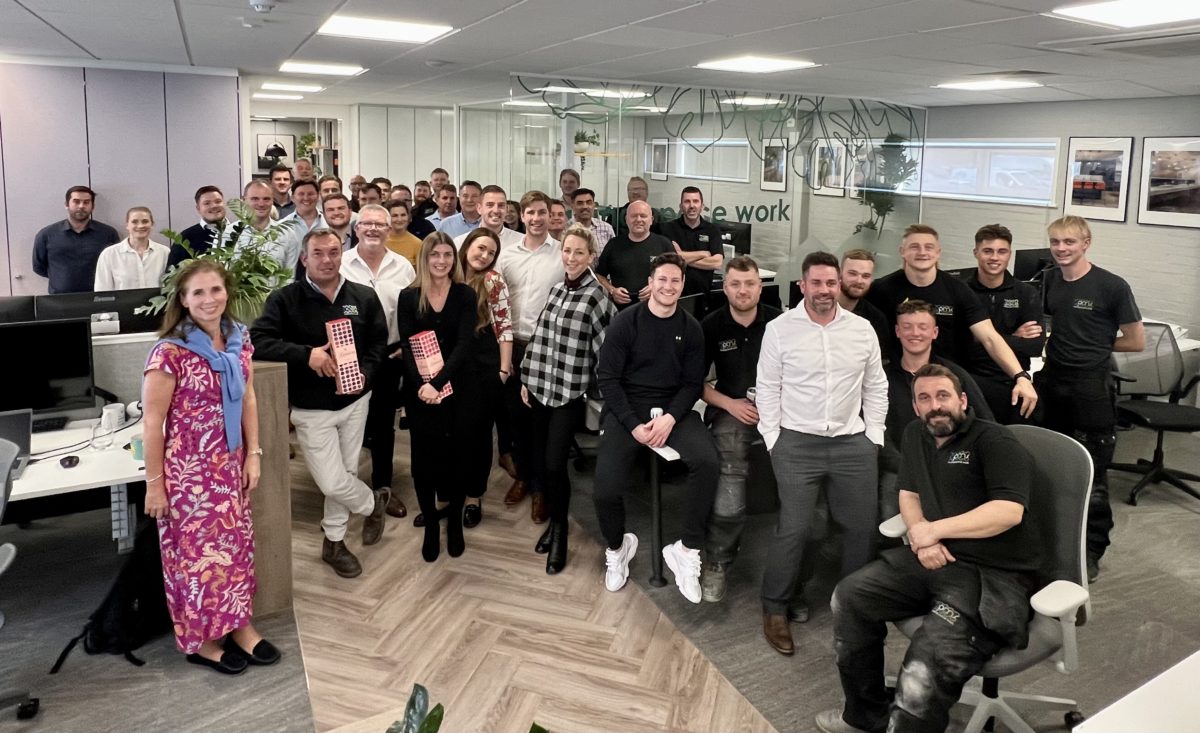 Outside of work
Alistair and wife Pamela, who have two daughters, Alicia and Ella, are kept busy with regular babysitting duties for their four grandchildren (with two more bundles of joy on the way!).
"I love the grandkids because you can teach them all the wise things you've learnt then you can hand them back!" laughs Alistair. "No, seriously, they are wonderful, and we spend a lot of time with them."
The family love the outdoorsy life, going on long walks with their dogs, Bob and Bailey. Each winter Alistair jets off to Europe, to hit the slopes of Italy, France or Austria and carve the powder on his snowboard.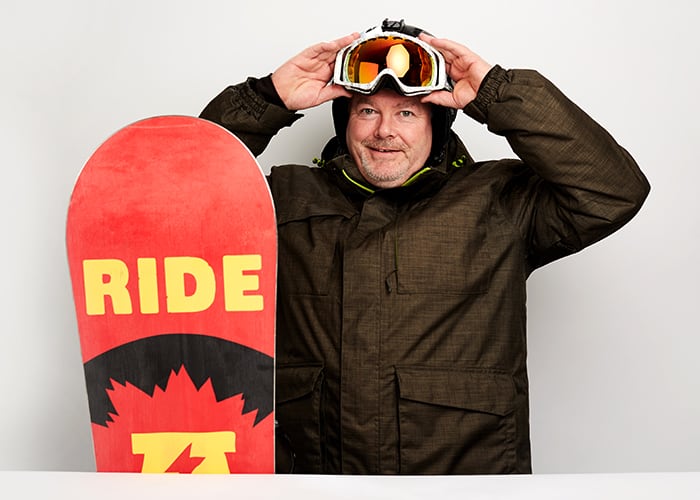 In the summer, Alistair enjoys carp and pike fishing, both in the UK (Cambridge and the Norfolk Broads, mainly) and in France, as well as a spot of target and clay shooting.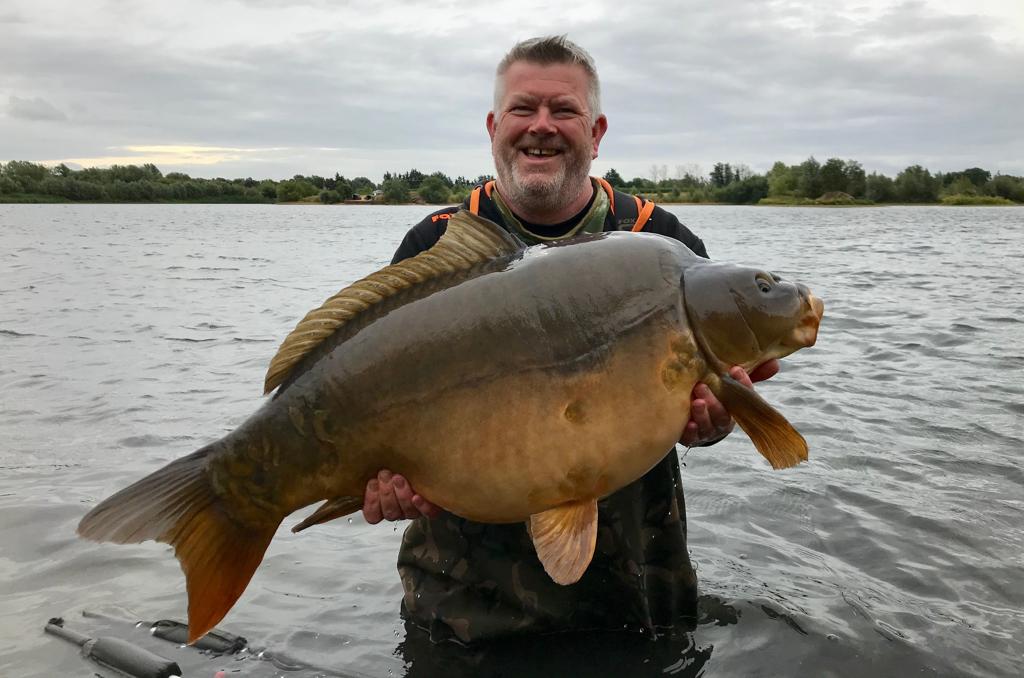 ---
A Day In The Life Of Our CEO
6.30am – 7am
I get up and take the dogs for a walk. We have Bailey, who is a Yorkshire Terrier, and Bob, who is a Terripoo, which is a Terrier crossed with a Poodle. So, I try and get some steps in before work. We have just finished a step challenge across the company, which was getting a bit competitive! I clock up between 4,000 and 20,000 a day depending on whether I'm tethered to my desk all day, and if I can get to the gym after work.
8am – 8.30am
I arrive at the office. In the spring and summer, I'll bike to work along the River Cam, which is lovely, but in the winter I'll drive in, then head to the gym after work to keep fit. My day starts with sorting out emails, which I receive from all sorts of places. Then I'll be involved in internal meetings, director meetings, department meetings, all geared towards driving the company forward and looking at how we can refine our processes and make peoples' lives here happier. It's pretty full on.
Lunchtime
I don't often stop for lunch when I'm in the office, but I do tend to have lunch meetings. If I go to lunch with a client, I tend to order a starter and a main. If I'm in the office, and there's time, I'll often have a quick walk around the block at lunchtime just to clear my head.
Afternoon
Sometimes I'll go out on site visits, but predominantly I will be in meetings. Often, we will have director meetings on the golf course at Kingsway in Melbourn. So, we will do nine holes, which takes a couple of hours and gives us time for a good chat outside the office and some fresh air, which is great for team building.
Home time
Generally I finish any time between 5pm and 7pm. Sometimes a few of us will go for a quick beer after work. In the winter I tend to leave at 5pm to go to the gym, at least three days a week. When I'm home I love to cook. My favourite food tends to be steak and I enjoy salads or a light pasta dish in the summer time with a lovely crisp white wine.
Evening
In the summertime, I like to be out and about, so may go fishing or take the dogs out. I don't tend to watch a lot of telly so I'll listen to podcasts or read. I'm into biographies which I find quite interesting. I've just read Bob Mortimer's fictional book, The Satsuma Complex, which I really quite enjoyed.