company-news
Industry leader COEL achieves three international standards of excellence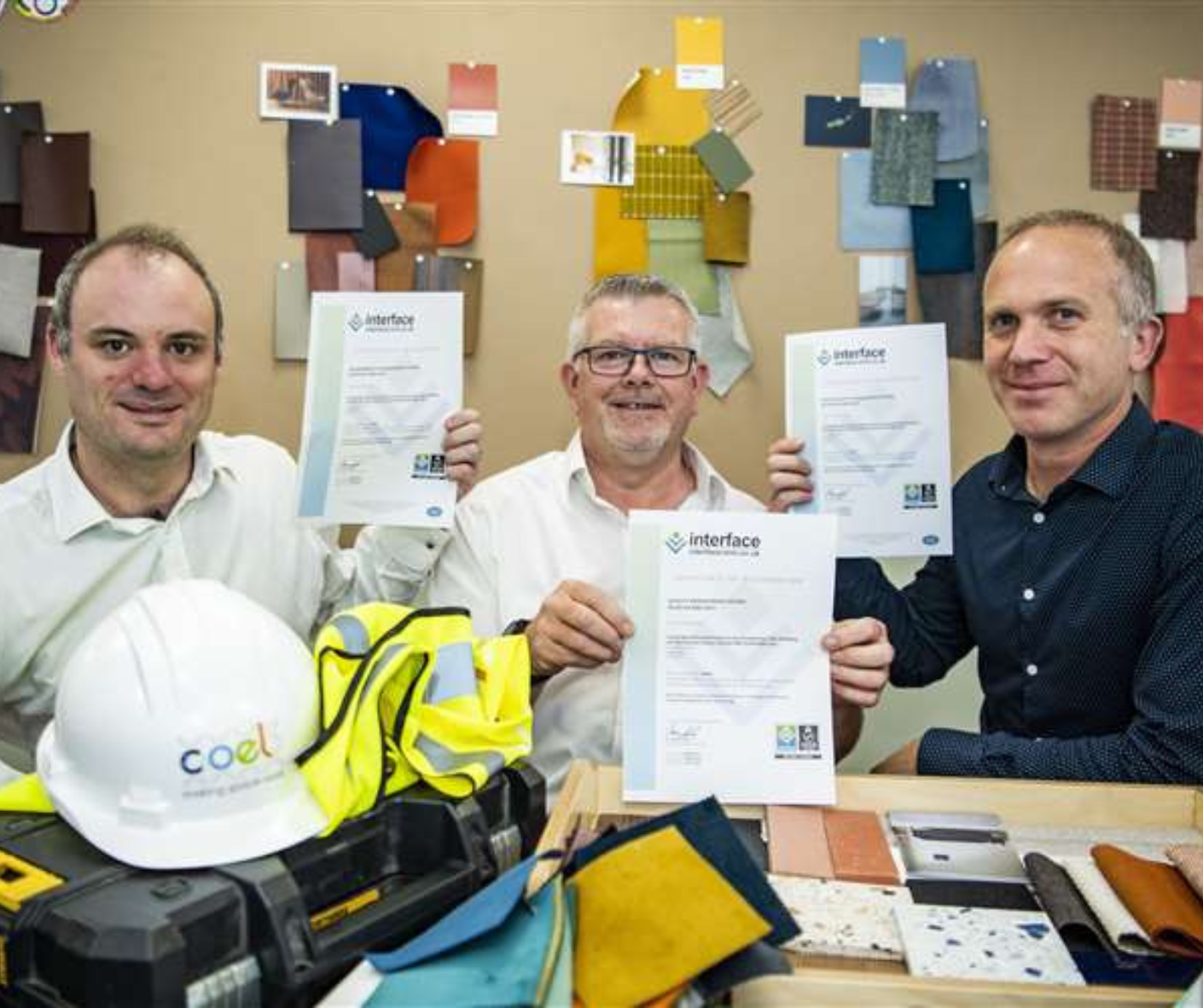 Leading office and laboratory design and fit out company, COEL, is celebrating after achieving three internationally-recognised standards.
The innovative Cambridge business, which has been designing amazing spaces for more than 30 years, received a trio of International Organisation for Standardisation (ISO) endorsements.
These accreditations, which provide a framework for best practice, recognise excellence in COEL's Quality Management System (ISO 9001: 2015); Environmental Management (ISO 14001: 2015); and Health and Safety Management (ISO 45001: 2018).
What do these ISO certifications mean for COEL's clients?
The certifications, awarded by an independent body, not only acknowledge that COEL's services and processes are world-class in their quality, safety, and efficiency, but provide customers with a reassurance that they are engaging with a highly reputable business.
David Williams, COEL's Group Finance Director, who has been fundamental in spearheading the accreditations, says:
I am delighted that we have achieved all three standards. The recognition of these standards is a reflection of how COEL works and delivers great spaces for our clients.
"Flagship Partners expertly guided us through the process and provided practical advice when required. I would also like to extend my thanks to our Health and Safety advisors Workplace Risk Management (WRM). We are excited to build upon these standards in the coming months."
Why are ISO standards so important for businesses like COEL?
Peter Rushmer, founder, and director of Flagship Partners, who provided COEL with guidance on compliance, safety, and HR, explains the importance of the ISO standards:
"The benefits of ISO are that they are internationally recognised accreditations which show that the company demonstrates high levels of quality management, environmental management and safety management, which gives customers peace of mind that they are working with a reputable business."
During its consultancy, Flagship Partners carried out a gap analysis at COEL to ensure its procedures met the ISO recognised criteria in each category. Peter goes on to say;
For all of the standards, COEL were already performing fantastically well, so it was more a case of standardising these procedures to ensure they were consistent.
The Quality Management System certification saw COEL work with Flagship to build an integrated management system, ensuring all meetings and agendas are continually documented and that quality throughout the business is regularly assessed.
The Environmental Management certification was achieved thanks to COEL's impressive green credentials.
"We looked at COEL's commitment to being environmentally friendly in the way it carries out its office fit outs and other work," explains Peter. "We also considered the way it procures products, ethically deals with its waste and continually makes choices which are as energy efficient and sustainable as possible."
The Health and Safety Management standard was awarded in recognition of COEL's proactivity in creating a safe and hazard-free workplace, minimising the risk of injury or ill health to employees.
"COEL already had an existing health and safety partner, Workplace Risk Management, so we helped ensure the great work they were already doing met the requirements of the standard and that policies, procedures and risk assessments could be regularly reviewed and communicated effectively with the team," adds Peter.
COEL's clutch of ISO accreditations reflect the continued professionalism and hard work of staff throughout the whole business. Peter concludes:
These certifications mean that any prospective client can have absolute peace of mind that COEL are consistently and demonstrably delivering very high standards across their entire business.
If you'd like to read more on this topic, please see the coverage in the Cambridge Independent here.
———–
A little about COEL's services
COEL, which has offices in Cambridge, Oxford and Peterborough, specialises in space planning, helping businesses to adapt to changing working patterns in a post-pandemic world. Its adventurous and thoughtful office and laboratory designs create working environments which lift the senses and elevate the mood, thereby boosting productivity and wellbeing.
COEL's subsidiary, CPMS, offer excellent support, meaning clients are guaranteed a seamless, full turnkey service. CPMS provides property maintenance, including plumbing, electrical and mechanical work, across a diverse client base of residential, commercial, R&D, Laboratory and Estates.
The furniture team, meanwhile, source and install stylish, contemporary pieces, and specialise in national and international commercial relocation, storage, and furniture recycling.
To speak to us about a potential office or laboratory fit out, please contact us here.