industry-insight
Office Design Trends: COEL's Predictions for 2023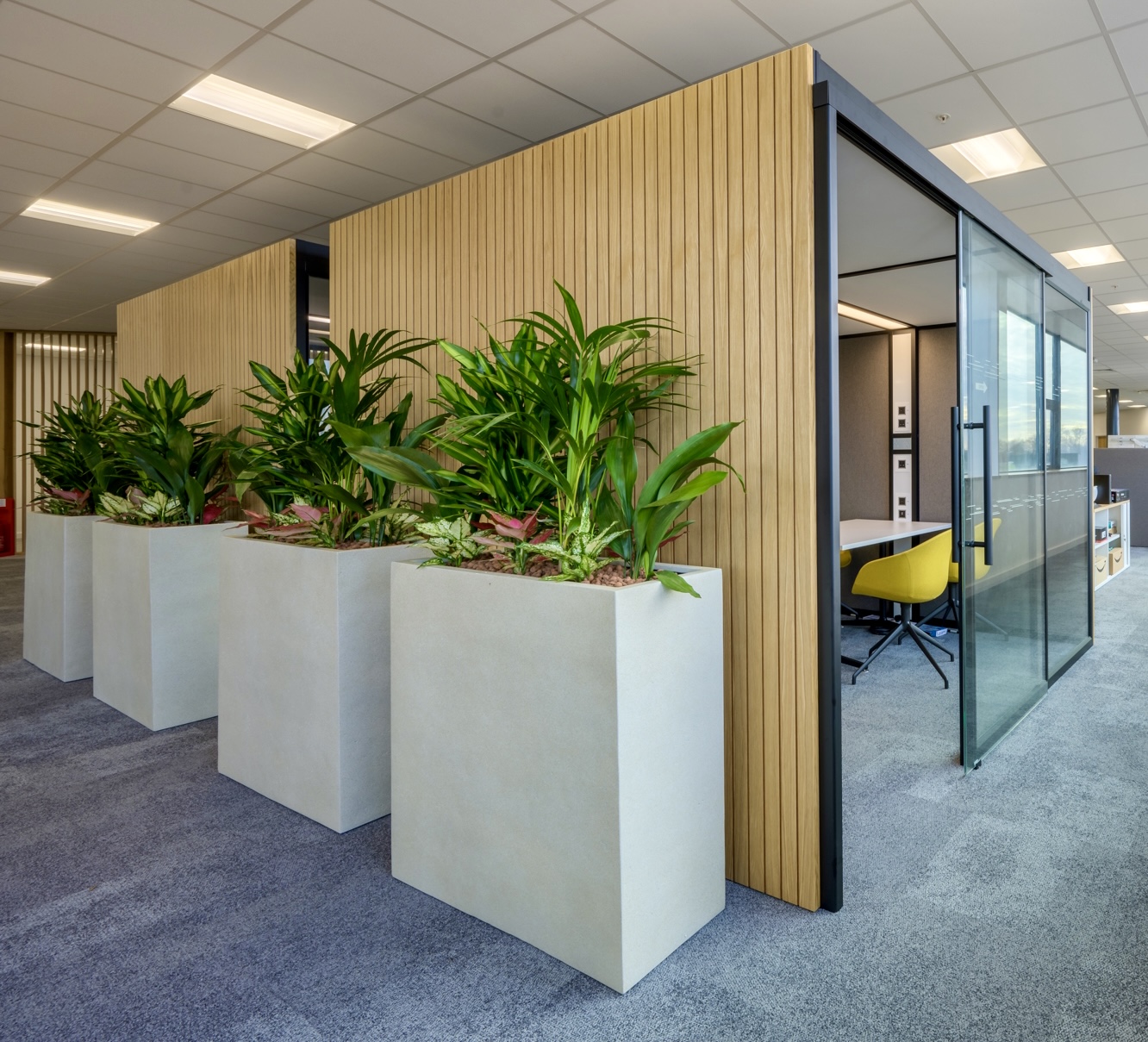 Once the home to a standard 9 to 5 working day, the 'office' looks very different at the dawn of 2023. As we at COEL predicted, there have been seismic changes in the way we work post-pandemic, including the rise of collaborative working spaces and sophisticated technology to aid hybrid working.
But what's on the horizon for office design in 2023?
We asked COEL's design team, what their predictions are for office design in 2023. Their collective response? It's all about the human needs of your workplace;
"Front and centre are designs which elevate employee wellbeing and comfort, enhance productivity and motivate a sense of team spirit."
Here's our top 9 predictions for 2023 office design
1. Acoustic booths
There's nothing more distracting when you're trying to host a Teams meeting or concentrate on a time-sensitive document than hearing your colleagues celebrating the latest sales figures!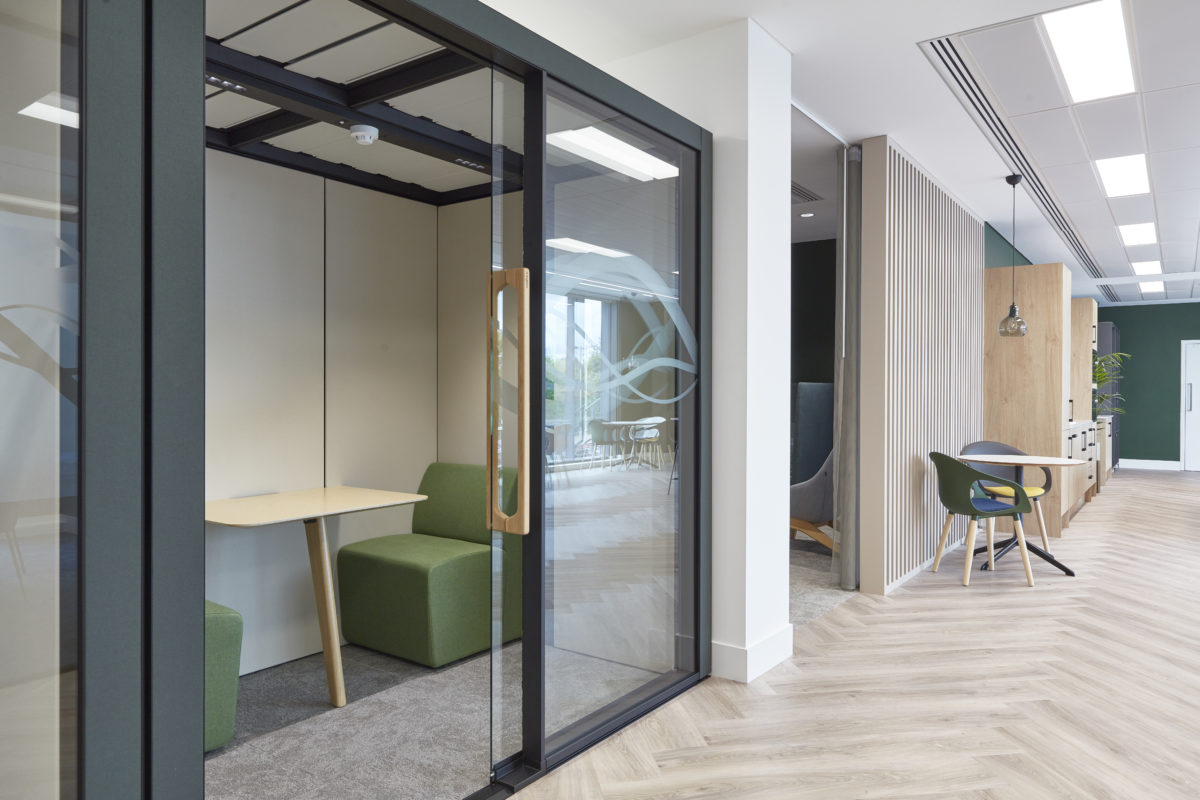 Here's where acoustic booths or Zoom pods come in to their own. Popular additions to open-plan offices during times of social distancing, these sanctuaries will continue to be big news in 2023. Here's why:
Self-contained and segregated, acoustic booths are perfect for conducting video conferences or taking personal calls within work hours.
When upholstered with sound absorbing fabric on walls and floors, these pods can offer protection of up to 45 decibels, ensuring a peaceful haven to concentrate.

Some booths come flat packed so can be constructed swiftly and moved around the office as needed.
They are multi-faceted and versatile with more sophisticated models boasting motion- controlled air conditioning, integrated TV monitors and LED lighting.
Having a booth to retreat to can also boost employee wellbeing as they provide a safe refuge where work can be completed uninterrupted.
—–
PROJECT FOCUS: PRIVATE BOOTHS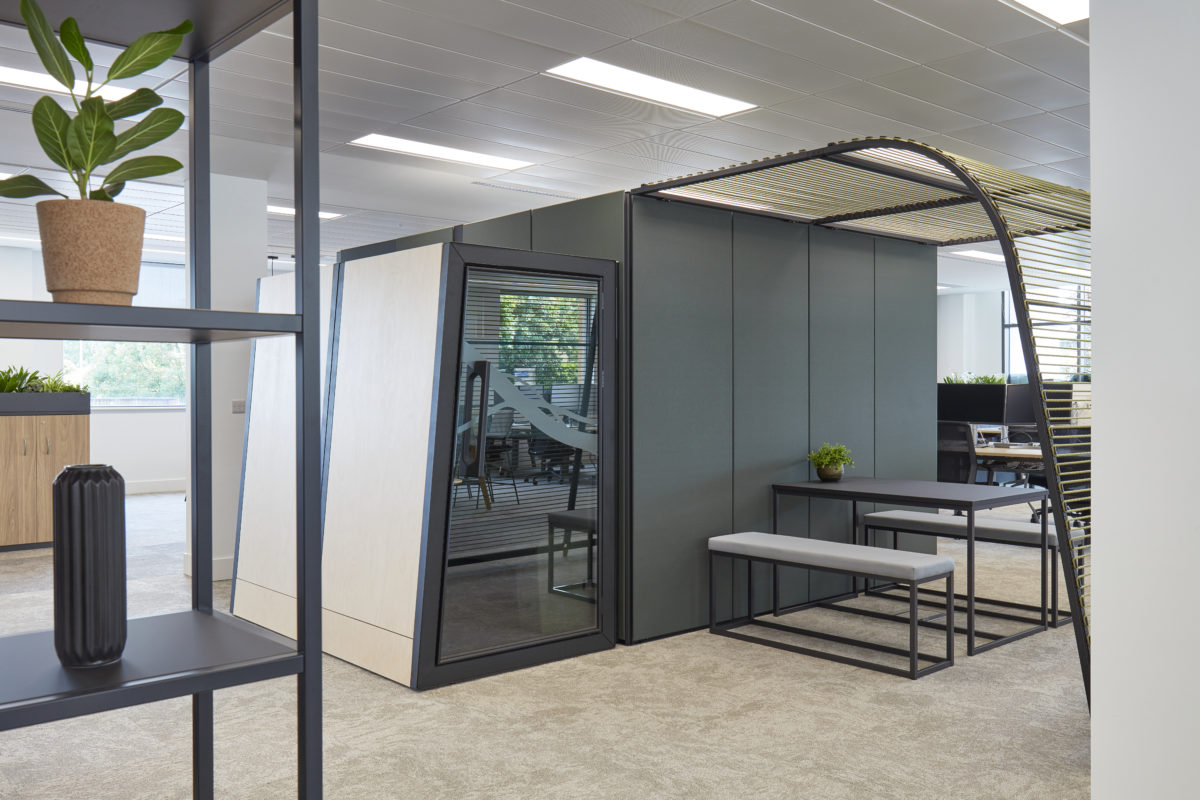 COEL worked with Agile Analog utilising a variety of acoustic booths to create intuitive spaces, ranging from private call booths, small teams rooms and large meeting rooms.
---
2. Enhanced use of natural light in the office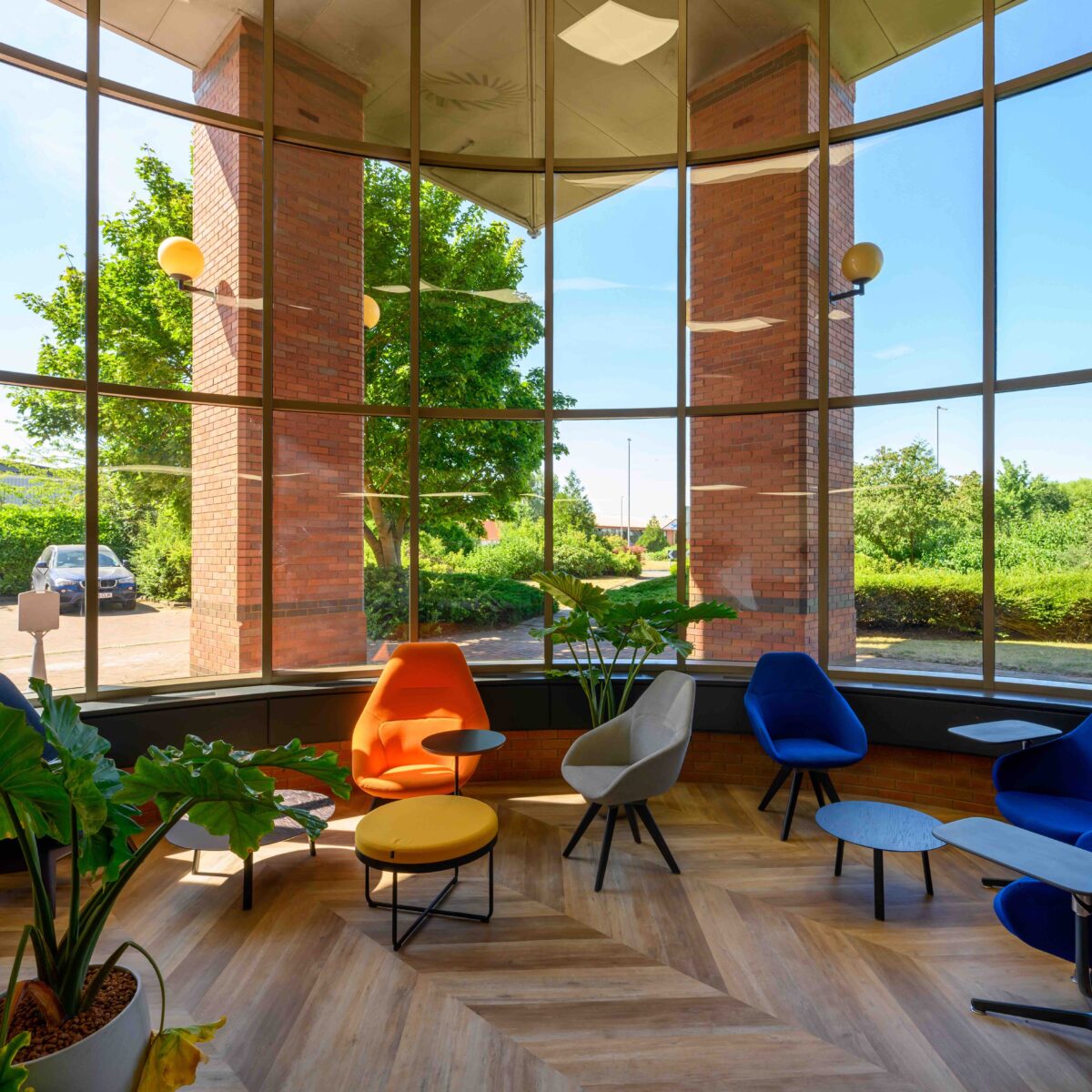 We all know how grumpy we feel if, for whatever reason, we've been stuck inside for any length of time. Exposure to daylight is one of our key primal needs as a human being, and has been scientifically proven to boost our wellbeing, productivity and mood. So, for 2023, a key office interior design trend is to enhance work spaces by adding as much natural light as possible. Here's how:
Floor-to-ceiling windows allow the light to flood in. Alternatively consider adding skylights and roof glazing, so the sun can penetrate the room.
An open plan office allows all employees to benefit from exposure to natural light. Ensure workspaces are positioned close to windows, and furniture moved away from light sources, for maximum illumination.
If your office needs to include cubicles or rooms, swap opaque partitioning for glass room dividers or glass walls to create a light and contemporary look.
Boost employee wellbeing by providing access to rooftop spaces or gardens where they can work or enjoy a lunch break in nature.
Where access to windows is minimal, create an illusion of natural light with strategically-placed mirrors, circadian rhythm lighting and a warm colour scheme.
—–
PROJECT FOCUS: LETTING IN THE LIGHT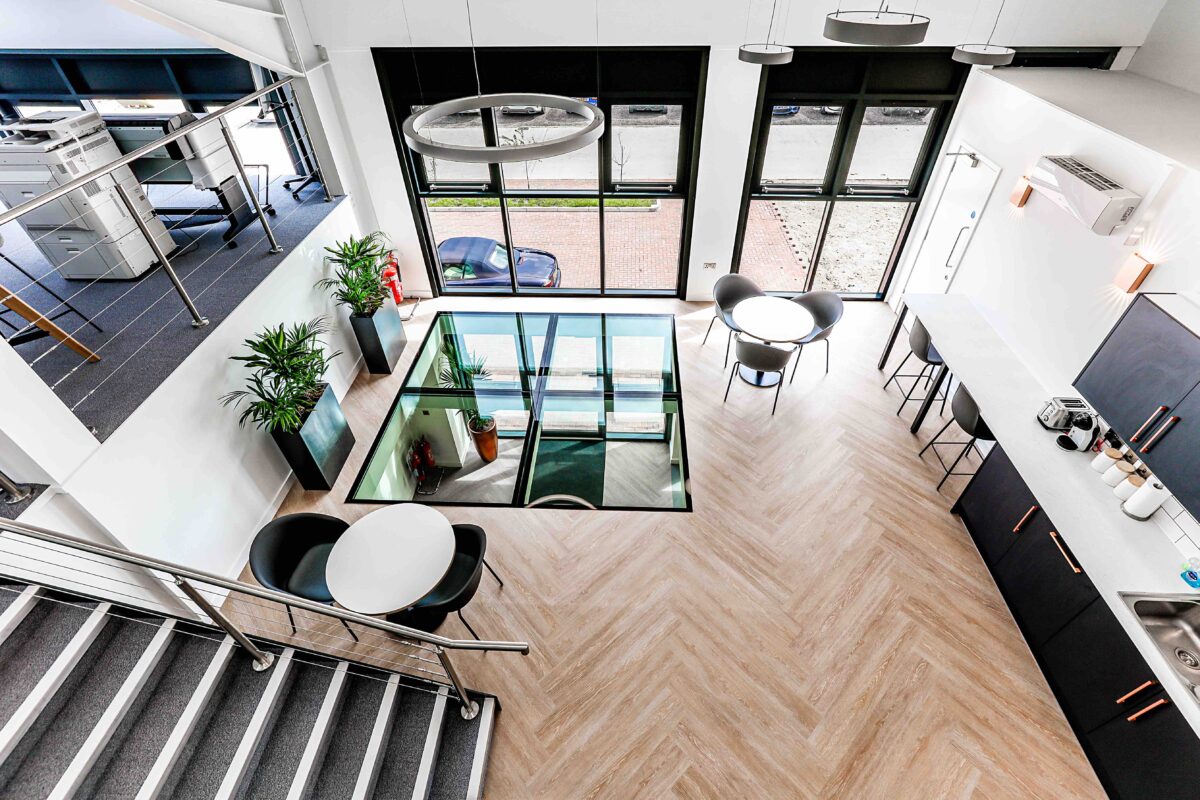 In an innovative fit out of new offices and a marketing suite for I-MEX (M&E) Ltd, we maximised the use of glazed frontage and installed a new glazed floor light allowing borrowed light from between the ground and first floor areas.
---
3. Neurodiverse office design
 
With an increasing awareness of neurodiverse conditions such as ADHD, Dyslexia, and Autism, it's more important than ever that offices are designed as neurodiverse-friendly workplaces.
According to ADHD Aware, up to 15 per cent of the population are now thought to be neurodiverse, meaning that they experience spaces, sounds, smells, lights and life in a different way.
Here's some ways to create an office design which allows a diverse workforce with cognitive differences to thrive:
Design different workspace options, so employees can choose the right environment, based on their work needs and sensory comfort. Include an area for quiet focused activity, a stimulating space for group work, plus a recharge zone, featuring low lighting, comfortable seating and calming music to retreat to in moments of sensory overload.
Flickering lights and bright colours can be distressing for those with neurodiverse conditions such as ADHD, so choose office design which both maximises natural light and reflects light (shiny furniture and glossy surfaces). Include dimmable lighting options and artwork with easy-on-the-eye patterns.
Neurodiverse employees may have tactile sensitivity so choose furniture materials that are plush and inviting in non-stimulating colours as well as natural materials such as wood.
Movement can help people with attention disorders to focus, so height-adjustable and sit-stand desks are useful as well as 'active furniture' like rocking chairs.
Wayfinding is important as it offers the neurodiverse a sense of security and control. Achieve this with repeated design features (which promote a reassuring feeling of familiarity) and clear, easy-to-follow signage.
—–
PROJECT FOCUS: FINDING THE WAY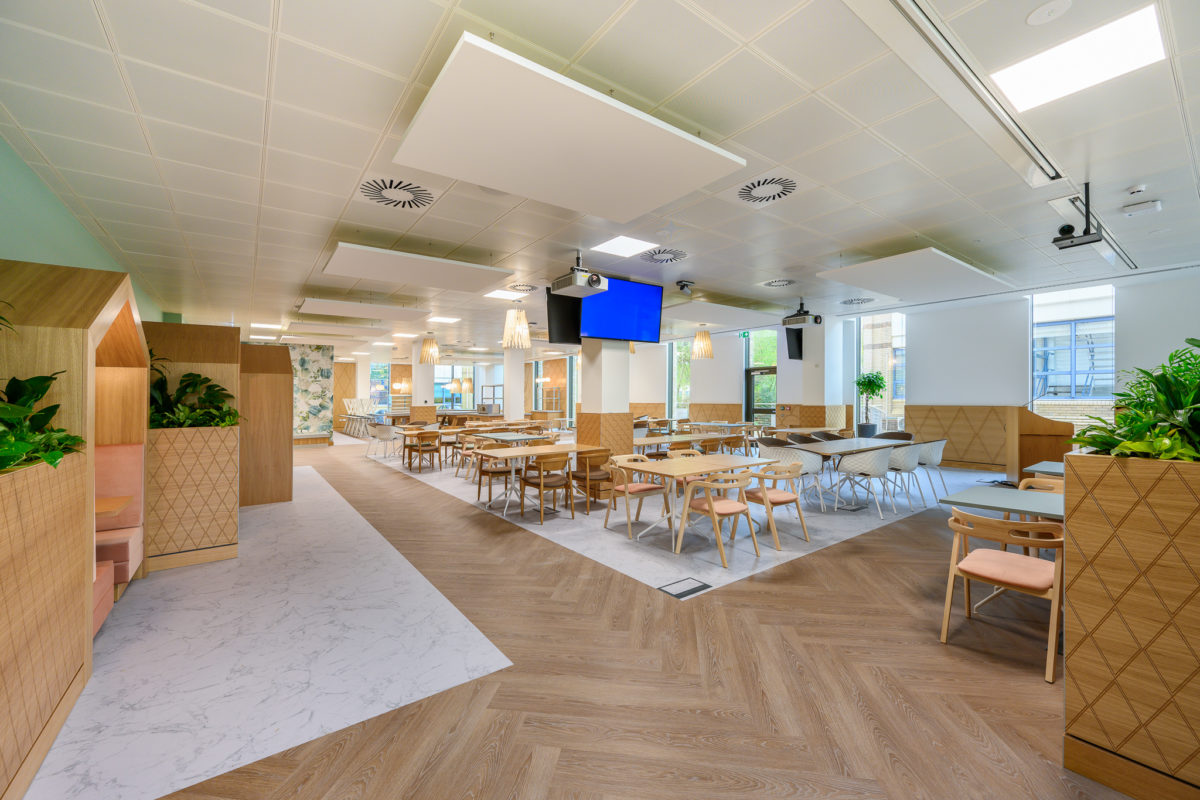 Our recent project at BioMed Realty saw us install decorative ceiling lighting to highlight core transitional routes through the office space. Likewise at Cambridge Science Park, we selected, clear demarcated floor finishes zoning area to highlight core functions.
---
4. Biophillic office design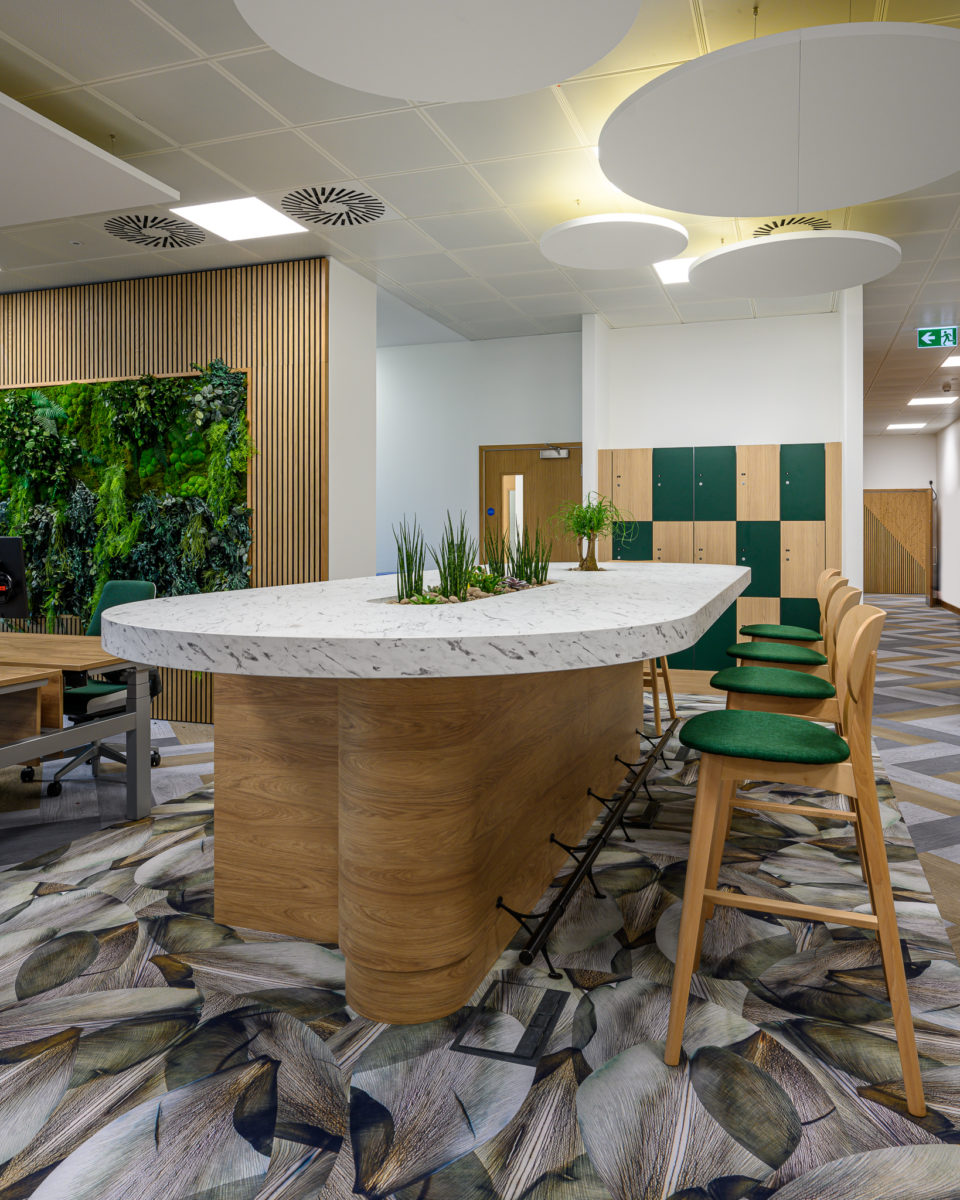 Katie Bowes, Associate Director, Design, comments:
"There's nothing like being in nature to lift our spirits, which is why biophillic office design will continue to soar in 2023.
As humans, we have an innate desire to connect with nature. This translates into the modern workplace; with air-purifying plants, increased access to outdoor spaces and the use of authentic, natural materials in office design."
Here's our tips on how to incorporate biophillic design touches into your workspace:
Keep employees in touch with the environment by installing green living walls, resplendent in verdant moss, lush vegetation or full-on blooms.
Add plants judiciously to bring the outdoors in and remove toxins from the air, inspire creativity, reduce noise levels and offer seclusion. We like to install planting in overhead gantries and pots suspended from the ceiling.
Mimic the positive effect of nature on employee wellbeing by incorporating authentic natural materials in office design such as wood, stone and bamboo.
Recreate the sights, sounds and smells of nature with water features, fountains, fish tanks, aroma diffusers spritzing pleasant botanical scents, and plentiful natural light.
—–
PROJECT FOCUS: BRINGING THE OUTSIDE IN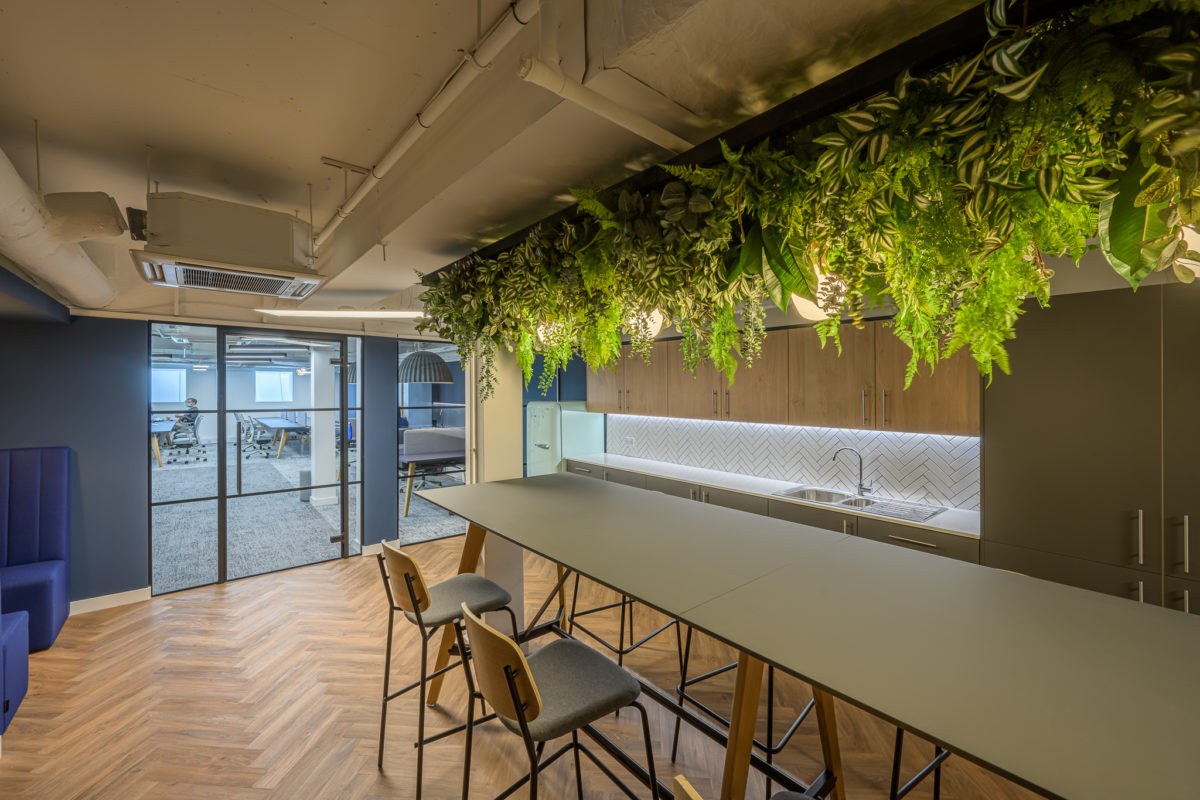 Mother Nature proved the key inspiration in the biophillic designs masterminded by COEL at Wren Therapeutics. The darker lower ground floor space was enhanced with the addition of faux hanging foliage, which also created an attractive focal point of the kitchen island.
---
5. Smart offices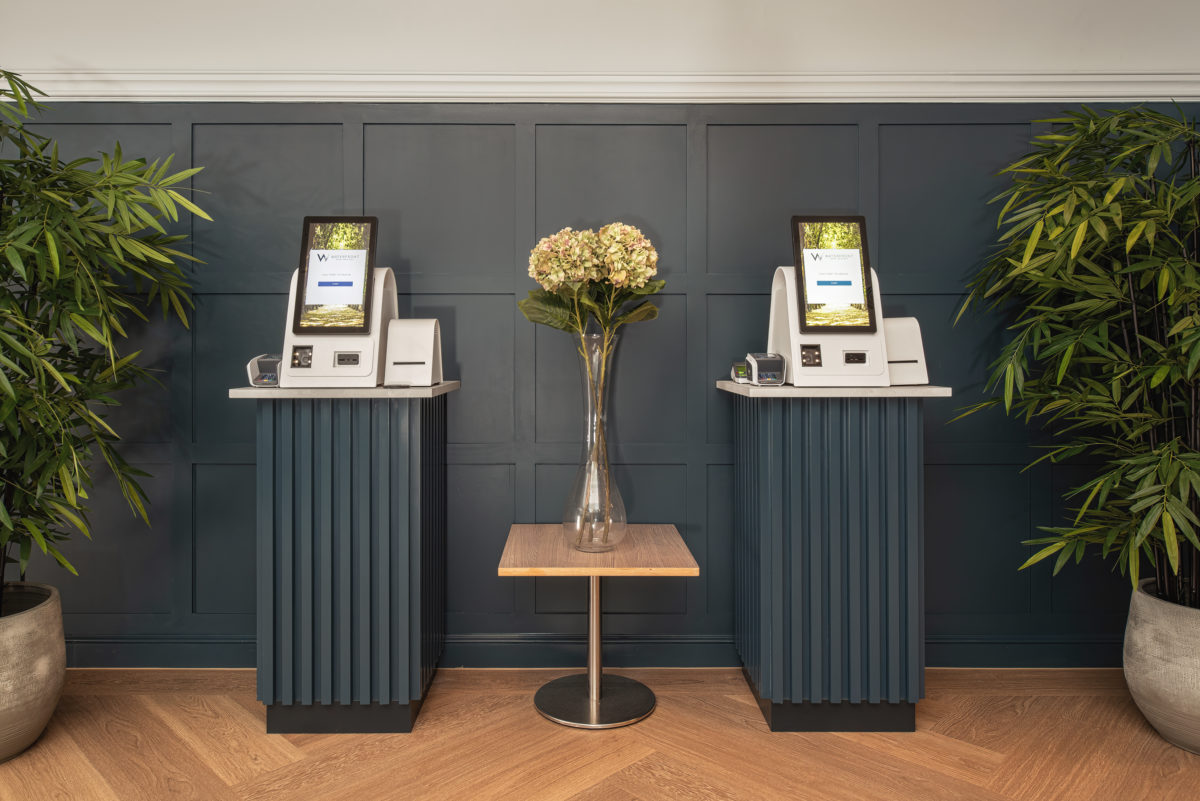 Digital tools really came into their own during the pandemic, allowing employees to work from home whilst continuing to collaborate with colleagues.
2023 will bring more innovative technologies to the fore, including advanced digital platforms, virtual reality and AI applications (backed up by a cutting edge IT infrastructure). Here's what we expect to see:
Intelligent technology, like Desk Booking, which can collect and share data on the way office spaces are being used, and allow staff to efficiently reserve work spaces.
The use of sensors to monitor air quality, temperature and natural light levels, which can be adjusted to improve the overall staff experience. Employees could also be given access to alter these levels via smartphone apps to personalise their environment.
Office design will adapt to support the continuing desire for flexible working providing excellent audio and visual access to video conferencing, whether staff are in the office, or working remotely.
Increased automation, from smart printers which automatically order new ink when running low to smart blinds that rise and fall around sunshine levels. And our personal preference, mobile app-controlled coffee machines!
—–
PROJECT FOCUS: SMART TECH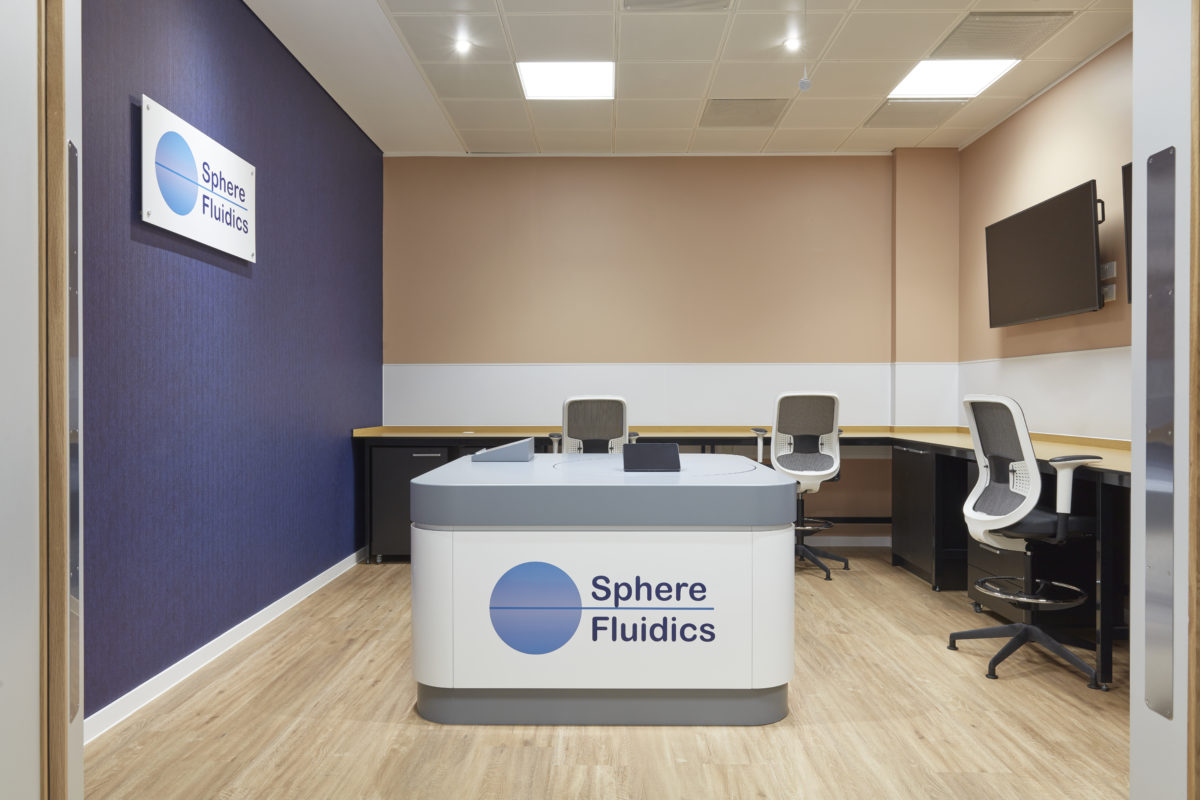 Alongside the lab and breakout spaces at our recent project at Sphere Fluidics, we delivered a bespoke joinery showcase display for client products to support product demonstrations.
---
6. Sustainable workplaces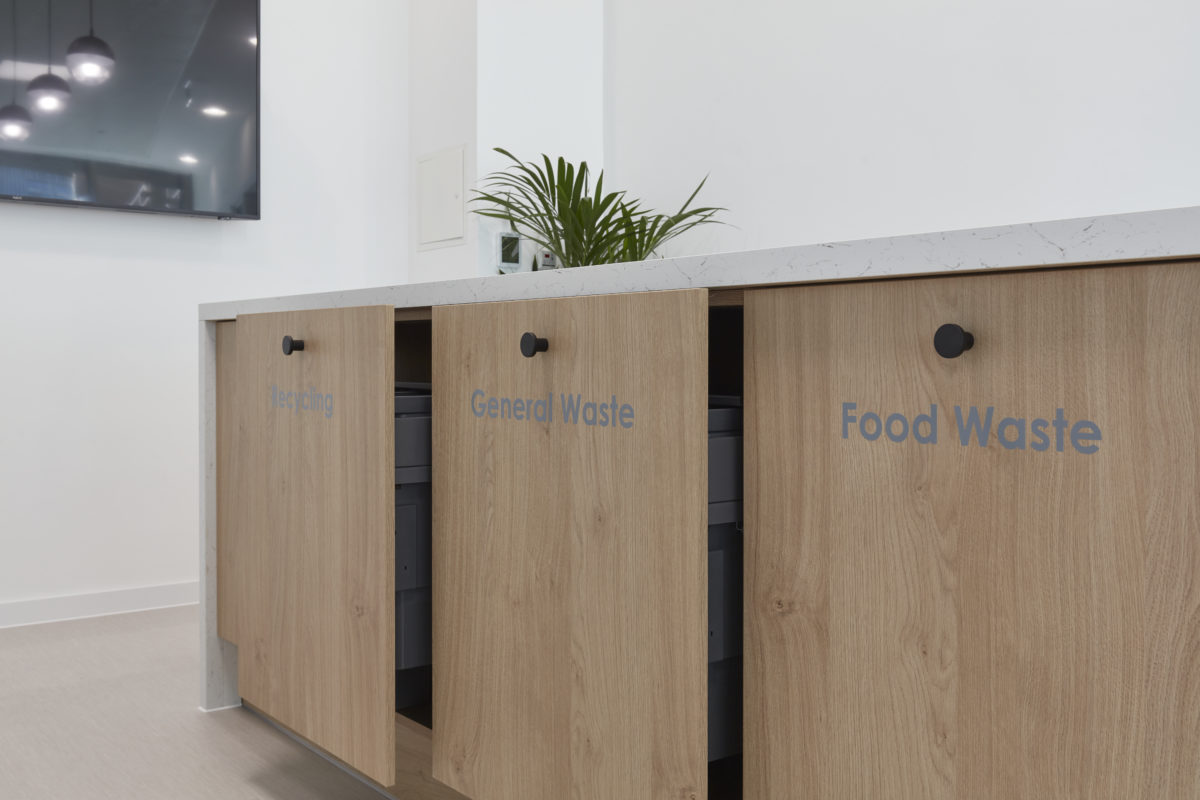 Katie Bowes comments:
"As a society, we are acutely aware of our carbon footprint on the environment, and this is making employers champion sustainable office designs. From the use of eco-friendly materials, to thermal modelling for effective MEP installations, there's plenty that can be done to deliver energy-efficient offices."
Here's some ideas:
An LED lighting system (preferably with PIR's) will save up to 85 per cent in energy/carbon usage, and has a longer lifespan than your average light. LED lighting is also brighter and boosts employee mood and productivity levels.b. Cut your carbon emissions by seeking out upcycled furniture or recycled, sustainable materials including reclaimed wood, eco-friendly cork (popular for flooring), bamboo, timber and recycled steel.c. Include green appliances in your office design including energy efficient water coolers and printers.
Ditch those old ring binders and make the move towards a paperless office, as well as using reusable coffee cups for your caffeine fix.
—–
PROJECT FOCUS: TRANSITION BIO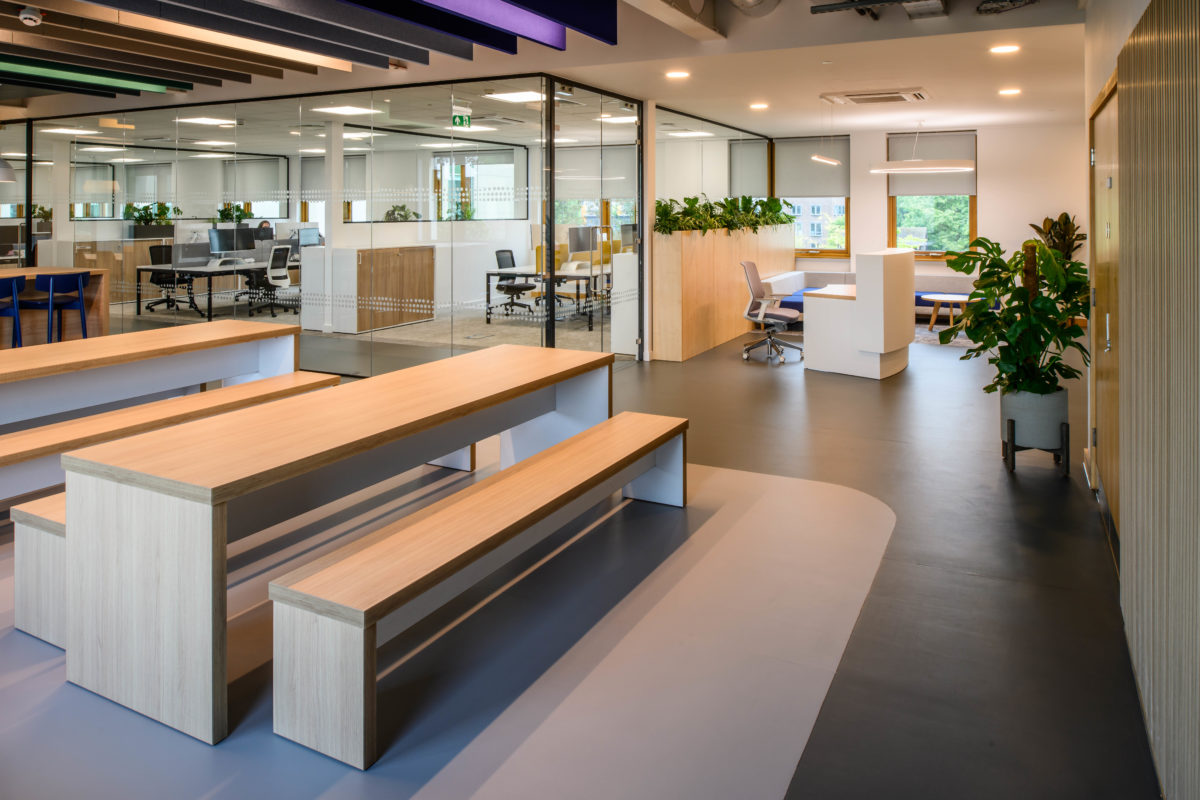 As well as creating designated recycling zones, when planning our designs, we work hard to source sustainable materials. At Transition Bio, the super sustainable flooring solution we chose is made from natural raw materials such as wood flour, linseed rosin and even cocoa beans.
---
7. Subtle brand showcasing in office design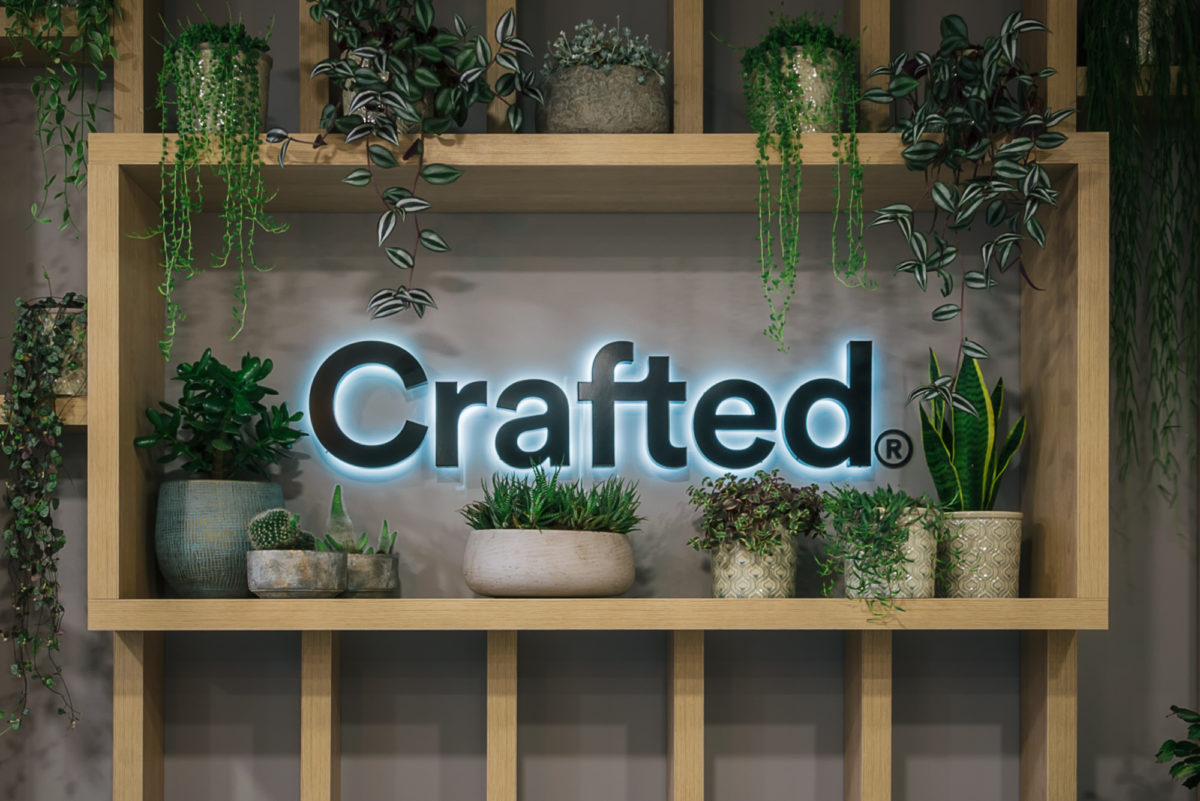 Savvy office designers will be ensuring their brand is subtly showcased throughout its premises, from the front of house, where visitors converge, through to busy user areas.
The office, its walls, fabrics and furnishing, will tell the story of the brand, its purpose and ethos. Here's how:
Showcase the brand in high-traffic areas like the office reception by incorporating company colours into eye-catching furniture, floor mosaics, custom-made rugs or curtains.
Display your logo in a way that visitors will be able to spy from outside, and add a sense of drama with some backlighting.
Incorporate your branding into staff breakout spaces via arty pictures of your company produce or add empowering business slogans to walls.
——
PROJECT FOCUS: STRONG BRAND IDENTITY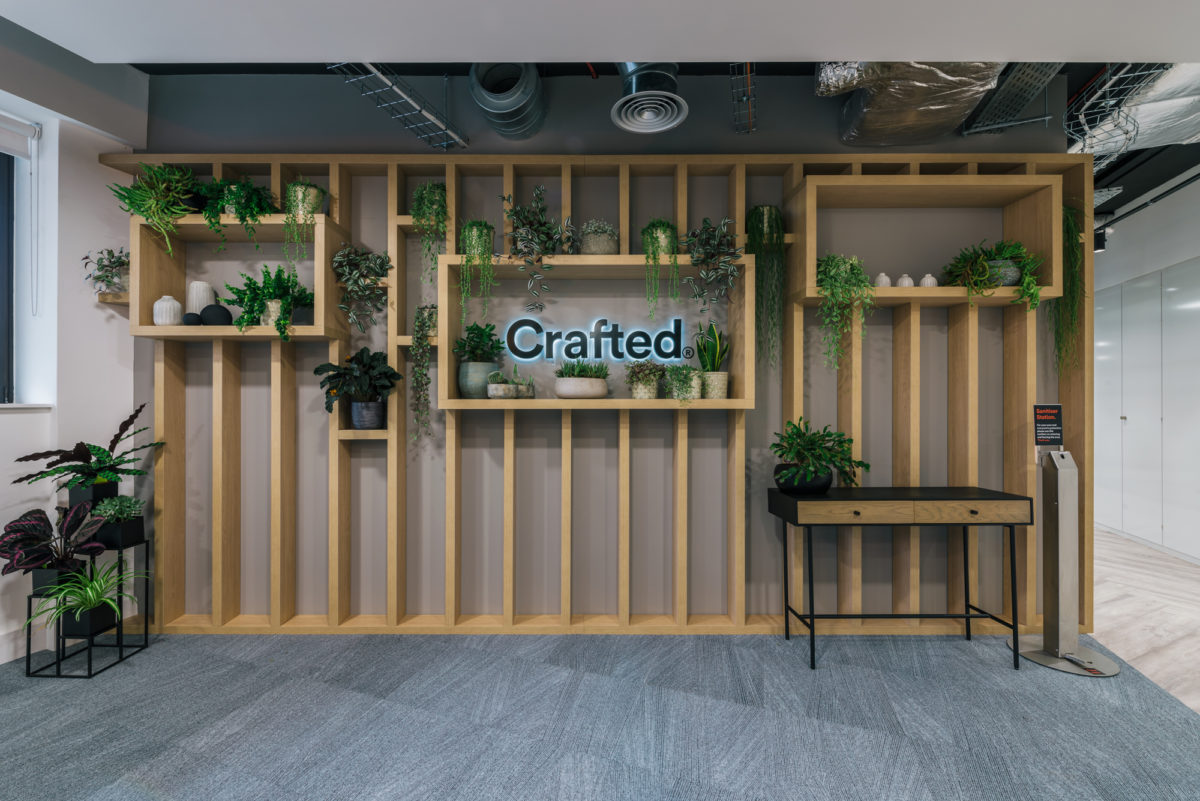 COEL helped create a workplace which personified the brand's culture for innovative digital agency, Crafted. A subtle back-list branded logo is nestled within a hand crafted timber joinery feature wall. This clever, creative workspace is designed to exude a relaxed vibe which promotes staff wellbeing and stimulates productivity.
---
8. Hospitality-inspired workspaces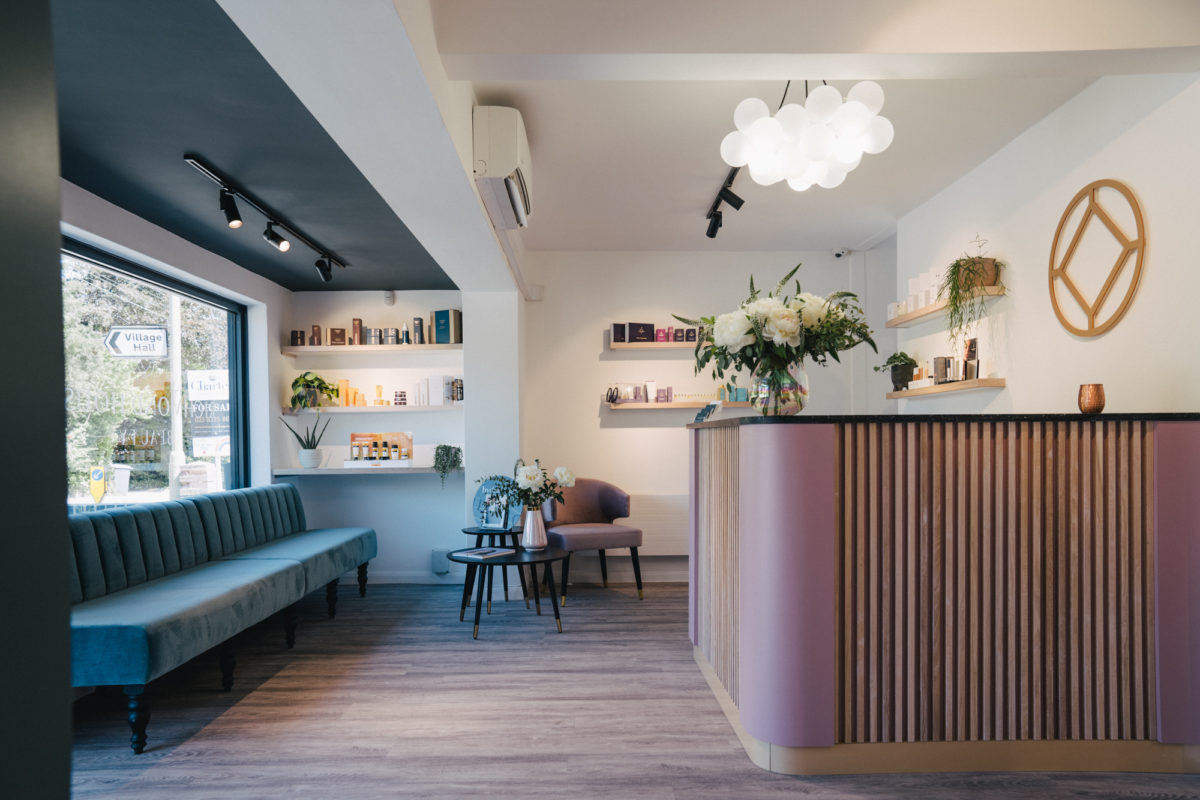 How many of us have rocked up at a buzzing café, laptop in hand, and spent an industrious few hours' typing over a flat white and a chocolate muffin? There's something very inviting about this type of environment – and if employees are going to be tempted back to the office in 2023, hospitality-inspired design is the way! Here's some ideas:
Office design should be less corporate and more café culture, with oversized chairs and comfy sofa workspaces for convivial meetings of minds.
Create a comfortable space that becomes a community hub within your office, offering hot drinks, snacks, homely furniture and natural lighting. A welcoming space for staff to escape the computer screen will help to enhance employees' sense of connection to the business.
Incorporate tall bar stools and long communal tables into designs for staff kitchens to recreate the feeling of being in a stylish bar.
—–
PROJECT FOCUS: RELAXING RETREAT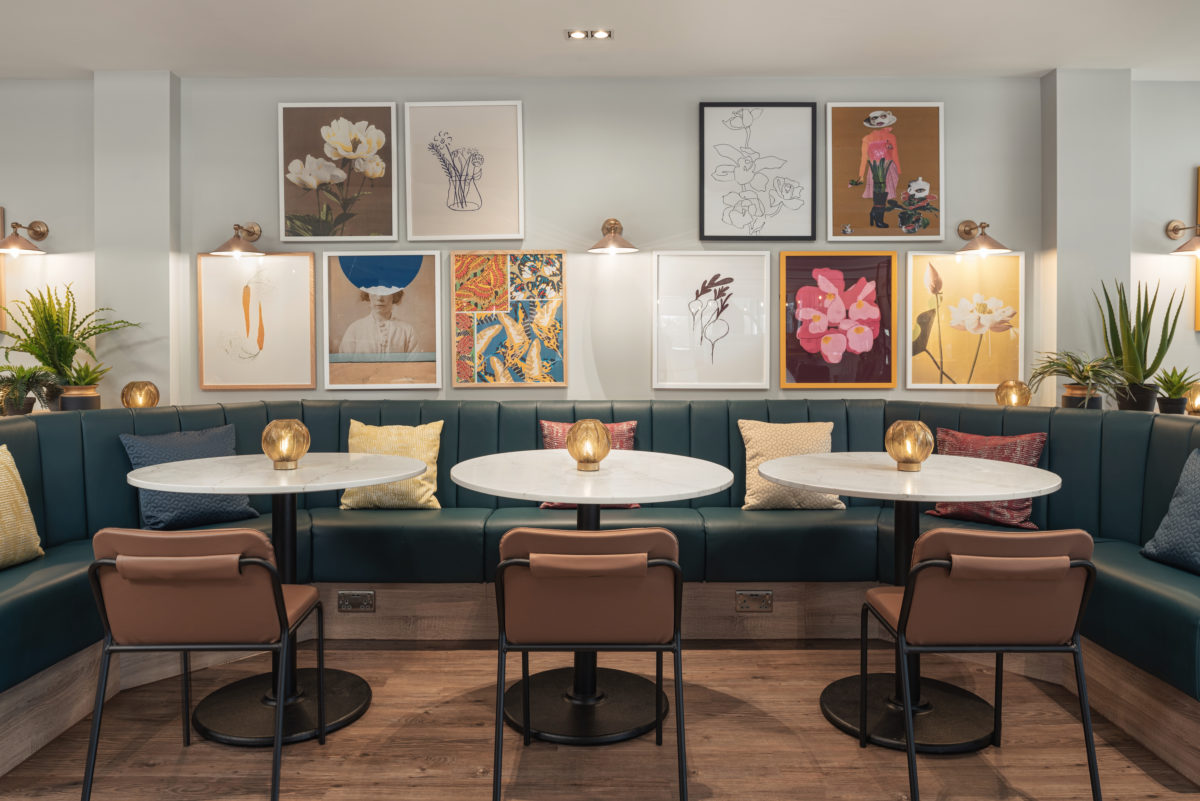 COEL'S project at Wyboston Lakes Resort incorporates a gravel pit, dining lounge with a feature gallery artwork selection, with muted rich tones and contemporary decorative details.
---
9. Wellness rooms at work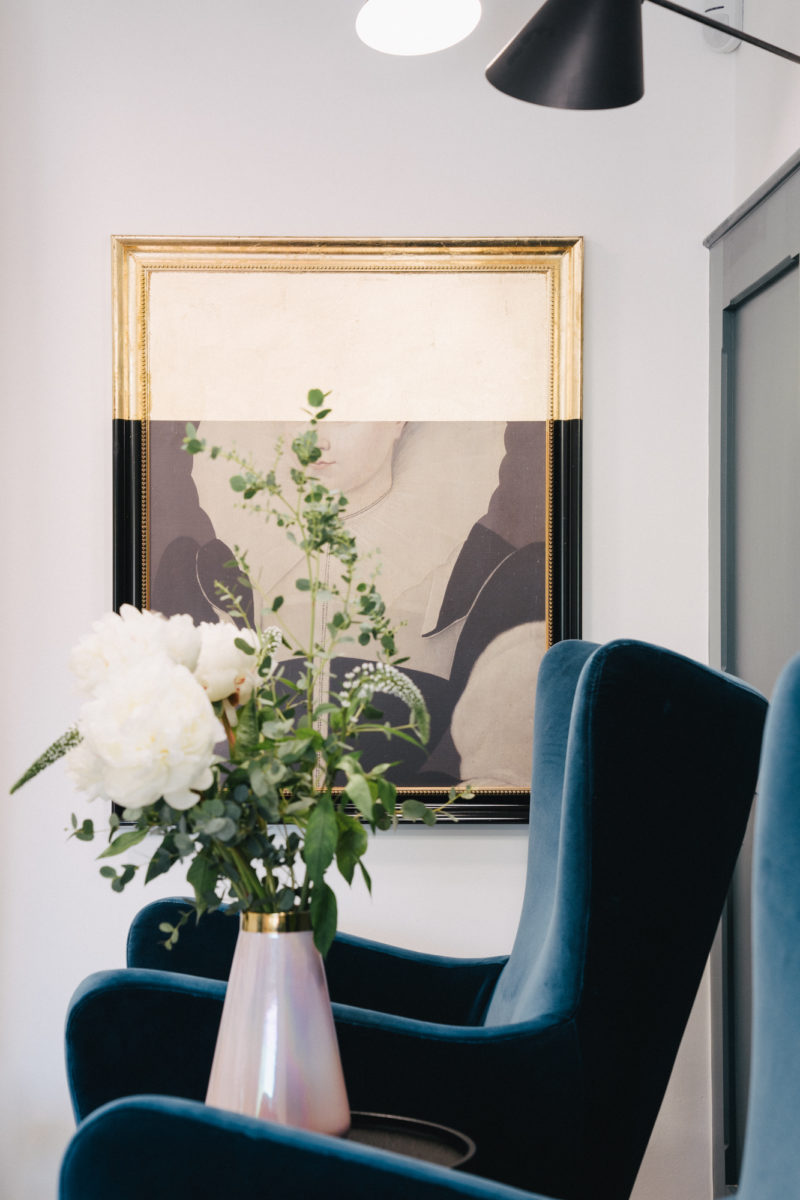 Katie Bowes comments:
"We are hugely passionate about the part our office designs can plan in employee wellbeing at work.
"A work/life balance can be difficult to achieve, but employers are addressing this concern with the addition of office wellness spaces, which are set to boom in 2023. Such inclusive environments include fitness zones, mother's rooms, games hubs and multifaith prayer areas."
Here's some suggestions:
Create a flexible multi-purpose room, fitted out with different types of furniture, where employees can connect and collaborate whether playing chess or simply chatting.b. A fitness room is the ideal space for employees to combat Zoom fatigue and feel re-energised after yoga practice. Add a table tennis table or treadmill for more active pursuits. Motivation levels are sure to rise.
Fit out a mother's room with a comfortable chair, sink, fridge and lockable door. Add uplifting art, soft furnishings and relaxing scents, making it a private and calming space for feeding or pumping milk.d. Consider creating dedicated areas for a diverse workforce, from Baby Boomers to Gen Z, with flexible designs to accommodate their differing expectations. These might include chill-out zones, games rooms, brainstorming areas, sociable spaces – and mean employees can feel a sense of belonging, despite their differing demographics.
—–
PROJECT FOCUS: SPACE TO BREATHE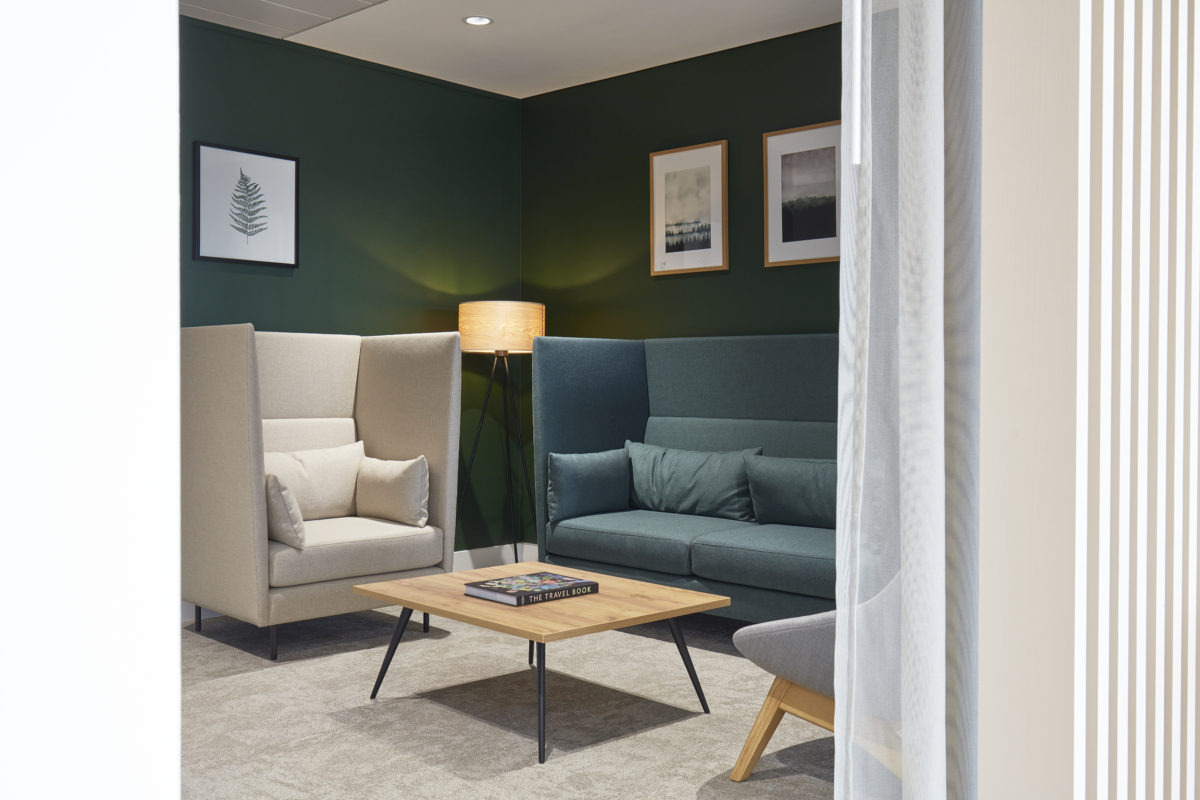 Designing a space for relaxation has become ever more important, as evidenced at Richmond House Beauty, where we created a softer space, with an injection of colour to promote calm. At Agile Analog we included a wellness nook located in a transitional space from the meet and greet lounge to the breakout lounge. The space is delicately screened by a soft tone timber slat wall with a dual sliding curtain to create separation.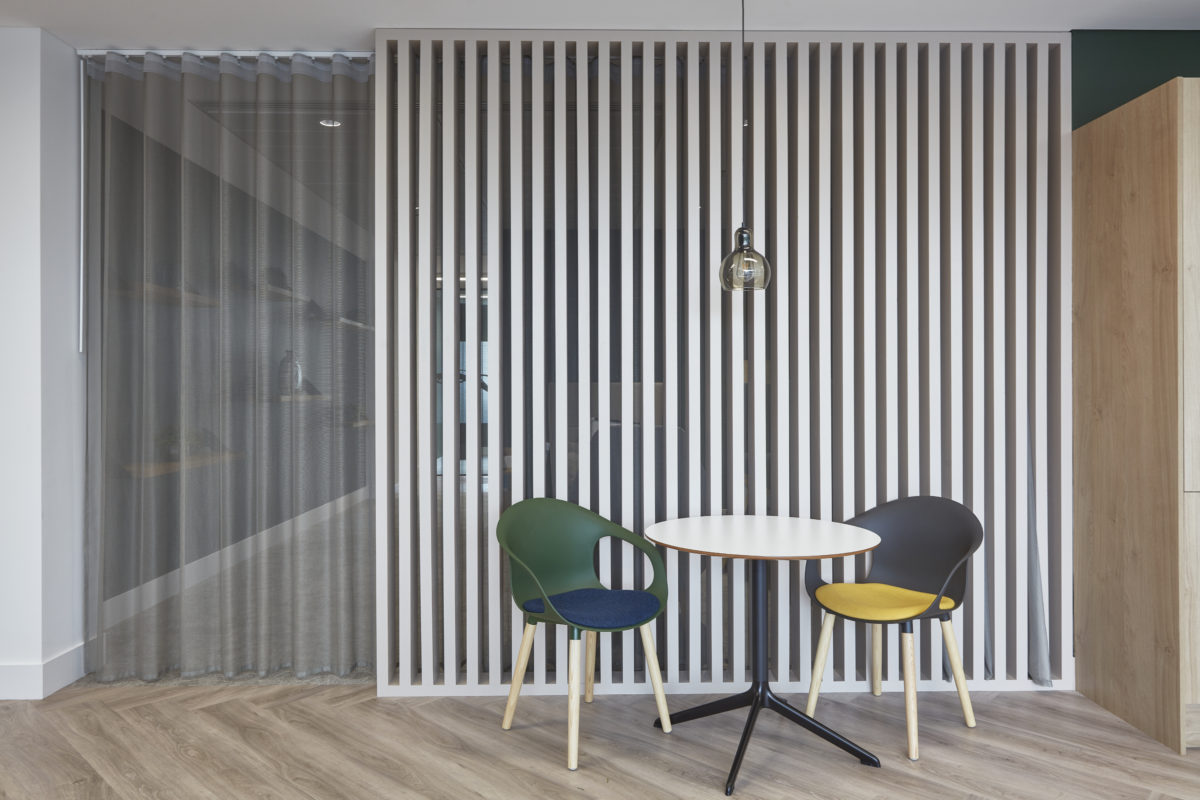 Katie Bowes concludes:

"The office of 2023 is an exciting and versatile space to behold, which far exceeds the outdated 9 to 5 model. The diverse 'human' needs of the office – and the way in which each space will be used – should form the core of any office design brief.
"It's a workplace which is light and bright, where brand identity weaves seamlessly through the design; where employees' wellbeing is valued, and where thoughtful design and smart technology combine to allow staff to collaborate in the best possible way."
Get in touch to find out how we can help design your office of the future.