industry-insight
Delivering a highly flexible office and lab solution in just nine weeks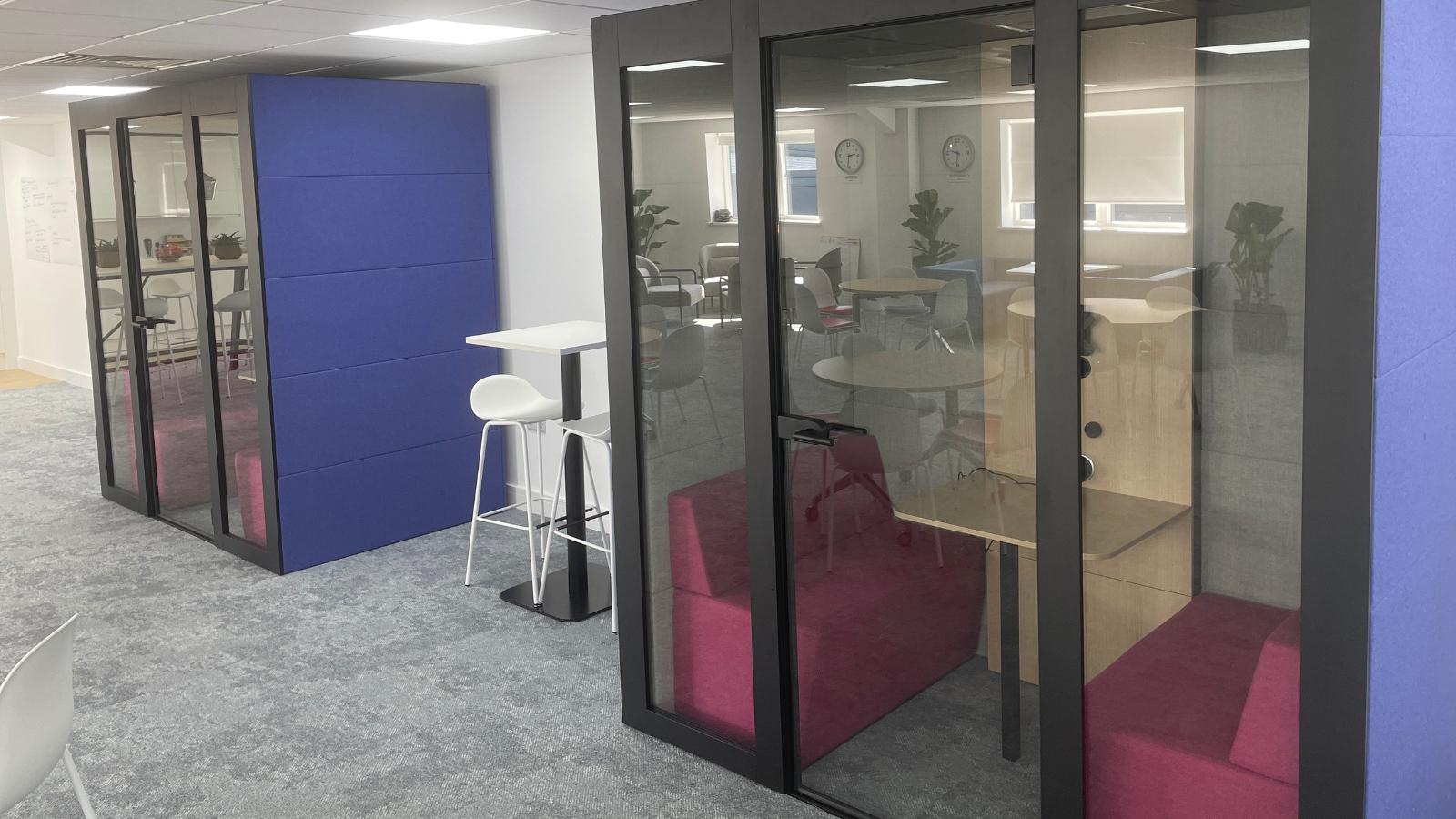 The client
Alchemab has developed a highly differentiated platform which enables the identification of novel drug targets and therapeutics by analysis of patient antibody repertoires. The platform uses well-defined patient samples, deep B cell sequencing, and computational analysis to identify convergent protective antibody responses among individuals that are susceptible but resilient to specific diseases.
Alchemab is building a broad pipeline of protective therapeutics for hard-to-treat diseases, with an initial focus on neurodegenerative conditions and oncology. The highly specialized patient samples that power Alchemab's platform are made available through valued partnerships and collaborations with patient representative groups, biobanks, industry partners, and academic institutions.
The brief
It's not always about starting from scratch
One of the main requirements was to retain as much of the existing lab furniture, desking, meeting room furniture, lighting, lab flooring, doors, hardware and ceilings as possible, meaning a reduced environmental impact and a significant cost saving to the client.
Alchemab also wanted a flexible design solution to the space that allowed multiple uses of the space whilst also allowing utilisation of furniture in the future.
Martin Butler, Head of Operations at Alchemab adds:
"We needed to set a keen budget and ambitious timeline to deliver a refurbishment of Labs, office spaces and alterations to the overall Lab layout. In addition, we also wanted to create a location to serve as a social and collaborative destination space for staff relocating to Lion Works.
"This was a particularly important project goal given that staff would be relocating from the Babraham Research Campus with a strong amenity provision. Our aim was to create a first class office and amenities space and provide a comparable environment to that experienced by our staff at Babraham. We certainly did not want Lion Works to feel like an inferior working environment for our staff relocating there."
---
Our solution
A focus on adaptability of space
Adaptability of space was a critical steer from the Alchemab team and they worked closely with Anna Reeves from our design group to develop furniture and design solutions that created a flexible meeting and office solution that met the needs of the business. With flexibility and future utilisation in mind, we specified meeting pods and flexible kitchen furniture which could be re-used in any future real estate and space.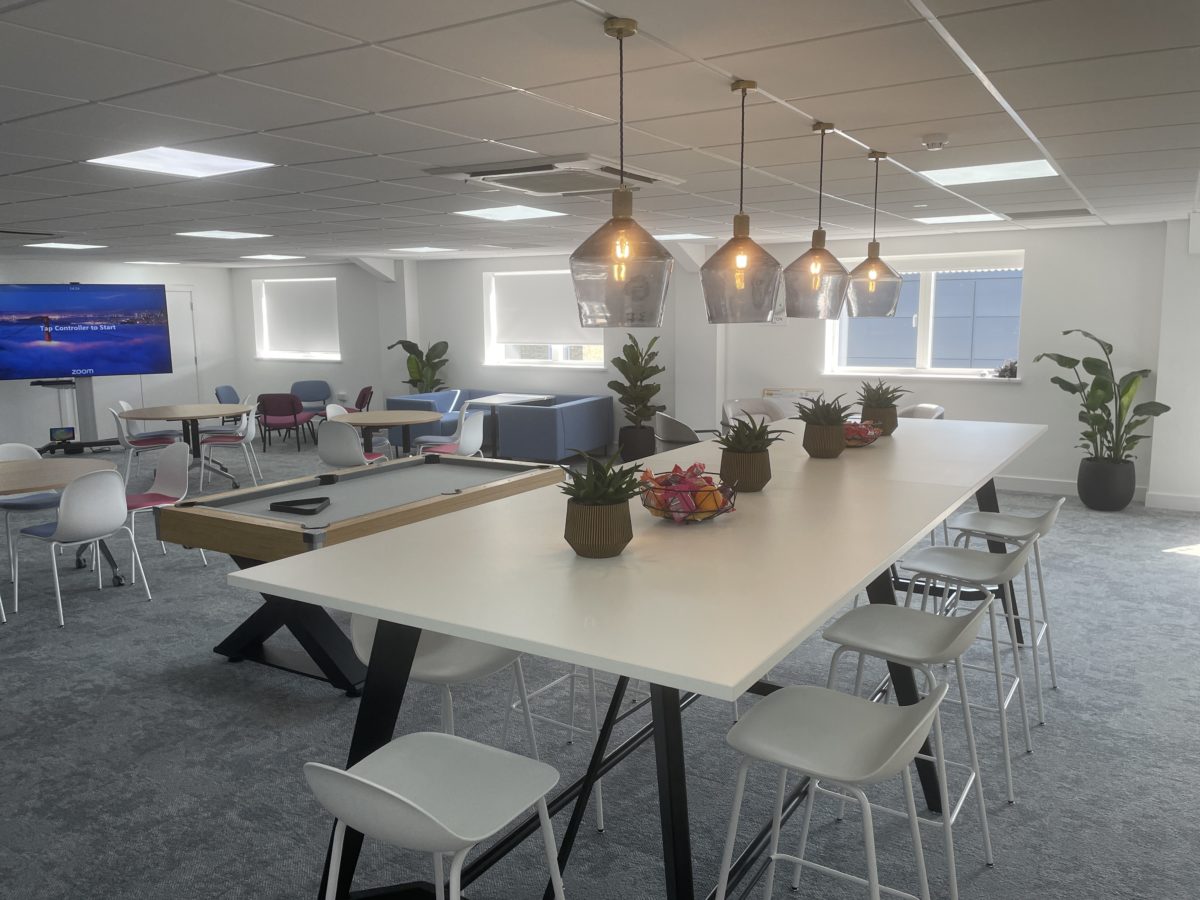 Creating adaptable spaces based on human need
In the collaboration space on the first floor, Alchemab wanted to create a flexible space that could be used for small meetings, informal collaboration, town hall meetings as well as a café space for staff. This also meant utilising their budget more creatively to deliver a combination of meeting and collaboration spaces.
In order to achieve this overall objective, the design team specified acoustic pods providing the option of soundproofed drop-in/meeting spaces and privacy areas to take calls. Flexible furniture was deployed in central areas of the room, allowing for foldaway café tables and multipurpose furniture that could be utilised for various types of meetings and events. The design also incorporated a large furniture store in the space to neatly hide away any furniture not required and stacking chairs to be used for Town Hall events.
Addressing parking concerns
As part of our consultancy service, we supported the client (alongside Carter Jonas) with a planning application for a section of dropped curb. This enabled improved utilisation of the parking available on site whilst also ensuring there was adequate parking for the number of staff moving to the facility. In addition, a new cycle shelter was installed alongside improved drying room facilities to ensure that the large population of cyclists had suitable facilities.
Sustainable measures
To ensure we minimised our environmental impact whilst we carried out the refurbishment and construction programme, we were able to retain much of the existing building fabric and re-utilise wherever possible the existing lab furniture and fittings.
Managing services
By utilising our mechanical and electrical services team from the outset we ensured that the correct measures were taken across both the lab and office service provisions.
---
Challenges overcome
1.Time The Alchemab team were keen to occupy the space by the end of the calendar year. This was to minimise disruption to scientific activities and also best utilise scientific downtime during the festive period. This meant a very constrained 9-week construction programme to deliver to this timeline. The project management team focussed hard on co-ordinating both internal and sub-contracted teams alongside ensuring that supplies of materials and equipment did not cause any delays. Delivery of the project on time for the client was a major achievement and recognised as such by avoiding any interruption to science or other business activities.
2. Budget. With a keen budget to work with, the COEL team had to deliver creative solutions and adaptable designs to allow delivery of multifunctional spaces for the client. A close relationship between client, project management and design teams was critical, and this enabled fast and informed decisions to be made throughout the project. This was essential in delivering the project on time and to budget.
The outcome
A close relationship between client, project management and design teams was essential and this has enabled fast and informed decisions to be made throughout the project. This was a key aspect in delivering the project on time within the 9 week timeframe and to budget. Despite these challenges we were able to identify additional project value through the identification of a number of savings during the construction phase. This enabled the client to re-allocate budget to enhance aesthetics in a number of design areas, and ultimately the delivery of a first-class working environment for Alchemab staff.
Alex Hewitson, VP, Operations at Alchemab concludes:
"COEL have delivered a fantastic finished product for us and within a very tight timeframe of 9 weeks. This was extremely ambitious and the additional efforts of the COEL team to deliver the project on time has been greatly appreciated by Alchemab.
"COEL have also exhibited a truly collaborative approach in working with us and wherever possible tried to accommodate our changing requirements without impacting the overall project timelines. In addition, the team were quick to point out cost savings to us within the programme which has resulted in us being able to enhance our refurbishment plans."