industry-insight
8 things to consider when designing your laboratory space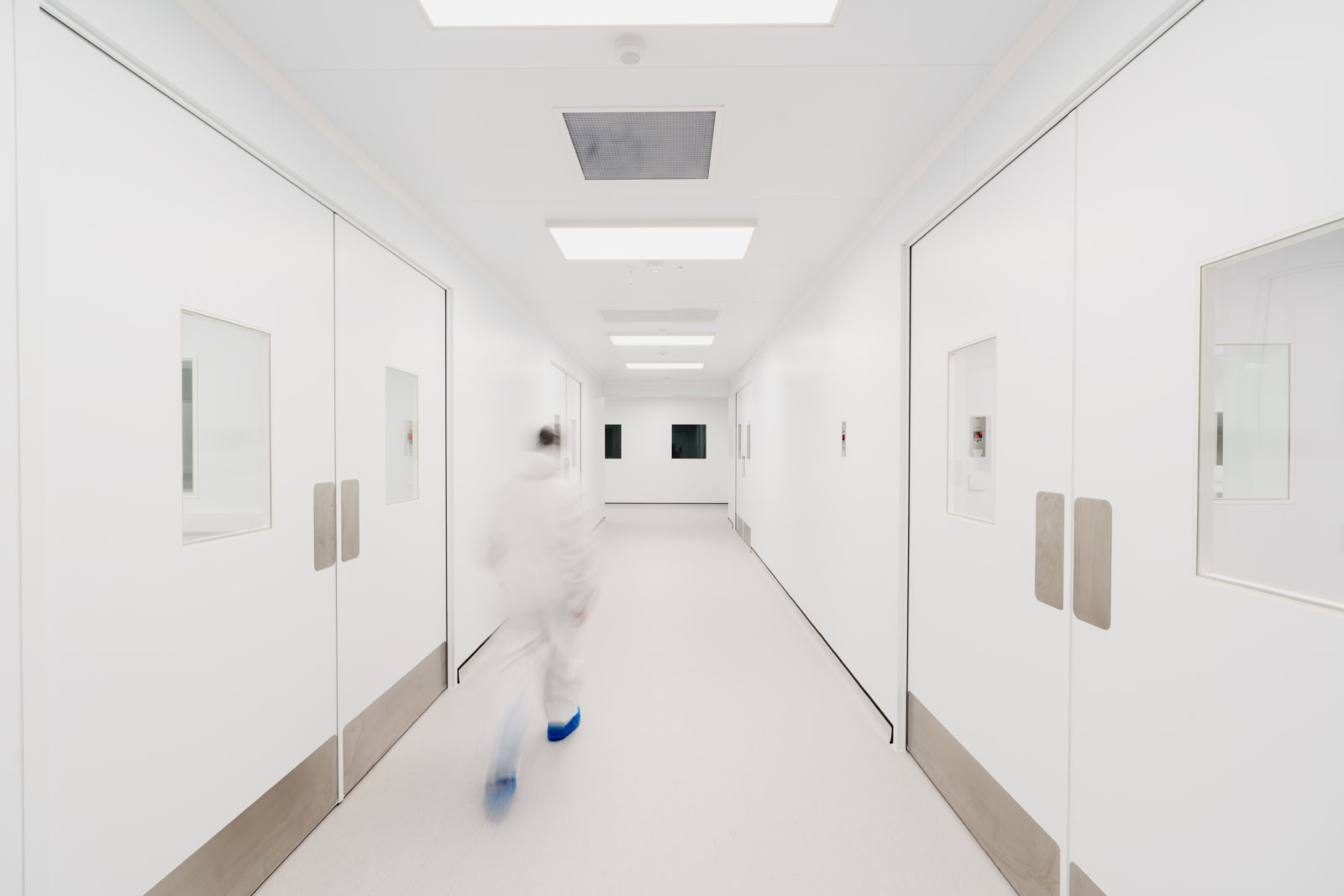 Laboratories play a crucial role in our lives. Within these high-tech spaces, ground-breaking scientific breakthroughs are continually being made, whether that be by happy accident (Dr Alexander Fleming stumbling upon penicillin whilst growing bacteria in a petri dish back in 1928) or via targeted trials (the manufacturing of the life-changing Covid-19 vaccines in 2020).
For scientists, laboratory managers and life sciences teams to flourish, they require specialised environments which are practical and productive (safe and controlled) but also creative and collaborative (healthy and morale-boosting). This laboratory design can be achieved through thoughtful planning in terms of layout, technology, equipment, furniture and furnishings.
At COEL, we love to work alongside our life sciences clients to deliver innovative laboratory designs specific to their bespoke business needs, from wet labs requiring specialised air extraction to tackle potentially harmful chemicals, to electronics and software labs needing multiple power-connected worktops.
Our top tips for achieving the perfect laboratory design
1. Let the scientists take the lead
Before you can design a laboratory, you have to understand its needs. Is it a wet lab or a dry lab? Will it be handling volatile chemicals or need cold storage facilities? What about soundproofing, vibration control or plans for future expansion?
a. Gather the stakeholders together – including lab managers and users, scientists and maintenance staff – and discuss function, workflows and processes.
b. Ascertain the critical requirements, from space needs to temperature control, air changes and pressure regimes, to create the most efficient laboratory blueprint.
c. Establish a shared vision, and use it as your guide throughout the design and fit out process to ensure it is executed concisely.
2. Lab safety requirements
Safety is a top priority in laboratory design, with the vast array of different chemicals and gases in regular use elevating the risk of fire or injury. Consider the following five steps as a minimum:
a. Ensure you have a robust chemical management strategy built into your design plan, especially if the substances being handled are hazardous, flammable or toxic.
b. Include chemical storage 'control areas', biosafety cabinets and emergency shower/eye wash stations.
c. Install fire protection and detection systems and clearly signpost fire exits.
d. Procedures should also be established for the safe transportation of chemicals in and out of the laboratory.
e. Include fume hoods, which help exhaust harmful vapours, gases and aerosols during research, whilst providing a protective shield between the scientist and the chemical reaction.
COEL's in-house mechanical and electrical experts can advise on safe laboratory procedures, including oxygen depletion monitoring systems, extraction and cooling solutions.
---
Group MEP Director, Dean Powell, comments:
"The primary objective in laboratory design is to provide a safe, accessible environment for laboratory personnel to conduct their work, our secondary objective is to allow for maximum flexibility for safe research and teaching use.
"Health and safety hazards must always be anticipated and carefully evaluated so that protective measures can be incorporated into the design wherever possible."
————–
3. Adequate laboratory airflow
Let's talk HVAC – which stands for Heating, Ventilation and Air Conditioning. Crucially, all three need to be at optimum levels in laboratory design to create both a safe and comfortable environment for research to take place.
The ventilation component of HVAC supplies fresh, clean air to the laboratory to displace contaminated air and dilute it to safe levels. How much ventilation your laboratory needs depends entirely on the type of work it does, and air quality may differ from one room to the next. So, rooms with fume cupboards and higher containment, for example, will need a greater amount of air changes.
Natural ventilation can also be an option for some laboratories, though windows should be fitted with insect screens, to ensure bugs (which can carry diseases) do not enter the laboratory setting.
Bolster staff wellbeing by giving them access to fresh air too, providing a refuge away from the strict clinical environment, perhaps on balconies or in designated outdoor areas with pleasant seating and greenery.
PROJECT FOCUS: AIR FILTRATION FOR A PURPOSE-BUILT CLEAN ROOM
COEL was commissioned by dynamic diagnostic specialist, MicrosensDx, to fit out a new purpose-built laboratory and office at the Cambridge Science Park – and this design incorporated a purpose-built ISO 7 clean room. The team installed a new air handling unit with a HEPA filtration system, in order to meet the clean room lab specification.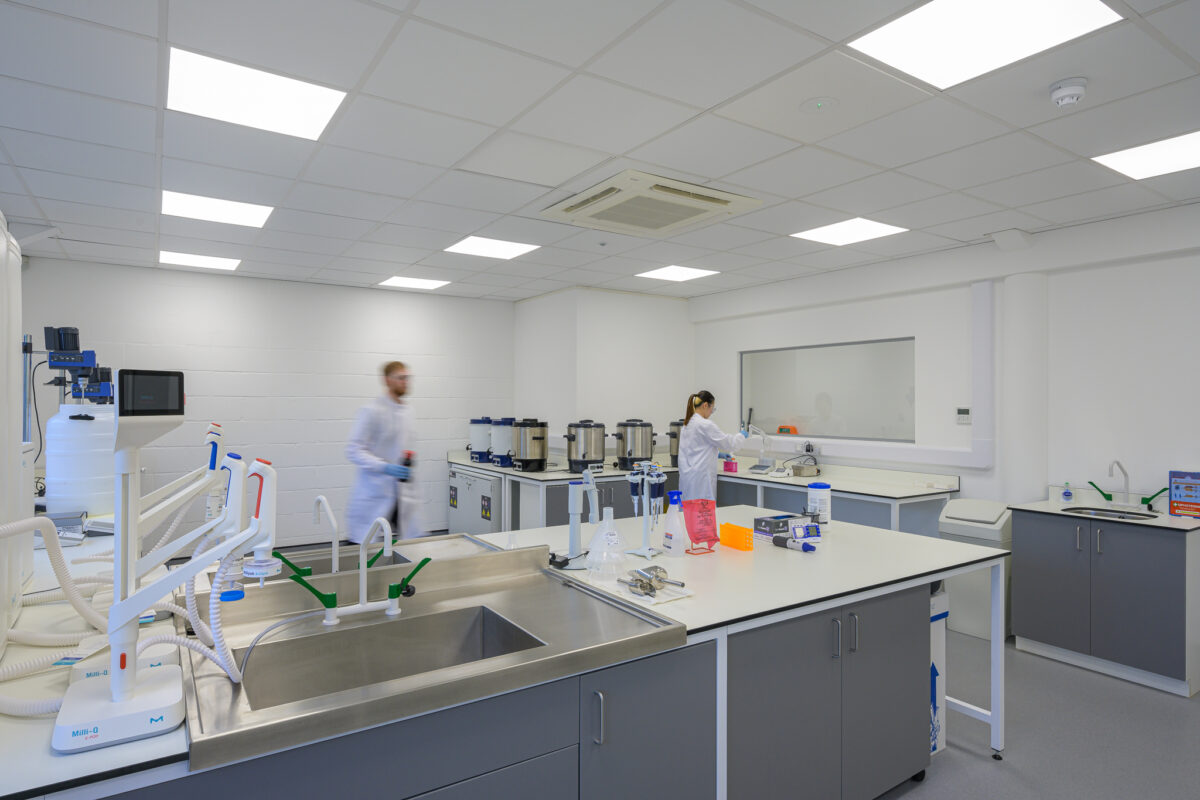 ————–
Dean Powell, Group MEP Director explains the complexity surrounding this bespoke solution:
"Supply and extract was provided to the labs via a bespoke air handling unit. This was designed to provide an air volume flow rate of 1.20 m³/sec (60 air changes per hour) with an external static pressure of 500 Pa (SFP 2.85 kW/m³/s). Heat recovery was via a rotary heat exchanger.
"Pre-filters and F7 bag filters, with insulated ductwork running vertically up the outside of the building, were installed into the roof void. This in turn provides the filtered tempered air to ceiling mounted HEPA Filter/fan unit ceiling diffusers.
"Return air ductwork extracts air through ceiling mounted extract grilles, plenums and ductwork back out through the gable and down to the back of the air handling unit. Here the heat recovered air will be mixed with fresh air through a manually operated damper.
"The onboard control system included pressure transducers with Modbus communication so that the actual pressure drop can be monitored, as well as providing both pre-alarm and final alarm for filter change."
————–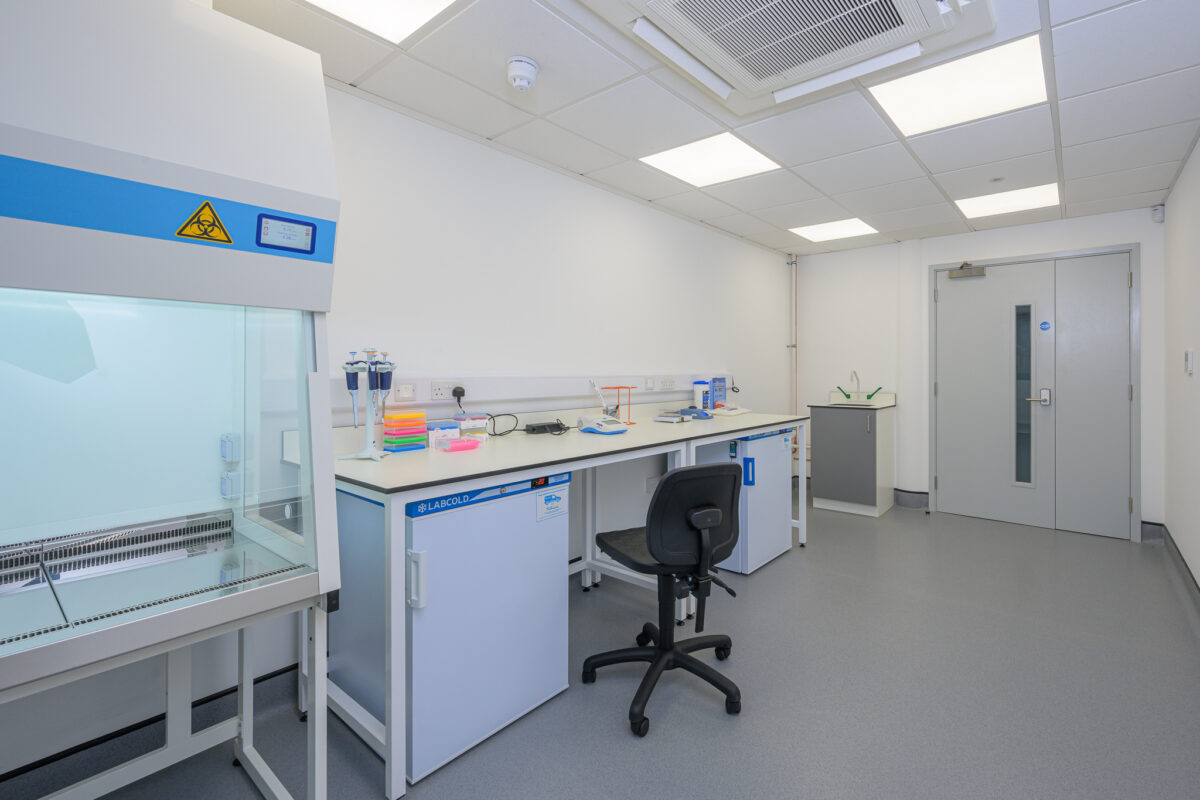 4. Abundant light in the lab
Laboratories need specific lighting, which is generally far higher in luminance than your average office. However, just like ventilation, lighting levels for laboratories vary according to their purpose.
Also, with the trend for lab design moving towards creating more flexible spaces, then collaboration areas may have different lighting requirements to close-work zones, which is where a layered lighting system works best. This approach uses overhead lights combined with task lights to meet prescribed levels.
What to consider when choosing laboratory lighting
When choosing lighting, remember to bear in mind the finish colours of floors, ceilings and walls, to minimise glare and reduce the risk of eye fatigue.
On top of artificial lighting, an abundance of natural light can do wonders for staff morale (boosting health and productivity), so let the sun shine in through floor-to-ceiling windows or large sky lights, where possible.
If you're designing a laboratory which has no access to natural light, consider specialised lighting which mimics circadian rhythms, helping staff to perform more efficiently in the day and sleep better at night.
PROJECT FOCUS: LAB LIGHTING IN PRACTICE
Picking up on this principle, COEL worked with Biofidelity in Cambridge, who carry out ground-breaking work developing cancer diagnostic tests.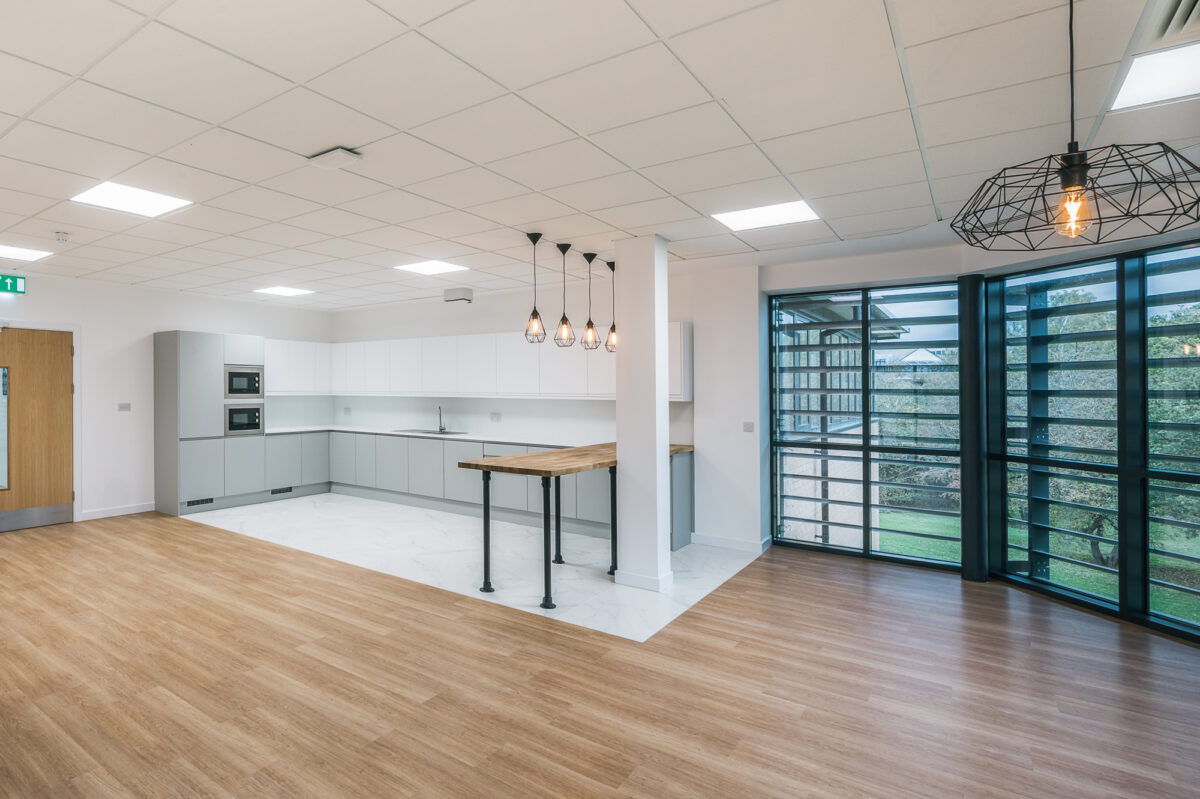 As part of their design and fit out of an open plan office space, meeting rooms and labs, COEL included a dramatic wide window which wrapped around the back wall of the building, providing a panoramic vista and allowing daylight to flood in.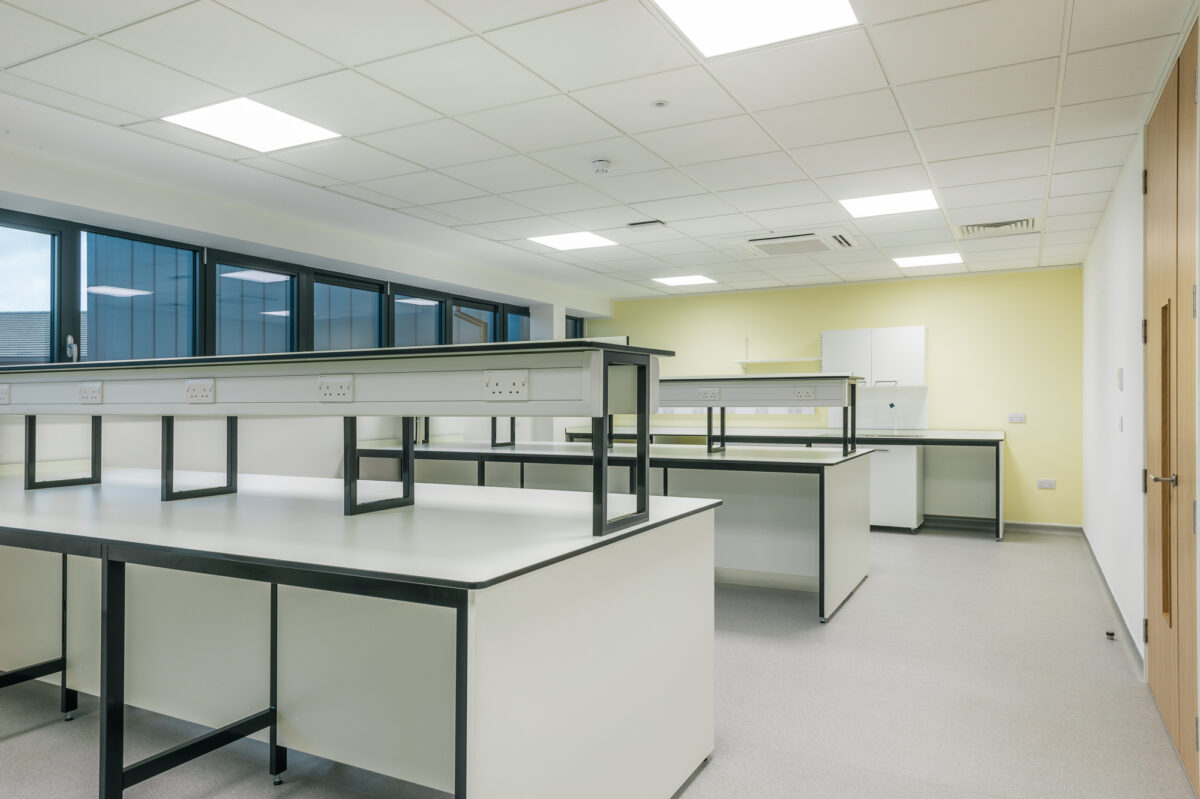 5. Layout and laboratory furniture
Whatever the nature of your laboratory, its layout and furniture should enable scientists and researchers to work as smoothly and comfortably as possible. Benches used for admin work and simple preparation should ideally be positioned around perimeter walls to improve access and workflow. This also allows ample floor space for mobile equipment to be transported through the laboratory safely.
Wet labs
Commonly used for manipulating biological matter and chemicals – will need sinks, fume hoods and piped gases plumbing, plus chemical-resistant countertops (preferably incorporating a lip to avoid liquid-run off).
Incorporate flexible engineering services to supply air, water, electricity and vacuum systems, with easy connects and disconnects at walls for fast equipment hook-ups.
Dry labs
Which are predominantly electronics-focused – should include mobile storage, adjustable shelving, and multiple electric and data cabling access points.
To avoid clutter on worktops incorporate overhead cabinets and under-bench storage, with agile shelving options which can be altered in line with each new project.
Lab work is often undertaken whilst standing, however when it's time to take a seat, the appropriate seating is important. Often draughtsman height chairs are chosen, which allows technicians to sit, perch or stand as needed.
Height adjustable lab benching is also available, but the furniture should be carefully selected based on how it will be used. Our furniture team at COEL can guide you through the available options based on the specific needs of your organisation.
6. Adaptable laboratories
With the demand for laboratory space soaring – especially in Cambridge and Oxford – consider transforming existing offices by utilising dynamic design solutions.
PROJECT FOCUS: WHEN OFFICES BECOME LABS
COEL recently worked with Transition Bio, a microfluidics-driven drug discovery platform, to repurpose Cambridge office space into a large-scale working laboratory, with microscopy and robotics zones, wet and dry labs, and a dark room.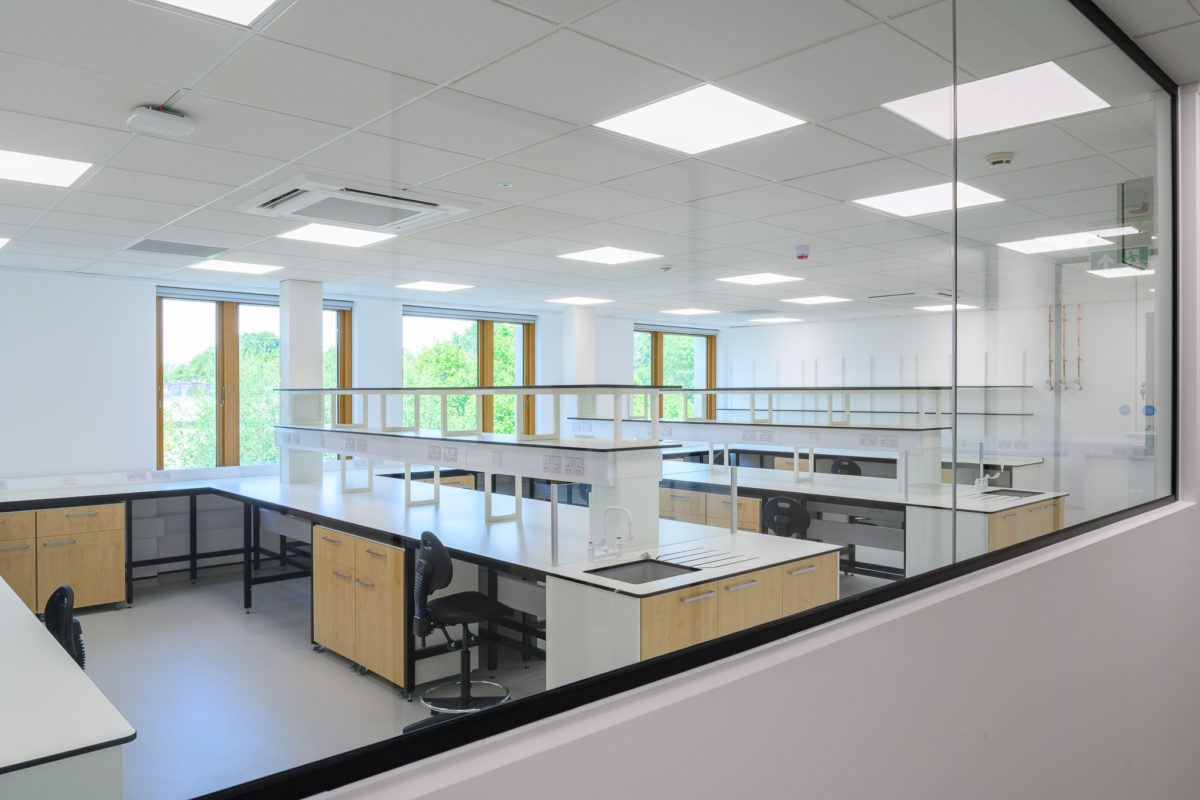 Alongside the cutting-edge lab, COEL created an adaptable space with fixed desking, breakout meeting rooms, acoustic phone booths, a large multi-purpose boardroom and a bistro-style kitchen.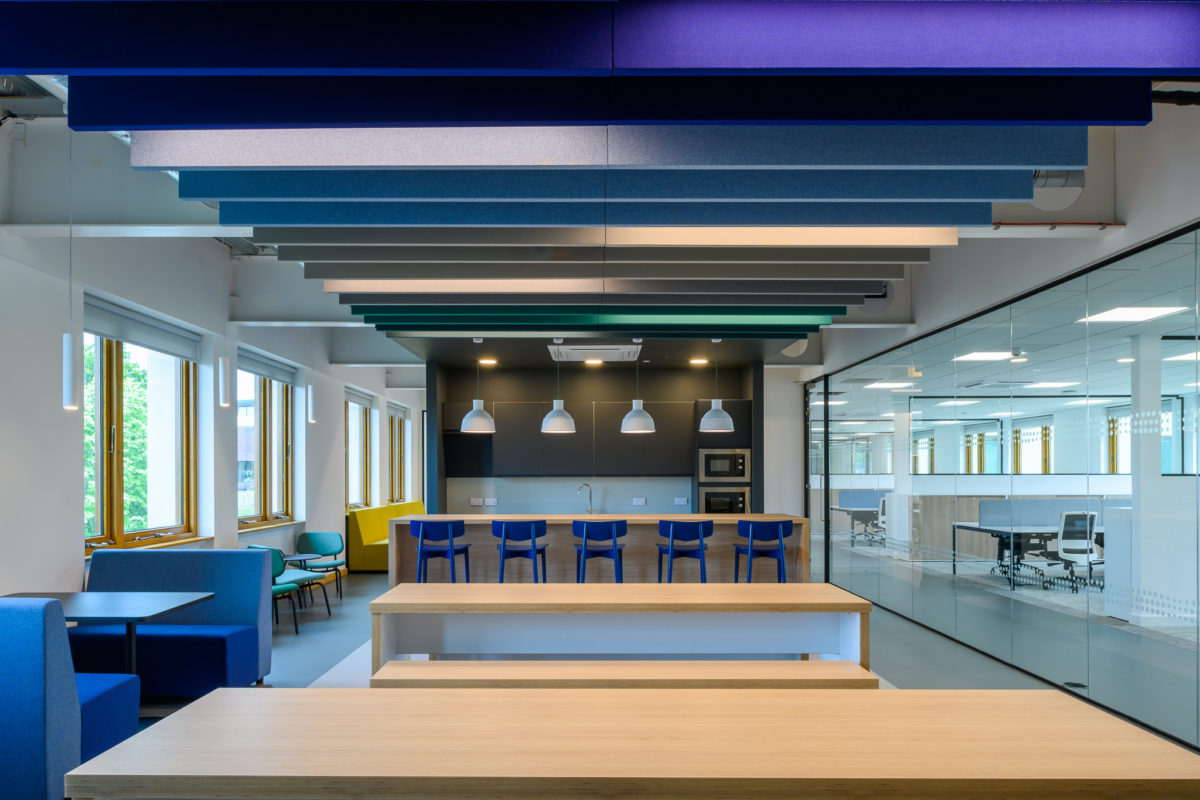 The designers integrated the extensive laboratory development alongside the office space and communal areas via glazed partitioning, allowing visibility between the divides and fostering a sense of cohesion.
————–
PROJECT FOCUS: REIMAGINING COMMERCIAL SPACE
Another COEL commission repurposed commercial space (previously used as a library and conference area) as a state-of-the-art laboratory for Sphere Fluidics.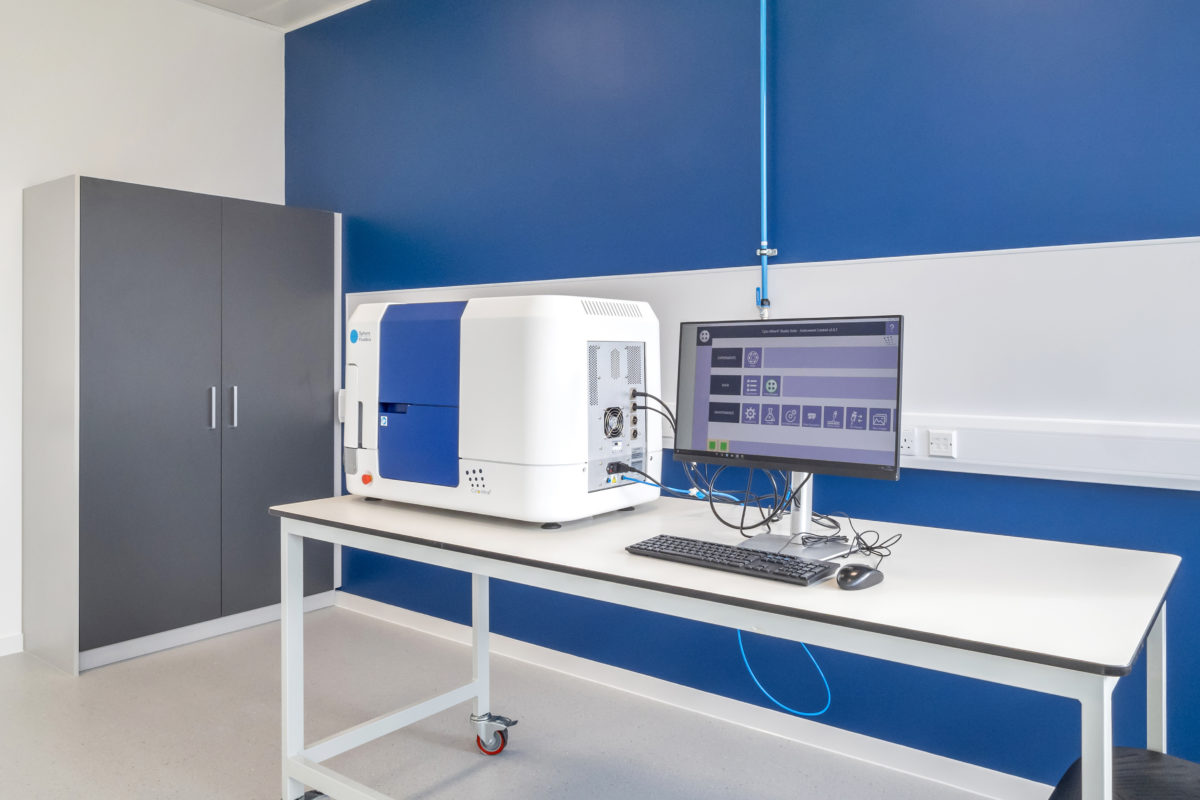 The research space incorporated wet and dry labs, gowning areas and service rooms, plus an interactive 'Lazy Susan' centrepiece, installed on an island, to enable advance product displays in a range of formats.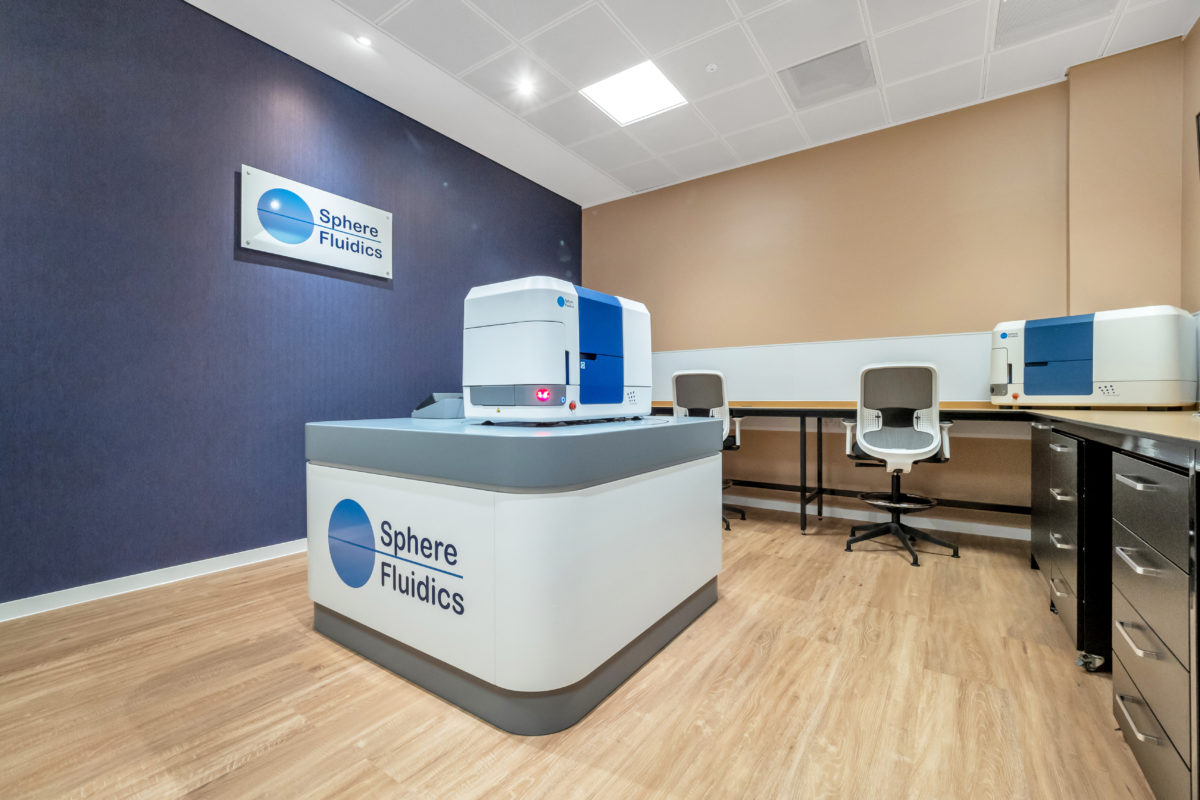 Outside the laboratory, relaxed communal spaces were added – including a bright kitchen with banquette seating and bistro tables – to promote staff wellbeing, encouraging relaxed conversations in a welcoming setting.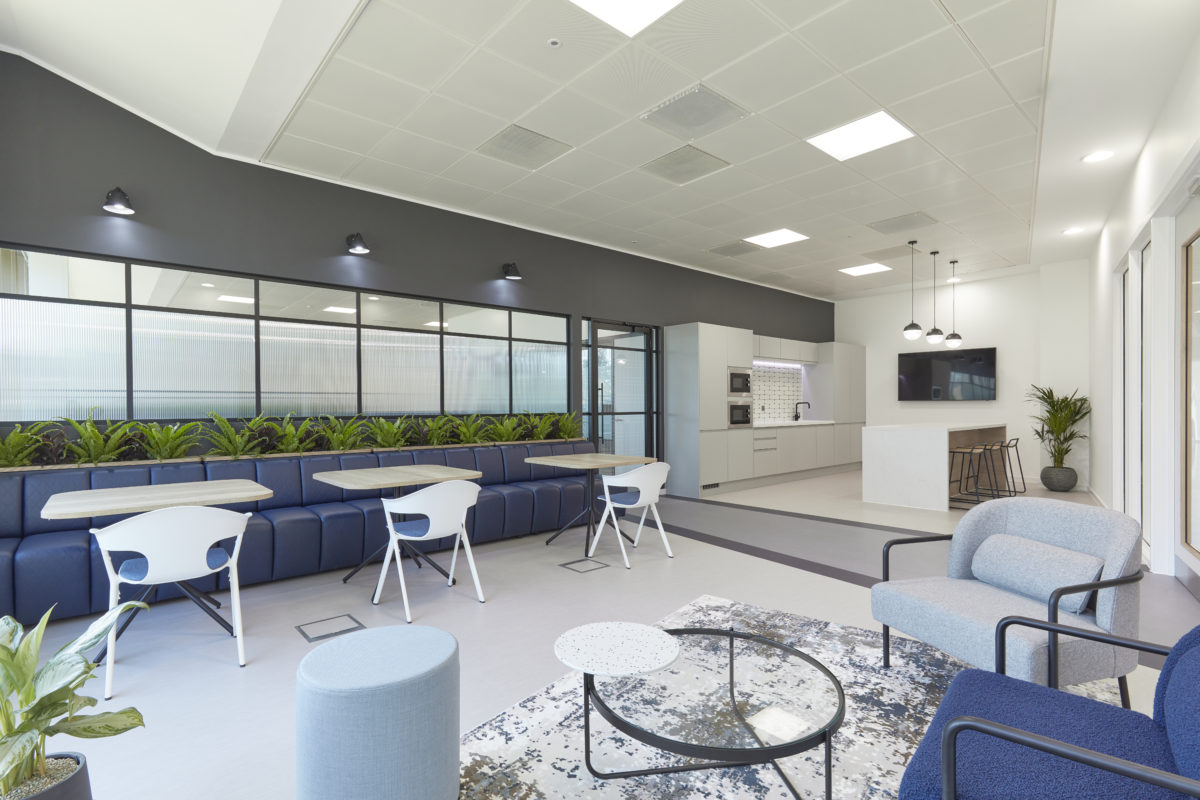 7. Breakout spaces
Laboratories are controlled, clinical environments, where scientists, lab managers and researchers often fly solo. Yet some of the best results are achieved through collaborative thinking, so include warm and comfortable 'breakout spaces' in your laboratory design to spark a meeting of brilliant minds.
These could be social hubs, decorated in uplifting hues and filled with lush planting, to harness the positive power of biophilia, or even 'collision' spots, dotted along circulation routes where employees' cross paths and share ideas. Encourage these serendipitous encounters by adding built-in window seats, little nooks, wi-fi connection and, of course, tea and coffee facilities!
PROJECT FOCUS: SPACE FOR COLLABORATION
COEL worked with Wren Therapeutics in Cambridge to expand their laboratory and office facilities within the Department of Chemistry.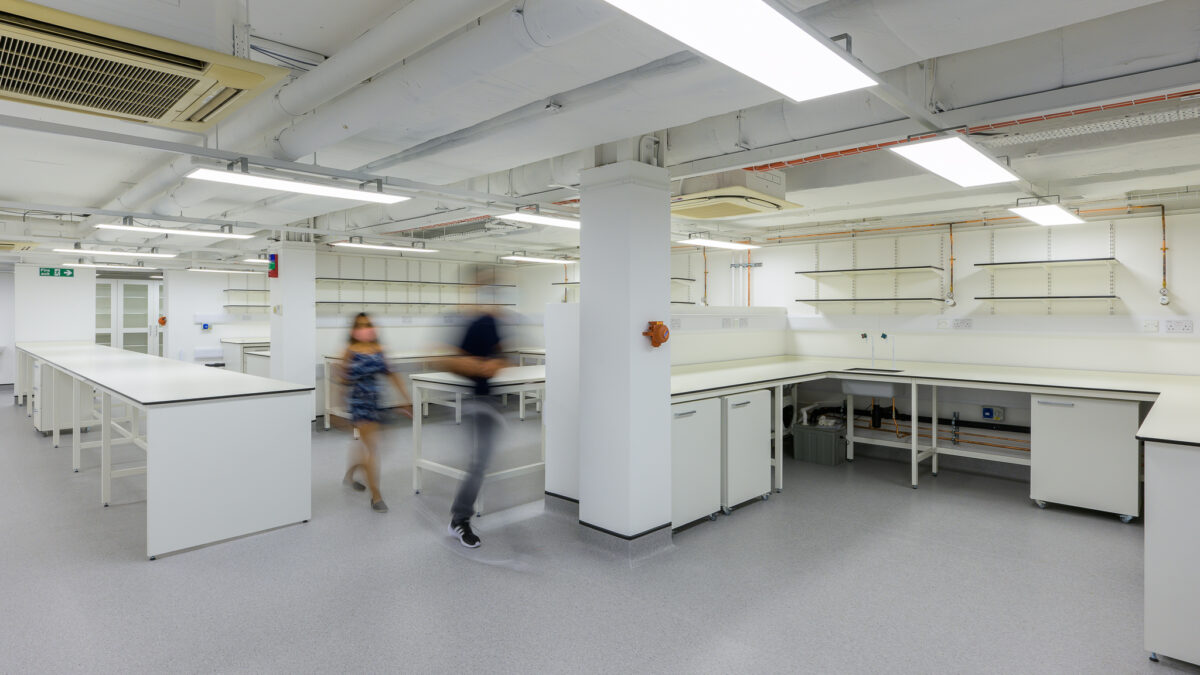 As well as overhauling their lab to create a bright, efficient and modern workspace, COEL masterminded collaborative areas designed and fitted out as a soft antidote to the clinical environment.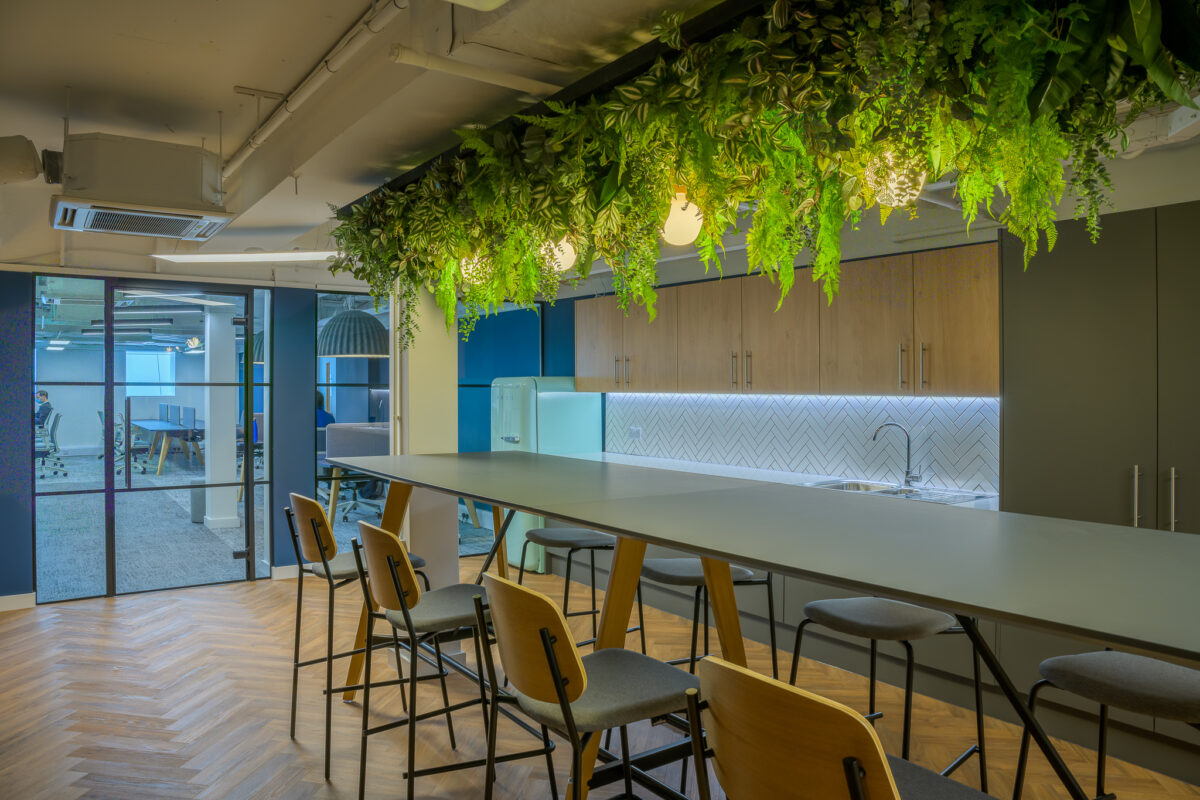 These included offices decorated in daring dark blues, elevated by ambient LED lighting, a sophisticated kitchen with a long elegant table festooned with plants, and snug areas, all designed to motivate staff interaction.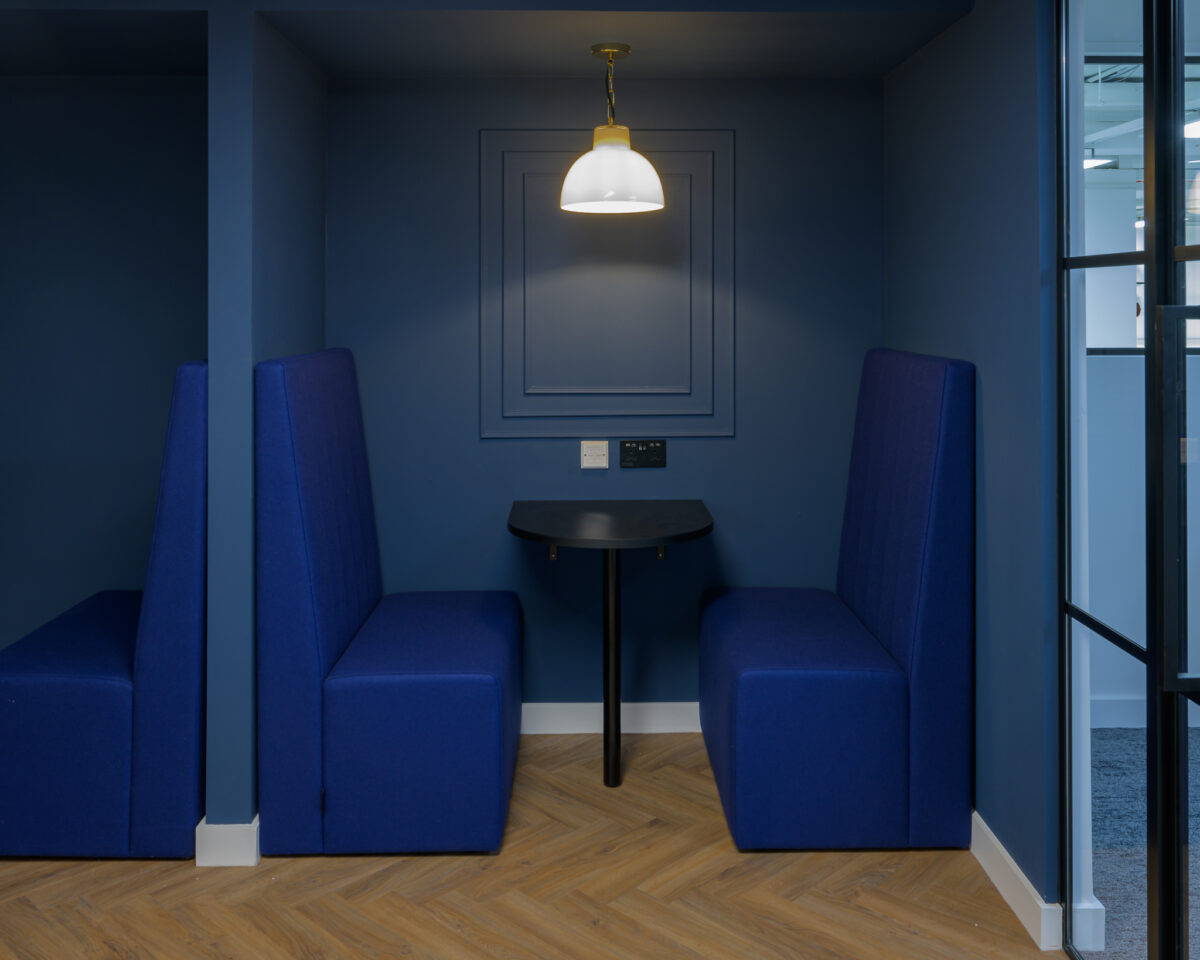 ————–
Katie Bowes, Associate Director, Design, comments:
"It is integral whilst creating a space which has multiple business functions i.e. Office and Lab to ensure that workspaces are inclusive for all users.
"We design blended multifunctional breakout spaces located in close proximity to the Lab space and core areas – these spaces act as a bridge, linking zones together. These areas are elevated in style and embody the project aesthetic – using nonclinical warmer tones and offer more tactile finishes.
"We ensure that all client team members have access to a variety of spaces to enhance productivity and wellbeing and a variety of furniture styles, such as write up benches, dining, lounge soft seating and private space. This allows teams and individuals the choice of space to support their needs whether it's to collaborate, decompress or to socialise and enhance cross pollinate."
————–
8. Sustainable lab design
We're all far more conscious of our carbon footprint these days as we witness climate change in motion. It's especially important that life sciences businesses are aware of their sustainable responsibilities as laboratories typically use five times as much energy and water per square foot as your average office building.
But how can you limit your environmental impact when designing your laboratory space?
Energy and water consumption are two of the biggest areas where labs can improve their efficiency so consider more sustainable options.
Simple measures like adjusting equipment settings, and turning off lights and appliances when not in use, can save energy over time and prolong the lifespan of the specialist equipment. Use eye-catching signage near switches to remind staff to do their bit.
Perhaps also include a recycling strategy in your laboratory design brief, encouraging staff to source recycled materials (choose glass over plastic, maybe?), and recycle disposable plastics.
————–
COEL's Director of Sales and Marketing, Barnaby Clark, comments:

"The incredible work that takes place in laboratories, from AI advances to cancer breakthroughs, make them one of our most valuable assets. And, post pandemic – just as offices have seen a shift toward flexible working – laboratories also need to be adaptable in their design.
"Creating safe, agile lab space, with flexible features such as movable work benches and multiple access points for utilities, means scientists can shift seamlessly from one project to the next, keeping up with the fast pace of innovation."
————–
How COEL can help with you laboratory design
If you're a life sciences business wondering where to start with your laboratory design, COEL offers a full turnkey service, from concept to completion.
Not only do we carefully plan and design your laboratory space, but our in-house teams can devise dynamic office facilities to complement lab designs, manage relocation, supply bespoke laboratory furniture and set up your mechanical and electrical services.
Get in touch to find out how we can design a specialised space for you which supports great minds as they create and innovate.