industry-insight
10 Ways Your Office Design Can Increase Productivity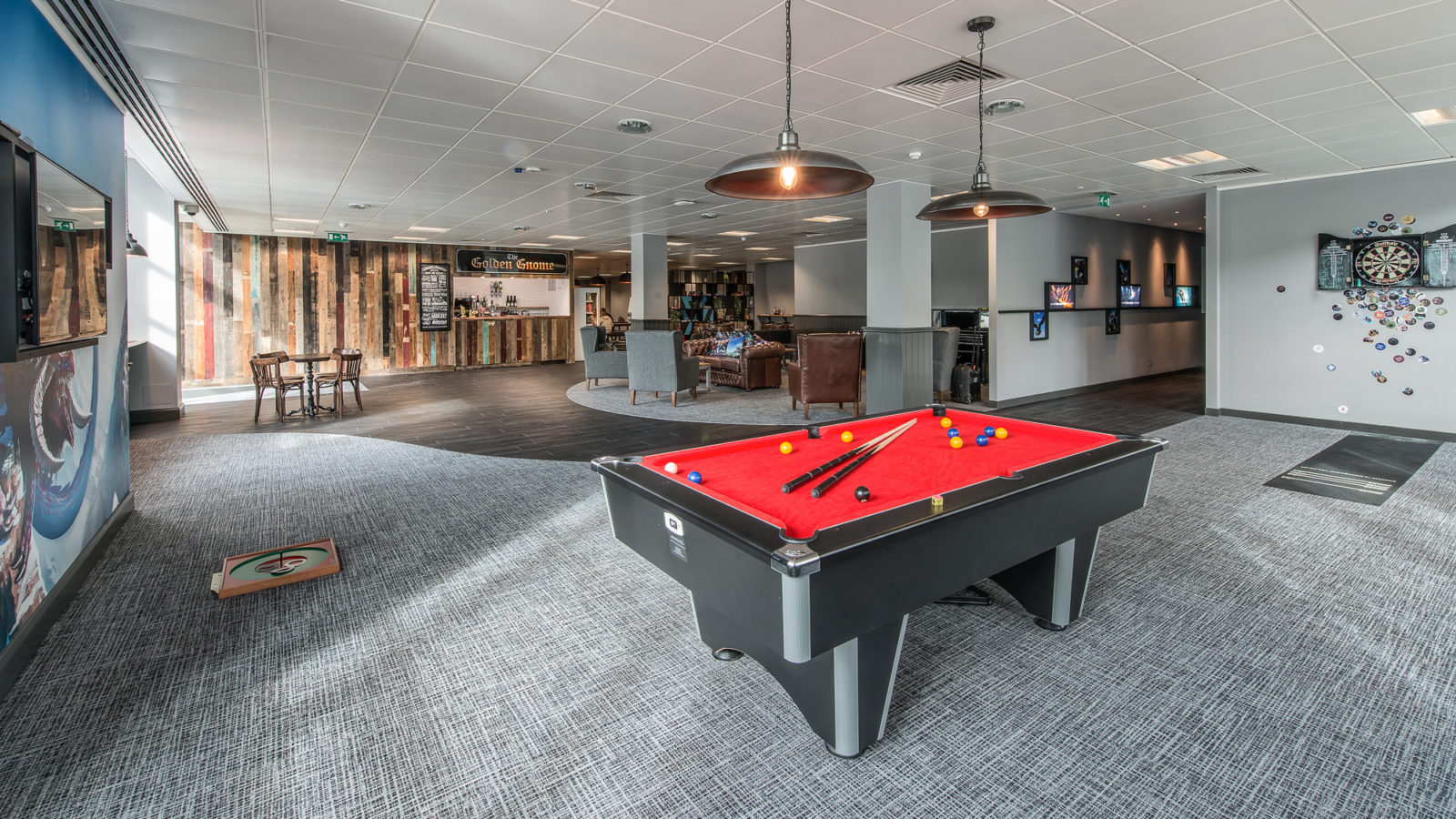 The look and feel of your workplace – whether it be an office or a laboratory – has a direct impact on your mood and productivity levels.
Yes, there's a reason why clever planners incorporate pool tables, vintage arcade games and massage rooms in their designs. But it's much more than popping a ping pong table in the break room….
Thoughtful office interior design – which creates bright, light and uplifting workplaces – can do wonders for staff wellbeing, boosting happiness, increasing energy levels and motivating employees to be more productive.
Here's COEL's top 10 office design tips to boost productivity
1. Temperature Control
We've all been in that office where the air-con is cranked up so high that Margaret in accounts is sat shivering in her coat on a scorching summer's day, which is far from productive! So, offices should maintain an optimal temperature, with ample ventilation, to ensure employees feel focused and alert.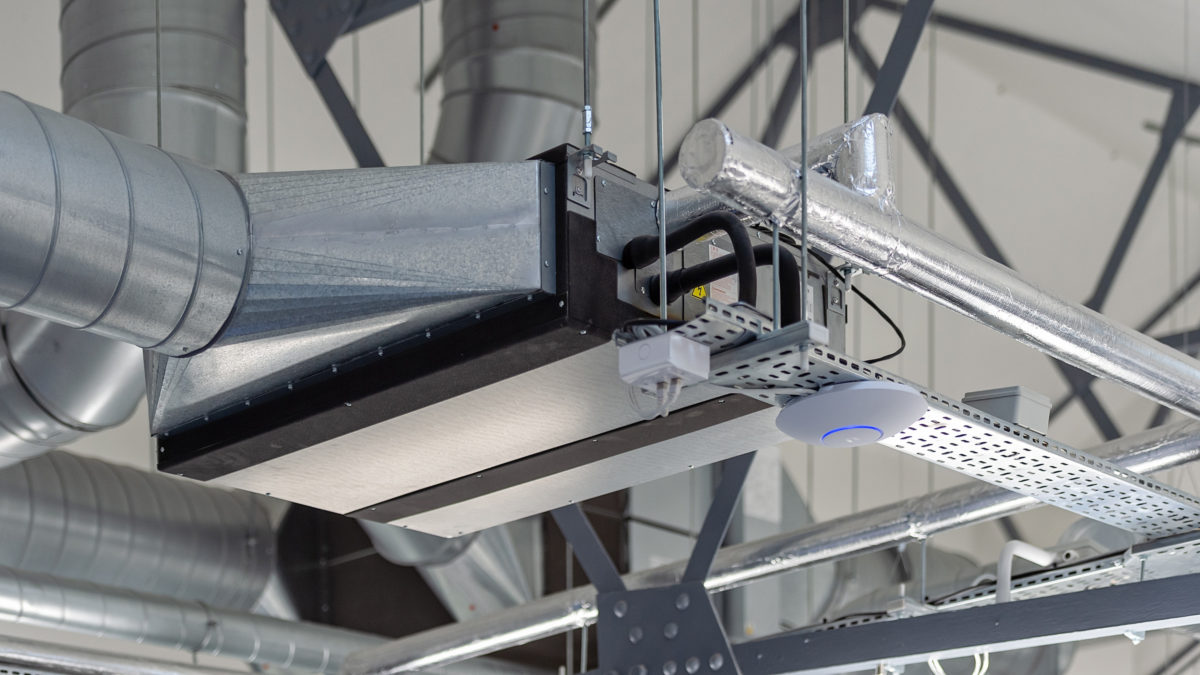 Here's how:
Invest in a high-quality HVAC (Heating, Ventilation and Air Conditioning) system to ensure pleasant office temperatures all year round. COEL's Mechanical and Electrical division, CPMS, specialise in installing efficient HVAC climate control systems which heat or cool to adjust to changing conditions, creating comfortable temperatures to work in.
There's no substitute for fresh air, which helps raise oxygen levels in the brain, improving decision-making. So, provide staff access to natural ventilation via opening windows and doors. Also, encourage breaks outside, so employees return with renewed vigour.
Consider improving the air quality with purifiers fitted with HEPA filters, to remove contaminants. Or invest in Mother Nature's very own purifiers – plants – specifically Spider Plants, which according to a NASA study, removed 95 per cent of toxic air from a sealed chamber in 24 hours. Impressive!
2. Colour Choice
Colour can have a major impact on the psychology of the office, with some hues perfect for stress relief, and other inspiring dynamism. Inject these via feature walls or bright furniture to help stimulate the brain, so employees feel engaged.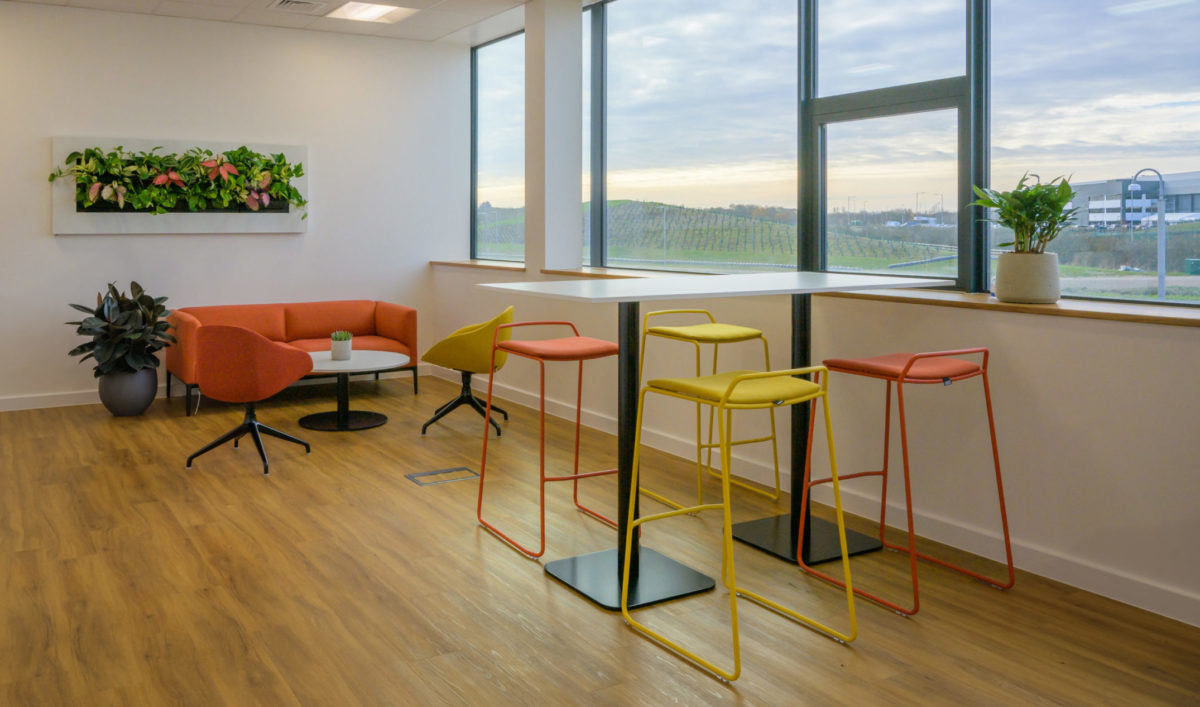 Green and blue are considered the most productive colours, promoting innovation and creativity, so use abundantly throughout the office. Whilst green is linked to balance, growth and nature (with all its positive effects), blue is thought to boost intellectual thought.
Lively shades such as yellow and orange have an uplifting effect on mood; orange boosts mental stimulation, yellow promotes positivity (great for team collaboration zones) and both exude happiness, so dot these feel-good pops of colour around liberally.
One of the most powerful colours, emotionally-intense red can raise mental energy flow and enhance productivity so is well suited to meeting rooms and social areas.
---
PROJECT FOCUS: INJECTING COLOUR FOR McCORMICK & CO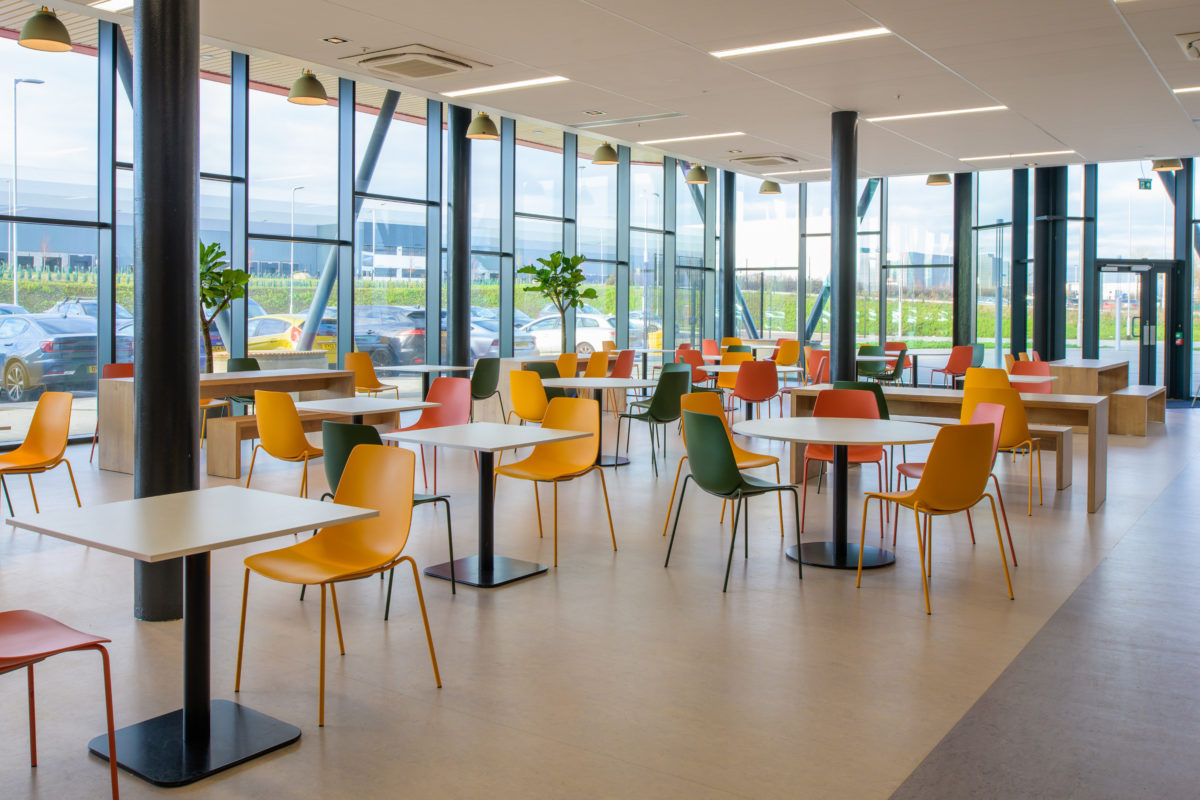 COEL's curation of furniture for the Peterborough office of food manufacturer McCormick & Co provided a masterclass in colour mixology. Zesty, citrus shades of lemon, orange and lime added a splash of energy to allocated areas; the boardroom featured magnificent scarlet chairs, perfect for focused discussion; and the ground floor communal space was a sea of colour, reflecting the relaxed, informal feel.
3. Plentiful Plants
Biophilic office design, which mimics the sights and sounds of nature, has been shown to vastly improve mental health and wellbeing. Productivity levels rise as employees are naturally more motivated.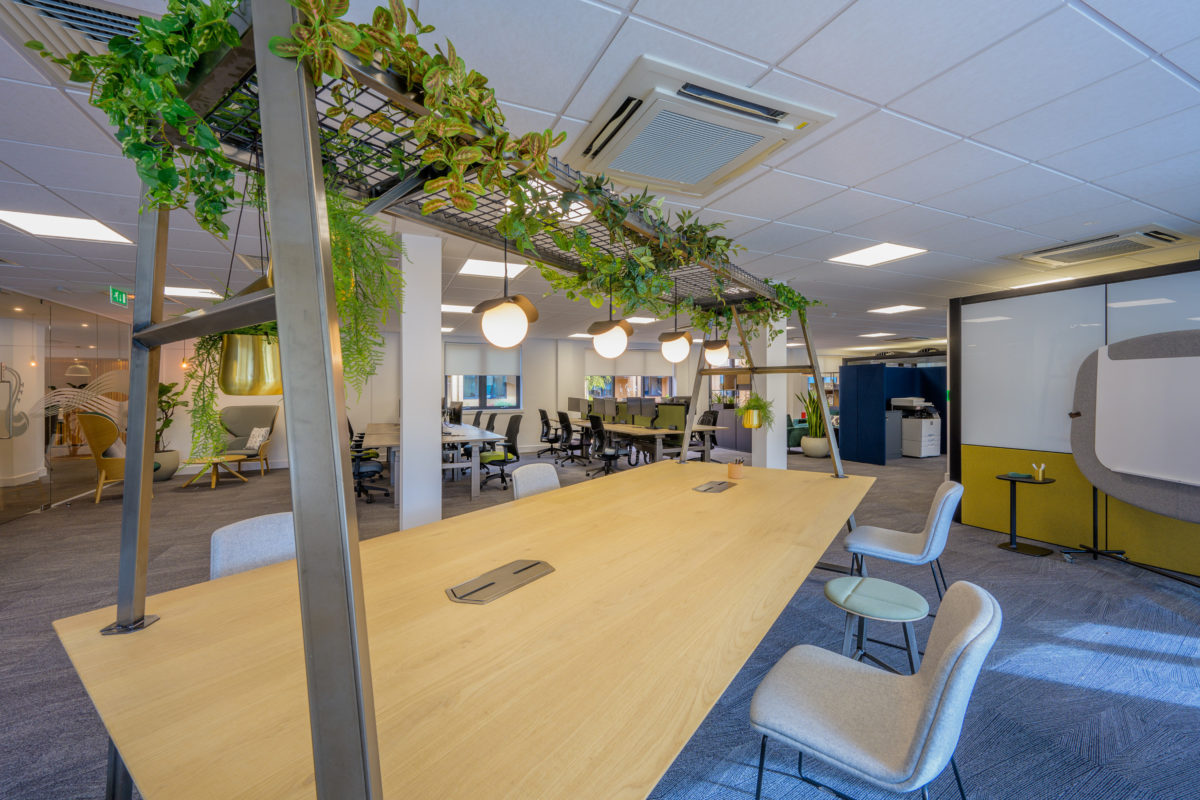 Here's how to incorporate biophilia in your office design:
Add a variety of flourishing plants to the office environment – in pots on desks, suspended from gantries or in the form of a lush green living wall – to energise staff, whilst also cleaning the air and absorbing noise.
Choose office furniture with natural finishes in wood or stone, along with artwork that imitates patterns of nature such as honeycomb or leaf designs.
Bring the outdoors in by maximising natural light and office views onto bucolic landscapes, plus encourage 'walk and talk' outdoor meetings.
Emulate the sounds and smells of nature with cascading water features, fish tanks, and scents of citrus (to raise spirits), peppermint (to lift the mood), cinnamon (to improve focus), or pine (to boost alertness).
4. Breakout Spaces
Whilst there's a host of benefits to the open-plan office, it can sometimes hinder productivity, as staff can get distracted by ringing phones or colleagues' conversations. Cue, the breakout space, a multi-functional hub which can be a sanctuary of calm for quiet thinking time, a relaxed lounge for informal meetings or a bright zone with comfy chairs for brainstorming.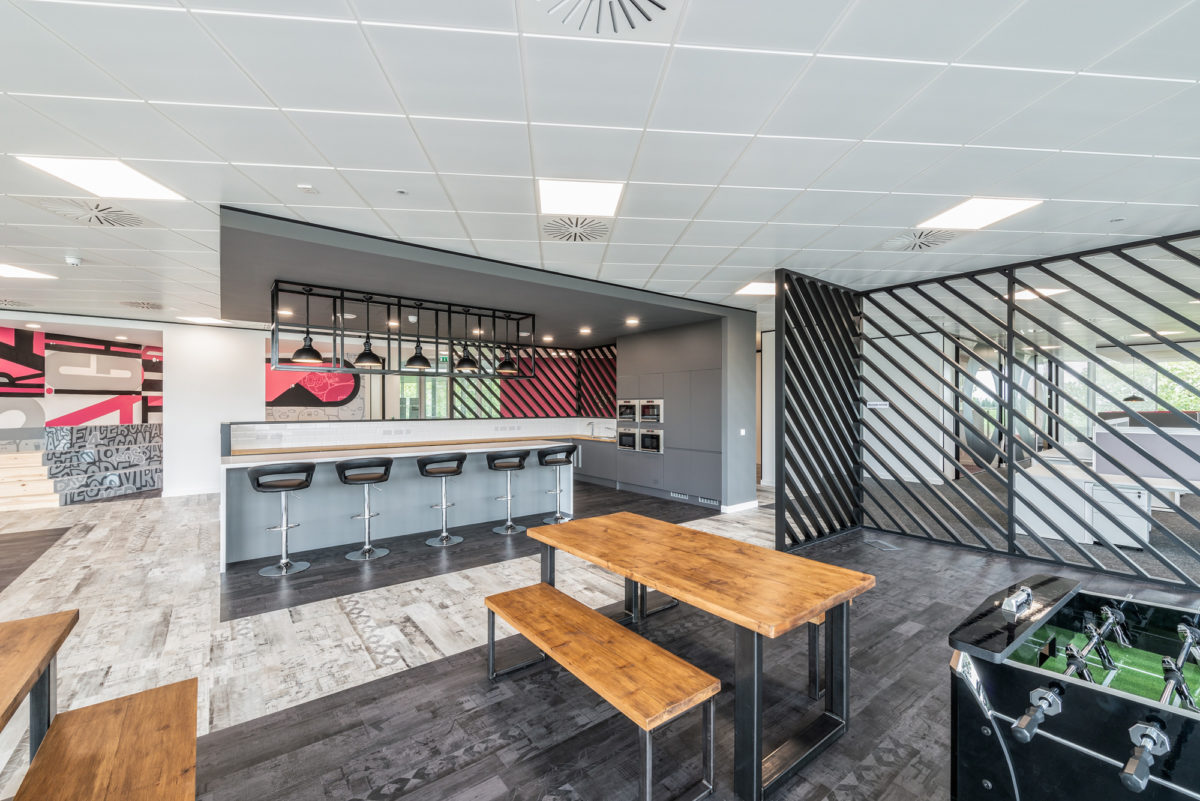 Here's how breakout spaces boost productivity:
A chance to escape desk demands, the breakout area allows staff to have a much-needed brain and body rest – especially if soothing music is played – leading to increased innovation upon their return.
Often located near to cafeterias or kitchens, these sociable spaces present an ideal opportunity for workers to collaborate, generating exciting ideas and fostering a sense of community.
In the age of hybrid-working, breakout spaces present additional working areas for staff without allocated desk space, giving them a sense of belonging.
---
PROJECT FOCUS: CREATIVE HUB FOR CRAFTED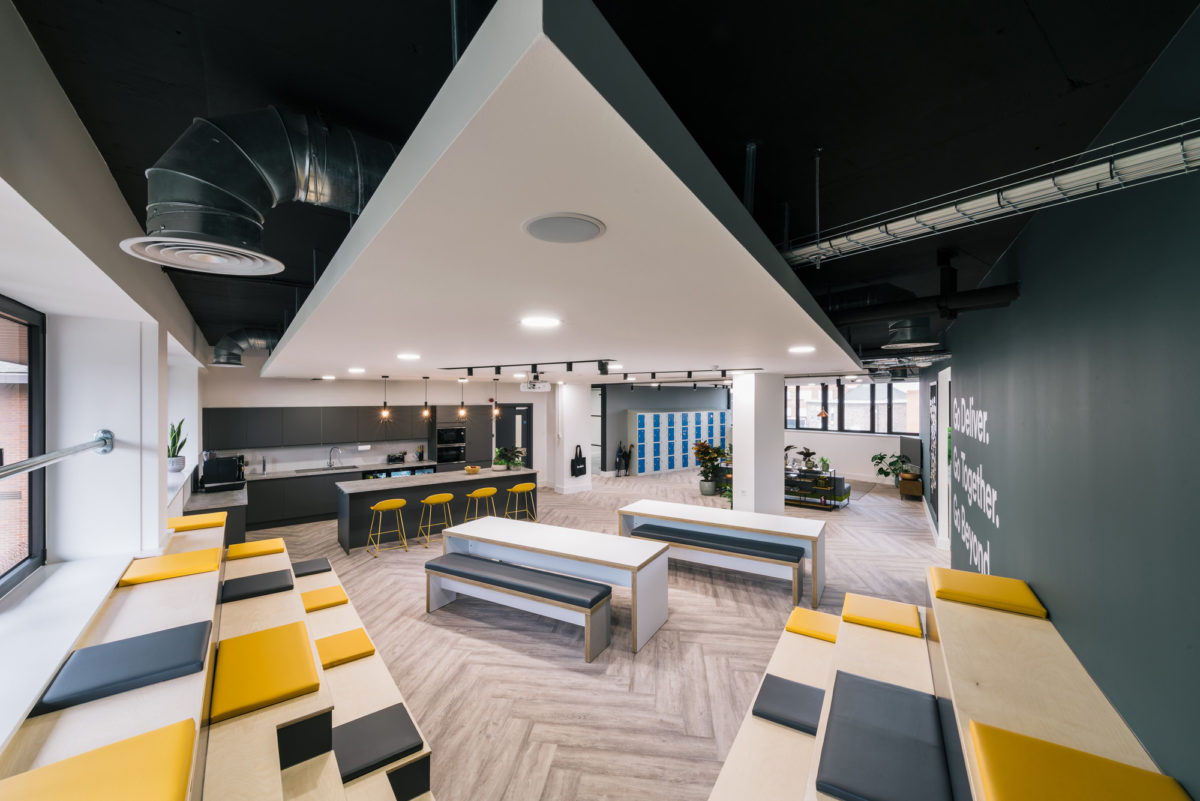 Working on an expansion of office spaces for Crafted, an award-winning digital agency in Ipswich, COEL created a variety of breakout areas, to encourage collaboration. These included a bleacher seating corner in the kitchen, offering a clever space-saving solution and an area for colleagues to gather. Vibrant yellow and dark grey cushioned panels placed on the raised tier of benches lent an uplifting feel.
5. Effective Lighting
According to a study by HR advisory firm Future Workplace natural light and views of the great outdoors were two of the most highly sought-after workplace desires. And tellingly, the employees who bagged the desks closest to the windows were the most industrious compared to colleagues toiling beneath artificial lights. Here's why lighting is so crucial to productivity, and how to achieve optimum levels:
Natural light flooding in through floor-to-ceiling windows and skylights not only boosts Vitamin D levels, increasing general happiness, it also helps to regulate circadian rhythms, meaning employees sleep better at night and feel refreshed and productive in the day.
Exposure to sunshine on breaks or whilst eating lunch outside, helps staff to feel alert and ready to embrace their next pressing task.
If your workspace is lacking in windows, choose a light colour scheme, incorporate mirrors and reflective furniture to amply natural light or invest in full-spectrum lightbulbs which mimic the appearance of natural light. Special energy desk lights are a great addition for those that suffer with Seasonal Affective Disorder.
---
PROJECT FOCUS: LIGHTING UP BIOMED REALTY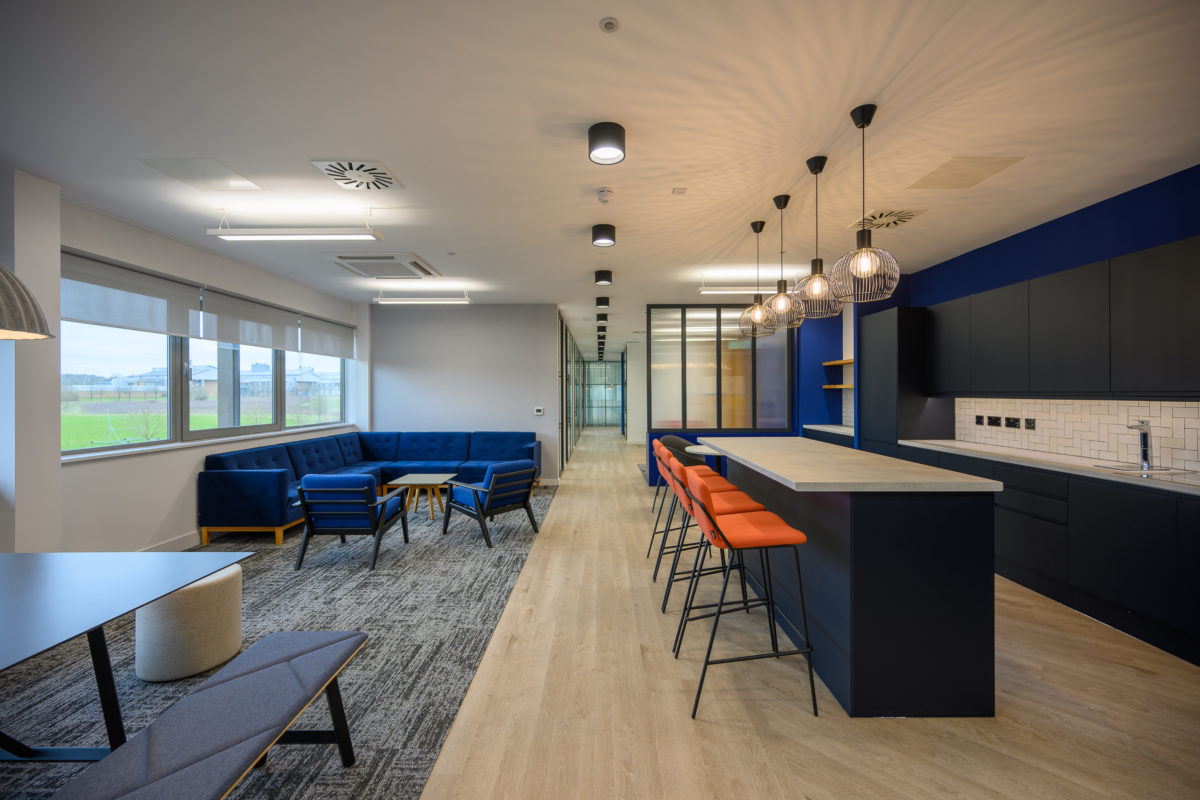 COEL maximised natural light on its design and fit-out of a new office and marketing suite for BioMed Realty at Granta Park, Cambridge. Stunning windows wrapped around BioMed's new office space, providing outstanding access to a beautiful view of the Park's lake and allowing the interior space to be flooded with light. Elsewhere glazed screening partitions were installed to harness the natural light and illuminate an internal corridor.
6. Smart Tech
Investing in the latest technology and automation for your office, means that employees have the time and resources to focus less on manual tasks, and more on strategy and innovation, upping their productivity levels.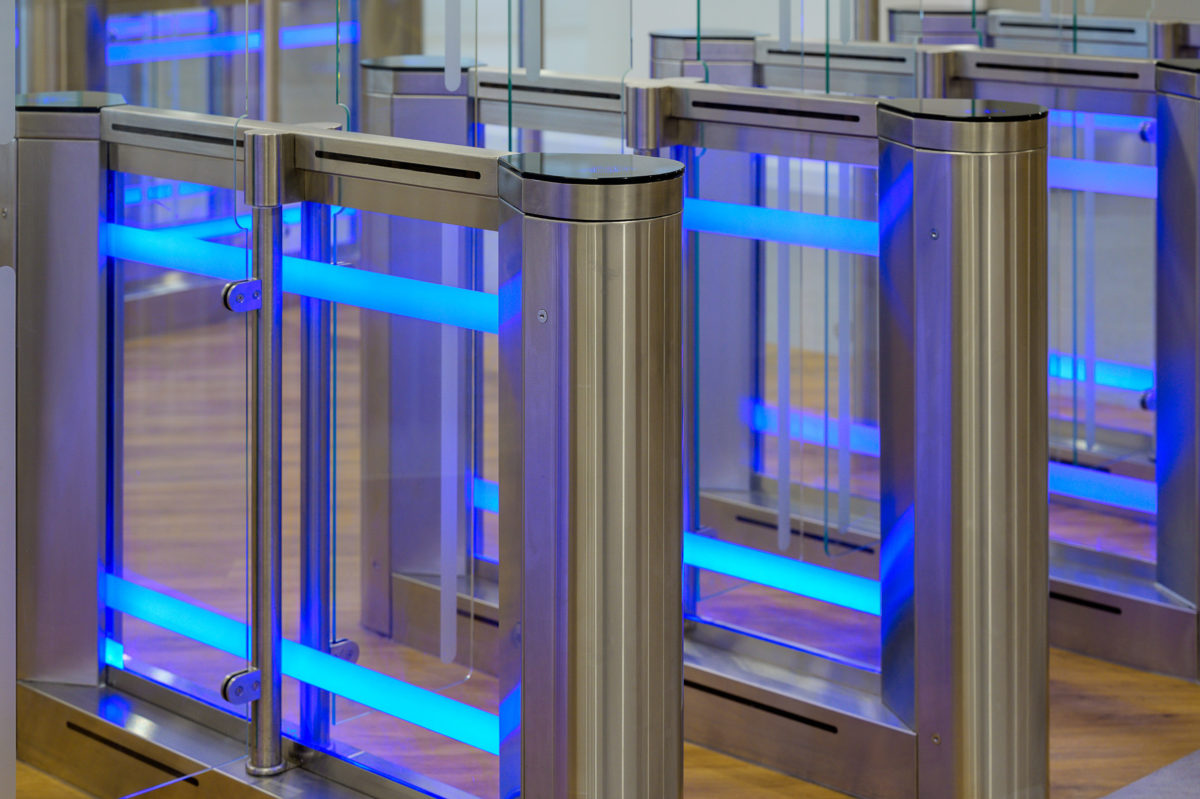 Here's how smart tech can help:
Trying to organise numerous diaries to timetable an important meeting can be a logistical nightmare, but smart tech software can analyse these respective schedules and swiftly ping back a suitable date, freeing up staff to do more important jobs.
Smart technology can promote employee wellbeing; smart chairs sense poor posture and adjust accordingly, whilst smart lights vary in colour and warmth to suit the environment and the task at hand.
Group messaging on applications like Slack is instant, improving efficiency and eradicating the laborious email back and forth. Virtual meetings can also take place with ease for hybrid workers via Skype, Google Meet and Zoom, allowing flexibility and boosting employee satisfaction
Let's not forget the wonders of AI, with smart speakers and voice-enabled AI applications offering time-saving virtual solutions.
7. Quiet Zones
Though a bustling office can create an energising vibe, some tasks require intense concentration, with minimal noise distraction. Quiet office spaces – away from the clatter of keyboards and the whirr of printers – offer much-needed private sanctuaries for staff to complete essential work. Here's some ideas:
Acoustic booths and pods (a COEL speciality!) are self-contained private areas where staff can complete challenging projects or make sensitive calls. Sleek and versatile, they can be upholstered with sound absorbing fabric, and possess appealing features such as motion-controlled air conditioning or LED lighting.
If there isn't space to install booths, use moveable tables, portable whiteboards, screens and couches to turn a corner of the office into a designated quiet area for employees.
Glass walls or windows are a great tool for achieving quiet areas, whilst still retaining visibility. Glass will not only act as a barrier to noise, but will also help reflect the light, creating a brighter more positive working environment.
---
PROJECT FOCUS: BRILLIANT BOOTHS FOR RASPBERRY PI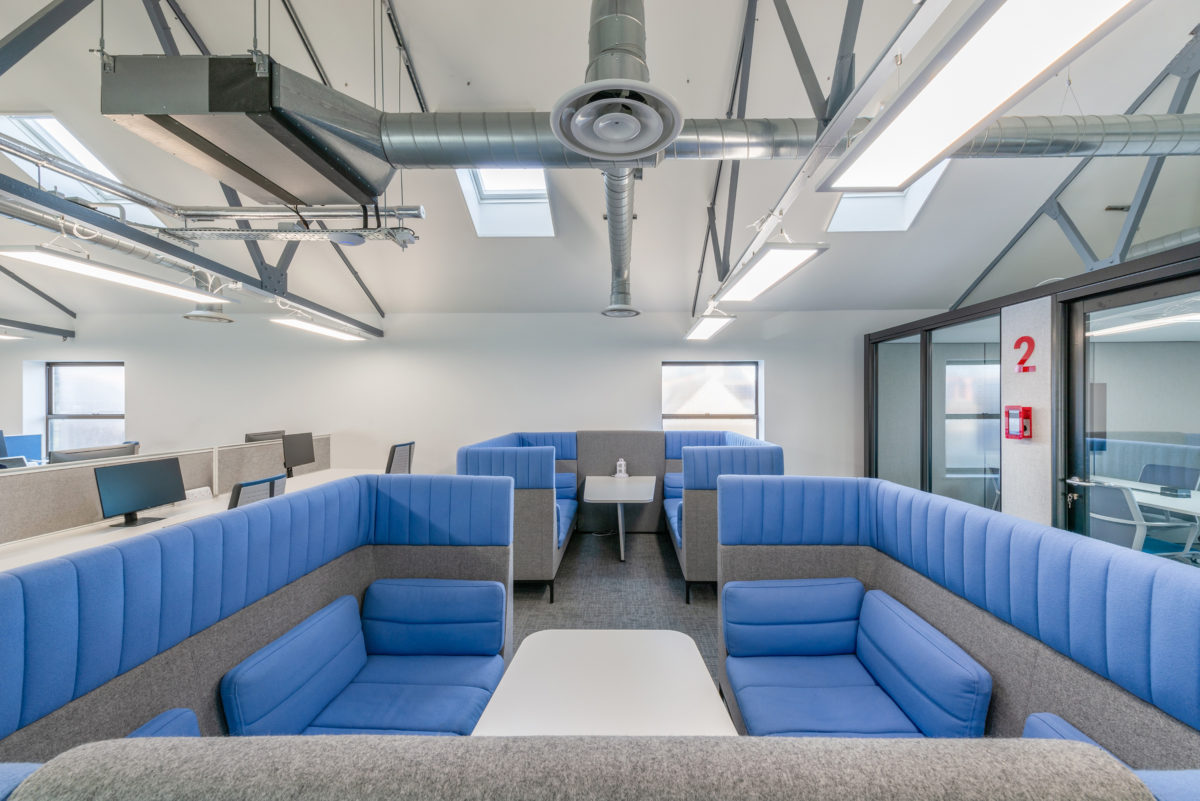 Raspberry Pi had four acoustic booths installed by COEL as part of an office refurbishment. Laurie Smith, Director of Operations at Raspberry Pi, said: "They were quick and easy to install and are now regularly used for meetings or a quiet place to work. The design of the booths reduces the noise level, which works well in our open plan office space. They also serve as noise-reducing dividers between banks of desks. They make a great comfortable and multifunctional addition to our office."
8. Collaborative Spaces
As human beings we crave connection, and in terms of productivity (as the old saying goes) 'two heads are better than one'. Strong social connections make people feel happier and physically healthier, meaning their performance is more effective.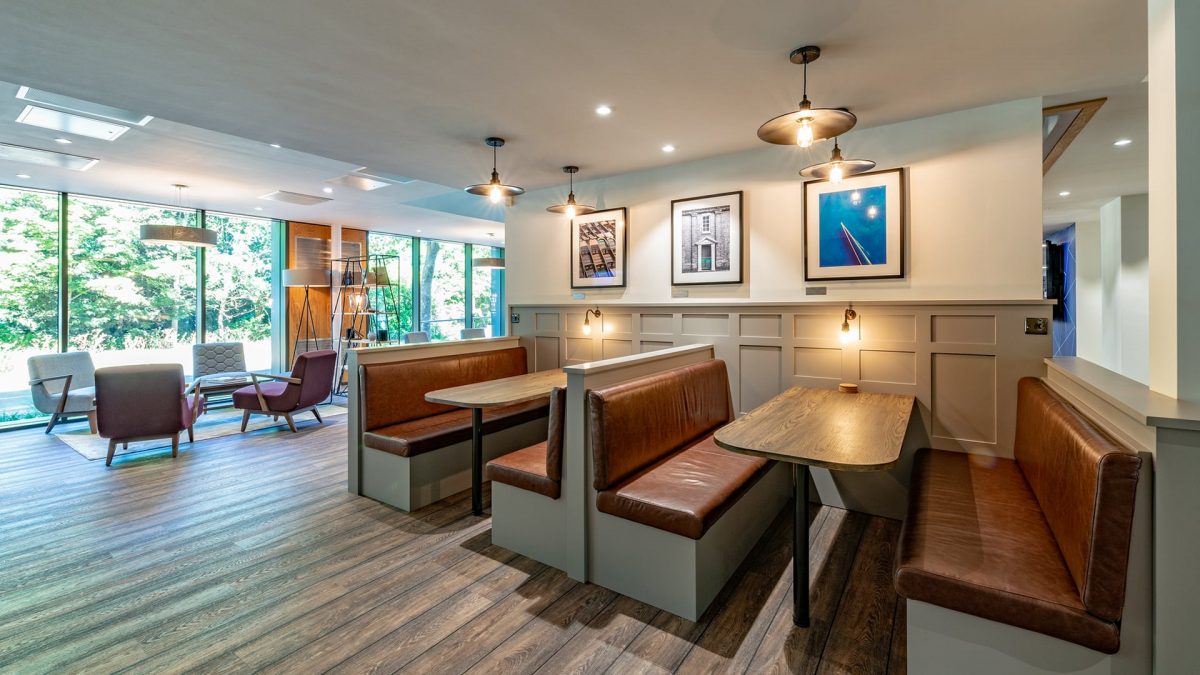 Space planning is COEL's forte, so here's our ideas for fostering cross-team interaction:
Ensure meeting or conference rooms are inviting spaces, equipped with the right tech for productive work sessions. Add comfortable furniture, vibrant artwork and (of course) a coffee machine to keep staff firing on all cylinders!
Consider adding four-person cluster desks as staff sitting together will naturally want to chat through ideas and share strategies.
Provide office 'collision spaces', where employees can reconnect over a cup of tea and a snack. This could be a lounge with a café vibe or a kitchen decked out with lush plants. Even the shortest socialisation sessions in these areas can spark creativity.
9. Adaptable Furniture
With many of us spending hours on end at our desks, ergonomic office furniture is a must to provide physical support, encourage movement and maintain productivity. Uncomfortable desks and chairs can lead to musculoskeletal ailments, eye strain and staff sickness. COEL specialises in forward-thinking ergonomic furniture, sourced from leading brands, which we can help pick, plan and install.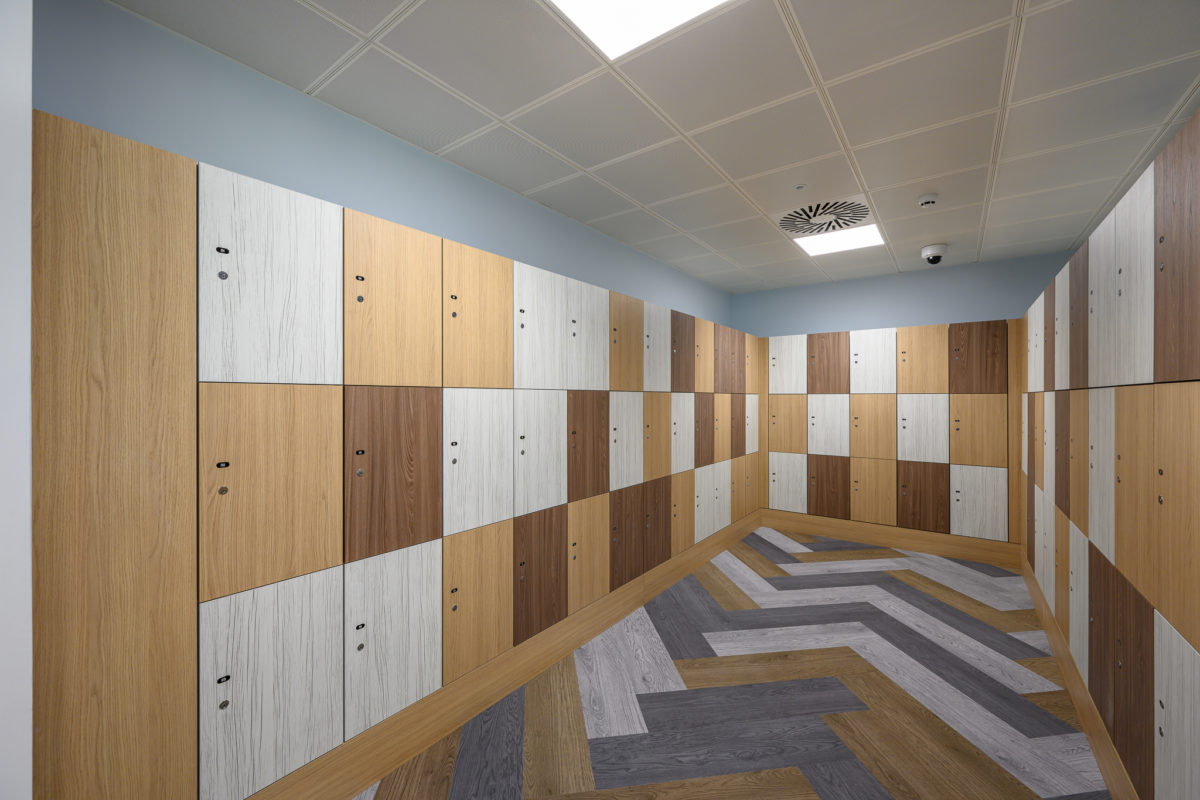 Here's our recommendations:
The adjustable sit-to-stand desk is a great option as it helps alleviate back pain, boost energy levels and improve focus. Plus, they motivate employees to move around the office, helping to combat the afternoon slump. Add an under-desk treadmill to keep staff fit and refreshed!
Invest in ergonomic chairs which have customisable adjustments such as seat depth, lumbar support, tilt and armrests to provide postural support and promote good circulation.
Consider incorporating easy-to-use filing cabinets (for offices) and agile storage solutions (for labs) to help staff stay organised.
All furniture should be aesthetically appealing in colour and style, blending residential-style pieces into the mix, to ensure staff feel enthused in a 'home from home' environment.
10. A Sense of Fun
In a world where global news makes for depressing reading, we all need an injection of fun in our lives! At work, inspiring a sense of playfulness, and rewarding staff with facilities such as a games room, bar, yoga room (or even an exhilarating slide from one floor to another) leaves them feeling creative and motivated.
Here's why:
Joyful office experiences build friendships – and research reveals that employees with firm friends at work are twice as likely to be engaged than those without close buddies in the office setting.
Pitching yourself against opponents from other departments at the pool table helps to form new alliances, and build important social networks within the business.
Office games are great levellers, breaking down barriers between employees and senior staff.
Simply escaping your desk for a 15-minute neck massage will help to reset body and mind, ease niggling aches, and leaving you with a fresh perspective to tackle your next spreadsheet or presentation.
PROJECT FOCUS: GAMING CAVE FOR JAGEX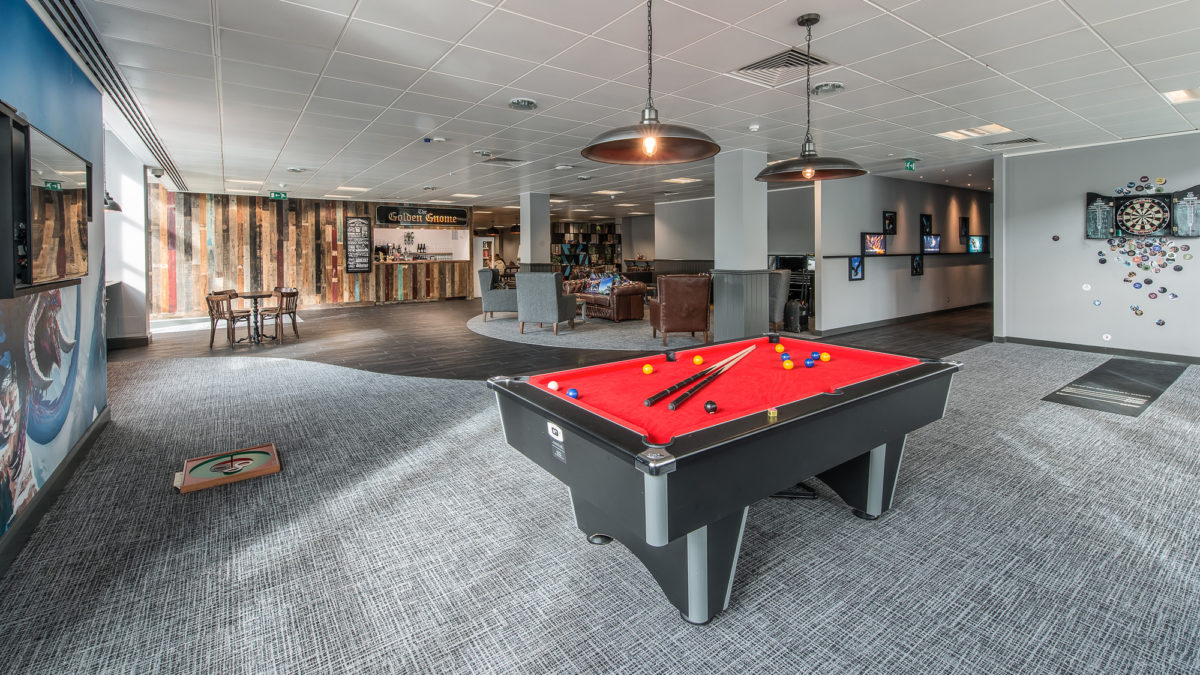 An office design and fit-out project for video game developer Jagex required a 'bold funky, welcoming and inspirational' design. Embracing the company's desire to move away from conventional ways of working, and encourage downtime, COEL included 'a gaming cave', employee bar, soft seating area with pool table and piano, plus restaurant facilities.
Final thoughts
A thoughtfully-designed office, which is vibrant, biophilic and ergonomic (with a strong sense of fun), really has the power to inspire and energise employees to perform at their productive best.
If you'd like help to create such an awe-inspiring environment, be sure to get in touch.